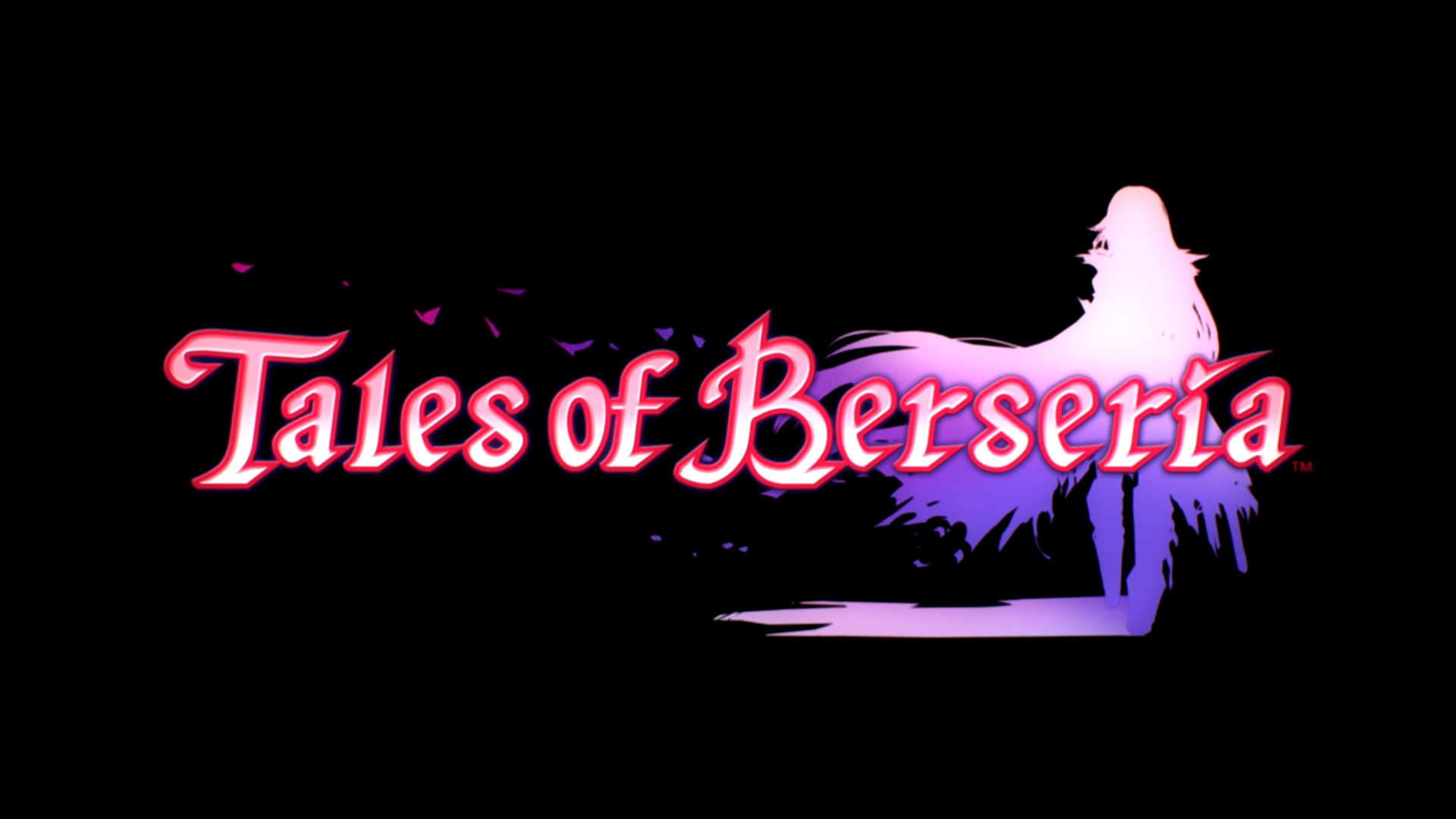 Before I officially begin this review, I want to state the following: There are going to be a lot of references drawn to Tales of Zesty, since both the world of Berseria and Zesty are actually connected. That does not mean I automatically think one game is better than the other, or that I'm not treating the game fairly on the basis that it should be its own game, or some stupid shit you people come up with. Since the game is connected to a previous installment of the franchise, however, I WILL critique that based on how well it filled the plot holes left behind by Zesty.
Tales of Berseria is a wonderful masterpiece of a story combined with horrific and thrown-together combat that screams afterthought. Berseria should have been a Visual Novel instead of an actual Tales game, considering how unbalanced and cheesy the combat can be. More critique on that later. I know you all are just itching for me to review this game (and by review I mean absolutely destroy and shred it) so let's get into the bulk of things. I'll break the game down into several segments, consisting of story, gameplay, quality, and replayability, and judge the game on all of these criteria.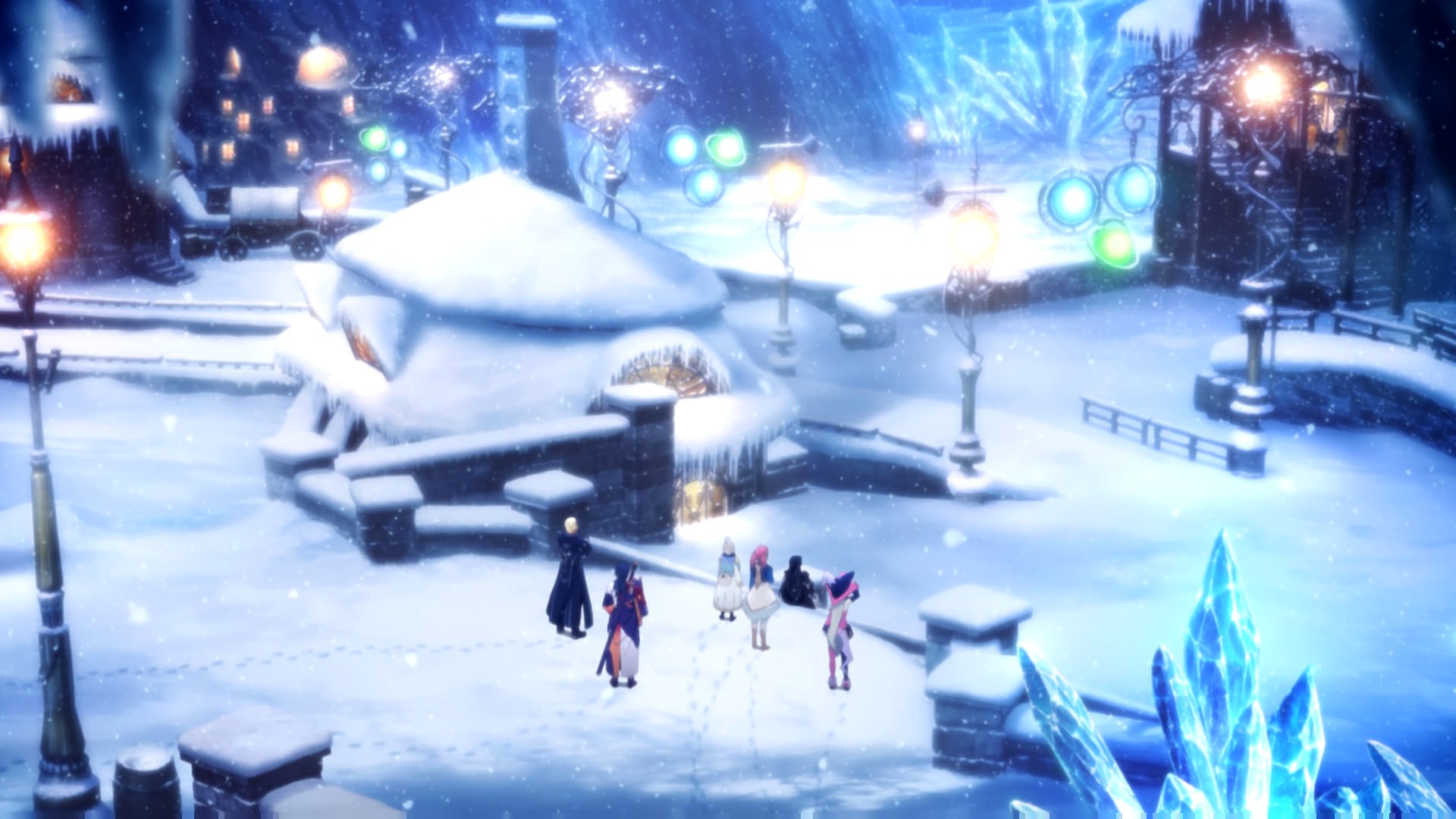 Story:
"Why do birds fly"? 
This is a motif that becomes apparent throughout the game as you play Velvet Crowe. Velvet is a...we'll say "farm girl" who lives with her younger brother, named Laphicet, and her father-in-law, Arthur. The game opens with a dramatic chase scene throughout a forest as Arthur, Laphicet, and Velvet all are running away from daemons. And yes, you couldn't come up with a more unoriginal name. Arthur and crew are then stopped by some daemons along the road. Arthur fights them off with his big heroic giant sword that's seen in every anime thus far and then takes his children to underneath a nearby tree, gives them both an apple, and, to save you ten minutes of pointless exposition, tells them to be safe. Arthur then proceeds onward, but Velvet, being the curious and feisty little shit she is, doesn't listen and trails Arthur. When she arrives to where Arthur is at, she sees her older sister, Celica, floating in air as a sort of sacrifice with two giant needles of light stuck through her body. Then Arthur turns towards Velvet.
And it WAS ALL A FUCKING DREAM.
Like, seriously, you couldn't put any less thought into the fucking story you lazy shitheads?
Anyways, time skip I think seven years later (I couldn't care less because opening with a dream sequence is probably the greatest sin in all of gaming history) where Velvet is now taking care of Laphicet in place of Velvet's older sister, Celica. Velvet completely loves Laphicet, would do anything for him in the world to see him safe and to keep him protected. The setting takes place in a farm village named Abala (If I remember correctly? Like I said I could care less) where everyone is hanging out enjoying their life and is in no way shape or form going to be turned into a monster's den of daemons somewhere in the near future-oops, spoilers.
Anyways, farm village girl Velvet is pretty cute.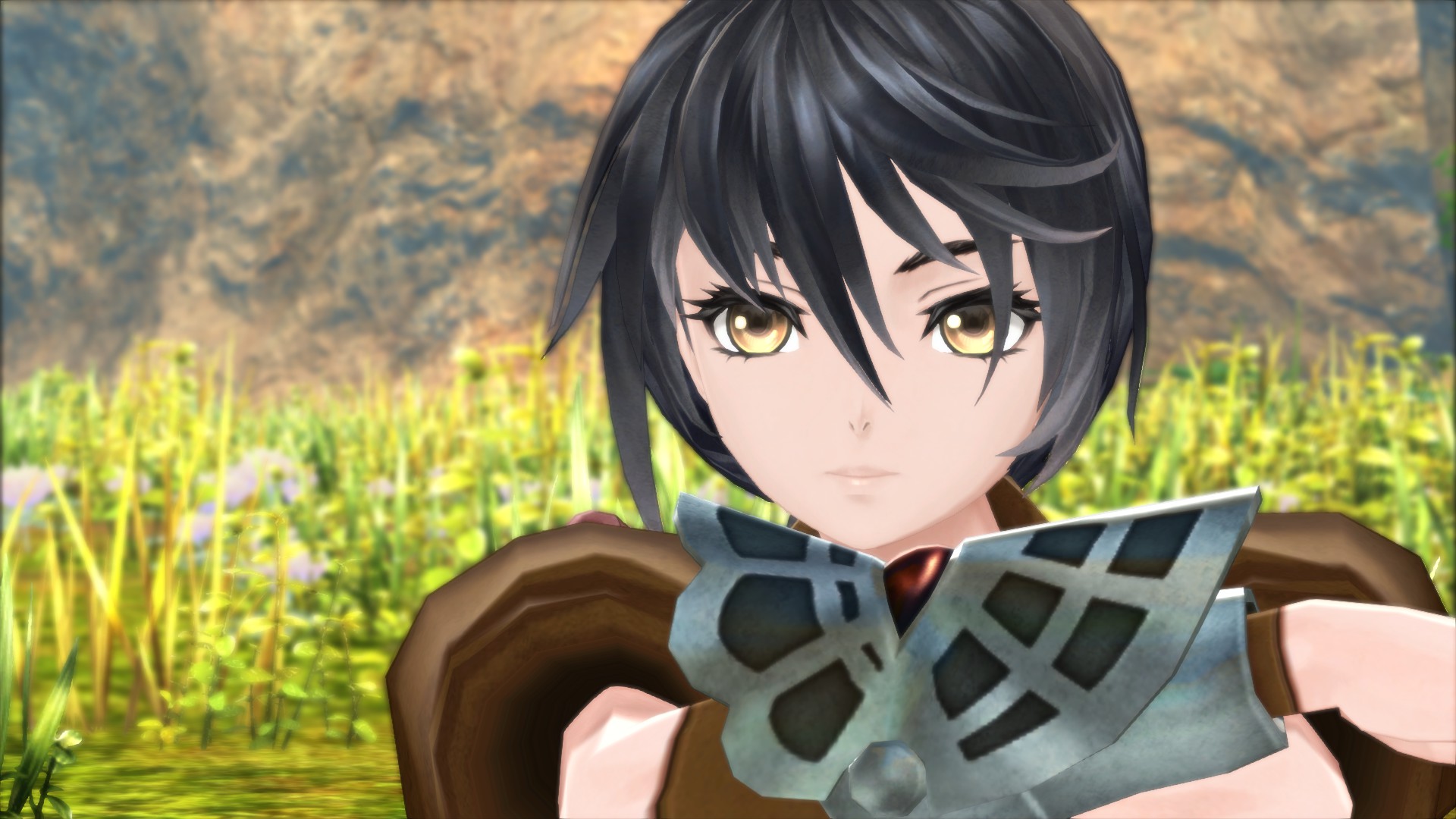 After about an hour of doing pointless hunting that serves no actual purpose to the story, you come home, go to bed, and realize that it has become a "Scarlet Night". This phenomenon happens once every three years, where the moon glows bright red, and that some type of God or something that people worship demands sacrifice or something, I don't really fucking know. Velvet wakes up, realizes Laphicet is nowhere to be found, and, oh wouldn't you know it, the entire village has become a monster's den. I TOTALLY DIDN'T SEE THAT COMING.
Velvet runs through the village (You have to, you can't fight them, which is extreme bogus considering what happens in about five minutes or so), goes up to the cliff where the sacrifice is being held, which is the same spot where Celica was sacrificed, and Velvet sees Laphicet hanging in the air, same as Celica, with Arthur standing right below him. And then, SHUNK.
That was my best sword impression.
And then there's this.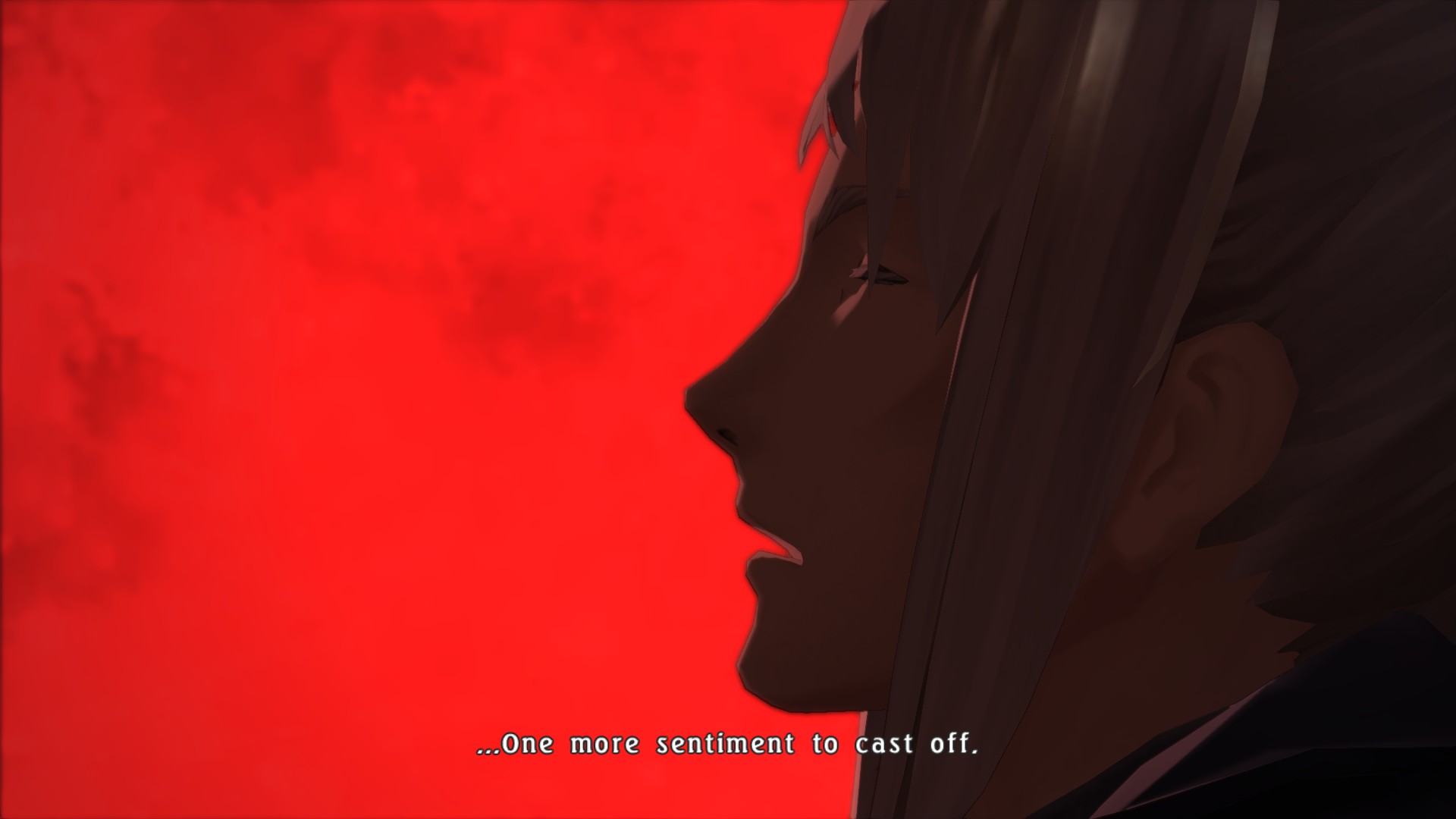 Velvet then flies into a complete frenzy and tries to kill Arthur. However, Arthur, being the badass and antagonist that he is, is just no match for farm village girl Velvet. She lunges herself down into the sacrificial pit where Laphicet fell, attempting to protect him, but she gets swallowed up by a huge-ass dragon thing that looks like it came from the Seven Dragonballs. Really cool CG by the way. Anyways, Mr. Dragon man doesn't like that, spits out Velvet, and she comes back with a few extra hormones, her entire body taken over by Edginess, and a fucking badass left arm. She then proceeds to scream four thousand times as you try and fight off the daemons and ultimately Arthur, which, after wiping them all out, Velvet realizes were the other townsfolk, and flies into yet again a complete frenzy, lunging at Arthur. However, he sees past the bullshit and smacks her in the chest and down she tumbles into the bottomless pit.
Timeskip three years later.
You awaken in a prison island. How you got there is beyond me since on the world map Abala and Titania are in two completely different sections of the world map AND THAT REALLY FUCKING PISSES ME OFF WHY DO PEOPLE NOT KNOW ABOUT CONSISTENCY-
You are greeted by someone. A malakhim. Malakhim are...let me simplify this so that it's easier to understand. They're Zesty's version of Seraphim. Pretty much.
After a tense fight and a pointless tutorial about how to dodge (I'VE BEEN PLAYING TALES GAMES FOR FIVE YEARS NOW, YOU DON'T THINK I'D KNOW HOW TO DODGE AT THIS POINT-), Velvet takes the malakhim under her control and the two escape through the prison island.
Oh, and, you start a prison riot in order to escape. That's pretty cool I guess.
During the course of the prison riot, you find a bunch of Exorcists, commanded by Oscar, who are pretty much this game's bad guys. They use Malakhim as tools and have suppressed their free will in order for them to inevitably do their bidding. After fighting Oscar, one of these said Malakhim is like "fuck you bitch" and turns into a dragon. It's explained later on as to why they change into Dragons, but keep this word in mind: Malevolence.
So you get to kill a Dragon. Woohoo.
During the fight, the Dragon is too powerful to tackle alone so you team up temporarily with Oscar to take him down. Then you eat the girl that was traveling with you or something so you can become stronger or something. And no, not in that way you filthy degenerates. Then you kill a dragon. Woohoo.
After that, Oscar runs away like a little bitch.
Oh yeah, I forgot you run into Rokurou in the course of escaping from the prison. Also along those lines, you find a witch named Magilou (UGGGGGGGGGGHHHHH) and a sailor named Dyle. You hijack a ship from the Titania Prison Island Docks and set sail. And then you get shipwrecked.
And after that you get to hear 40 hours of Velvet whining about "I don't care about anything as long as I get my revenge on Artorious (Arthur, a.k.a.)". Which goes back to a point I want to make: Revenge plots never work out. They always end with suffering and despair and ultimately, there's just a giant pitfall of sadness. With the way Velvet portrays herself in the game, where she doesn't care about anything other than getting revenge, it's honestly hard enough to care, as a player, about someone like that.
Eventually, you find Eizen (does that name sound familiar to you? It should, as he's a boss in Tales of Zesty) and he's a fucking badass.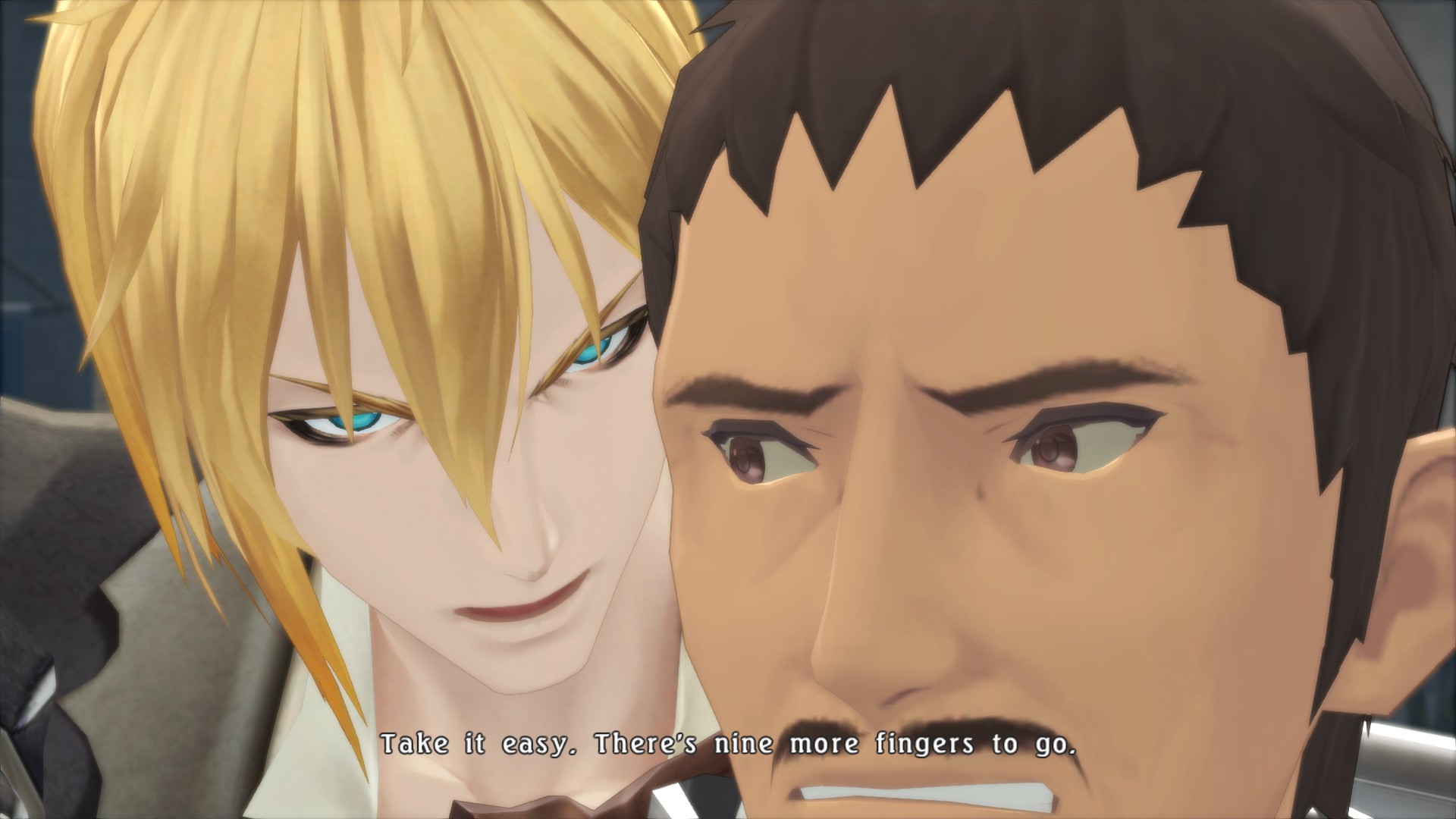 Oh yeah, and you also meet a little kid I guess who's named Number Two but after about twelve hours of him being useless Velvet decides to call him Laphicet because FUCK ORIGINALITY AM I RIGHT? Oh yeah, and also Laphicet Version 2 has a giant crush on Velvet for whatever reason. How anyone can have a crush on someone who yells "DIE DIE DIE" is utterly beyond me.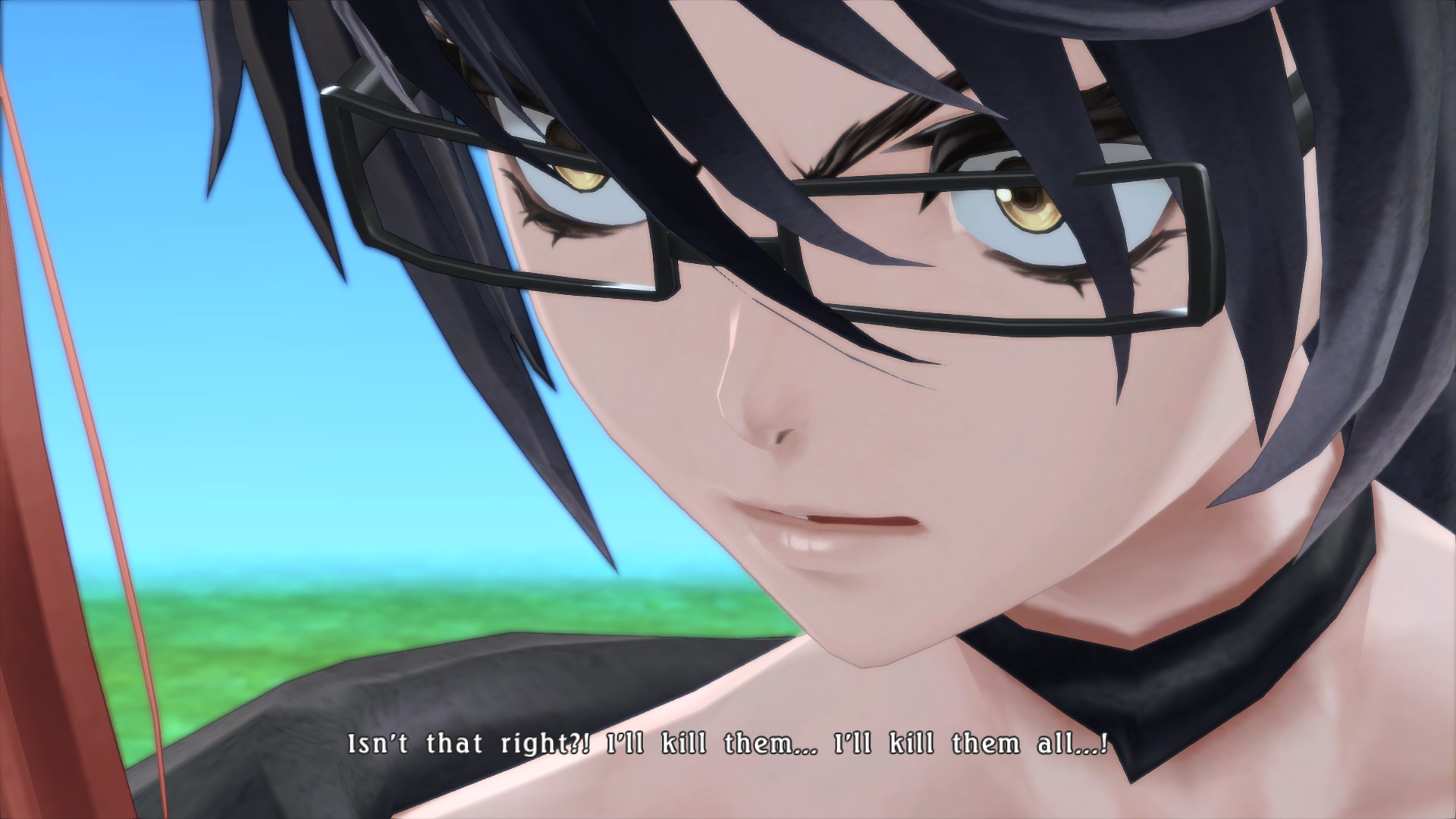 Oh yeah, and there's also an Exorcist bitch you come across periodically in your travels named Eleanor who starts out as a nuisance and quite quickly becomes my favorite character in the entire game. Not just in her story and why she chose to travel with Velvet but because she fucking rocks in combat. Despite her being very dramatic and quite a nuisance in the early game, she gradually opens up to everyone and easily becomes one of my favorite characters.
Eventually, Velvet finds an answer to the million dollar question that everyone in the game seems to ask like every ten seconds. Why do birds fly?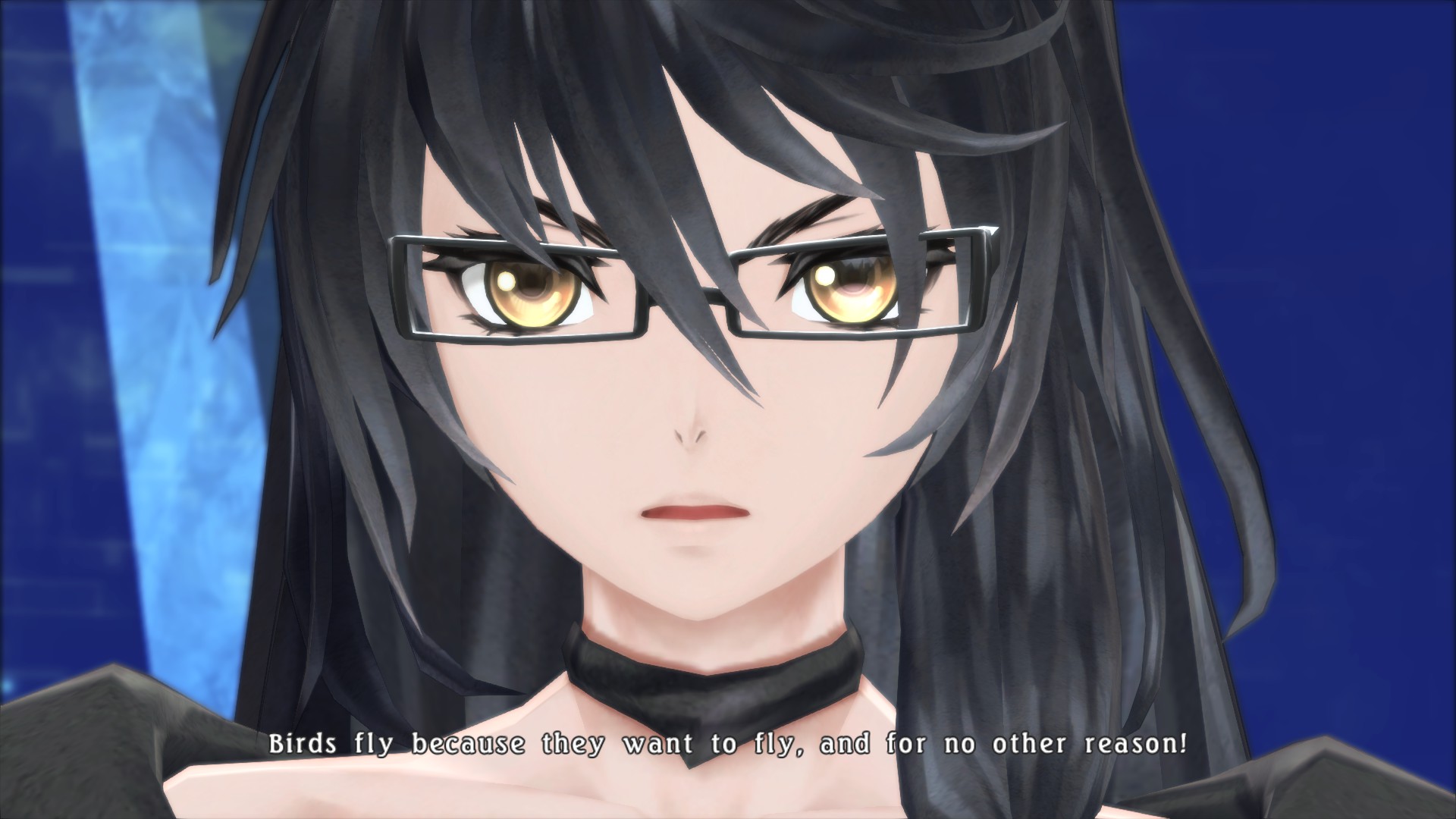 REALLY? THAT'S YOUR RESPONSE YOU STUPID DUMB FARM VILLAGE GIRL? WAY TO MAKE MY 50 HOURS IN THE GAME COMPLETELY WORTHLESS!
As you can tell, I didn't really like the story of this game all that much. Not because of the way the story was handled (it could have been done a lot better in my opinion, starting with Velvet not being so much of a bitch, for one), not because of the characters, but because...everything you do just feels pointless. You run around for 40 hours before Velvet finally realizes her quest for revenge will never fully come to fruition, and at that point, the game just takes a dramatic spiral downwards because, yes, it IS all pointless.
Revenge is pointless. Don't make it the central core plot device of your game. Game Dev-ing 101 folks.
About halfway through the game, after doing a quest where you have to go through an underground water temple or some shit that triggered me because it reminded me of Zestiria's Water Temple, the village along the coast, Haria, turns into a den of monsters, similar to the beginning of the game. Once you escape from the town, you soon realize something. See, there's this "disease" that everyone refers to as daemonblight. The Abbey (the big bad guys) coined this term because when you contract daemonblight, you eventually lose your senses and turn into a daemon. This isn't the case, it's all a lie. There is no such thing as daemonblight. What actually triggers people turning into daemons is malevolence. And you'll see me use this term a lot, because it ties in with Tales of Zesty. The malevolence, ill intention, and hatred that we have in our human hearts is what makes us turn into daemons, not some crazy disease spreading around. In Zestiria, those afflicted with malevolence were called hellions. In Berseria, they're called daemons. It actually sets up Zestiria's plotline really nicely as now, it makes sense. Along with that, we learn that people have started calling Velvet the "Lord of Calamity". Sound familiar? That was the final boss in Zestiria. So in essence, Berseria sets up Zestiria's plot, seeming as how Velvet is technically the very first "Lord of Calamity".
Oh yeah, and Laphicet Version 2 at the end of Berseria becomes Maotelus. Maotelus, in Zestiria, is this fictional being that is designed to bring peace to the world by eating Hellions and Seraphim alike. How a little boy of 12 years of age grew to become one of the most notorious figures in Zestiria still boggles my mind, but you know. It's a game.
There's also Zaveid. <3
Anyways, I realized I may have went on a bit too long with the story, but don't worry, the gameplay portion will be really really short. Mainly because you'll read the first sentence and I will have wrapped up the entire sum of gameplay for Berseria. So don't worry. It at least had a somewhat better story than Zestiria, bottom line.
Overall: 7.5/10.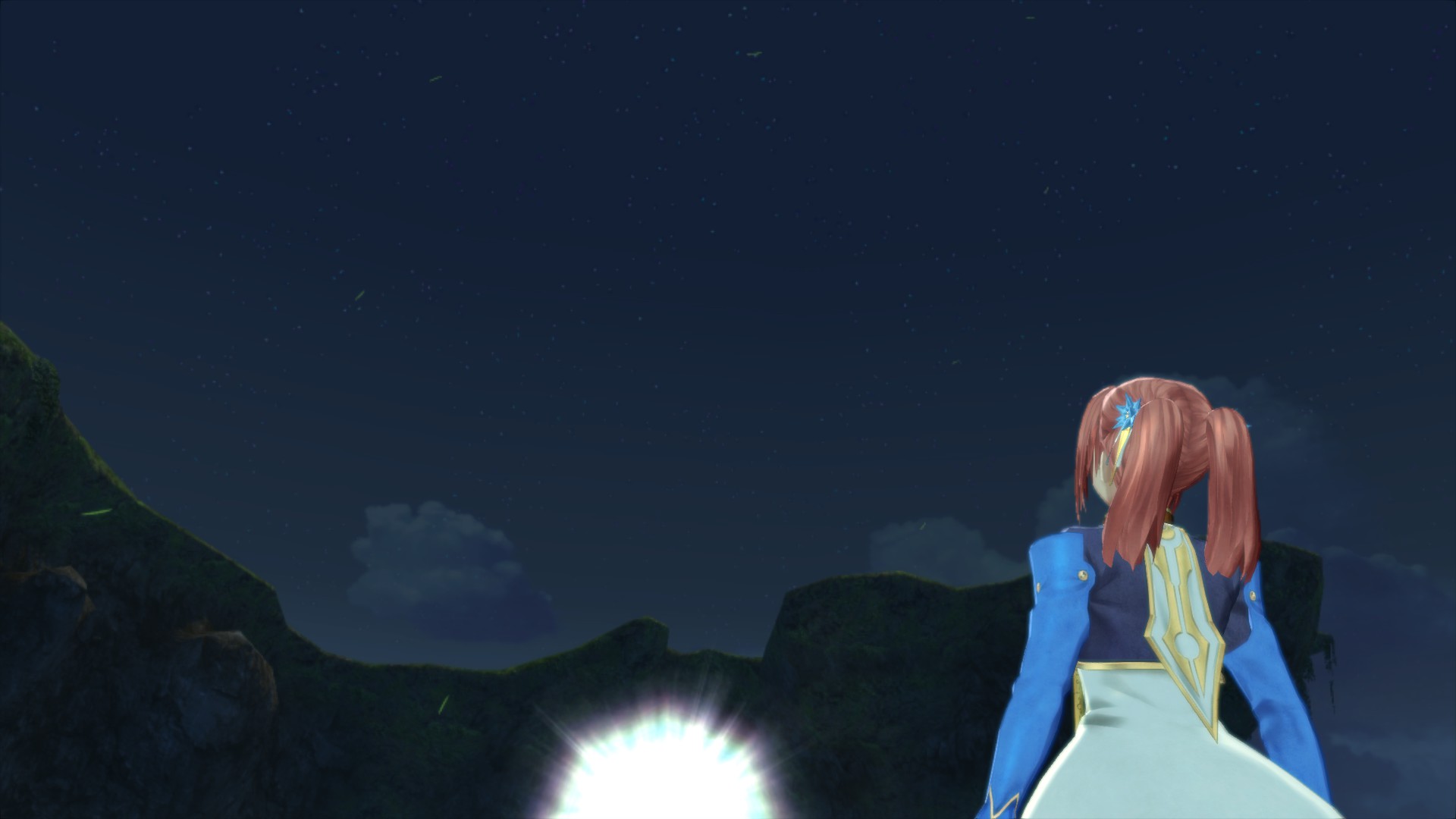 Gameplay:
The gameplay sucks.
Yeah, you didn't think you would be hearing that coming from a Tales game, would you? The massive pioneers of putting great gameplay before anything else, right?
No, the gameplay actually sucks in this game.
Granted, it did SOME things right with the actual MECHANICS of the system, like how you're not stuck to a line anymore and can freely move around the battlefield. In a 3D environment. Not like Zestiria did it. Your arte skills are also no longer bound to which direction you push the analog stick, and instead, all four of your face buttons to a different attack. This makes combat a lot more fluid, intuitive, and feel actually wonderful to play.
...Until you get to the actual reason why the gameplay sucks.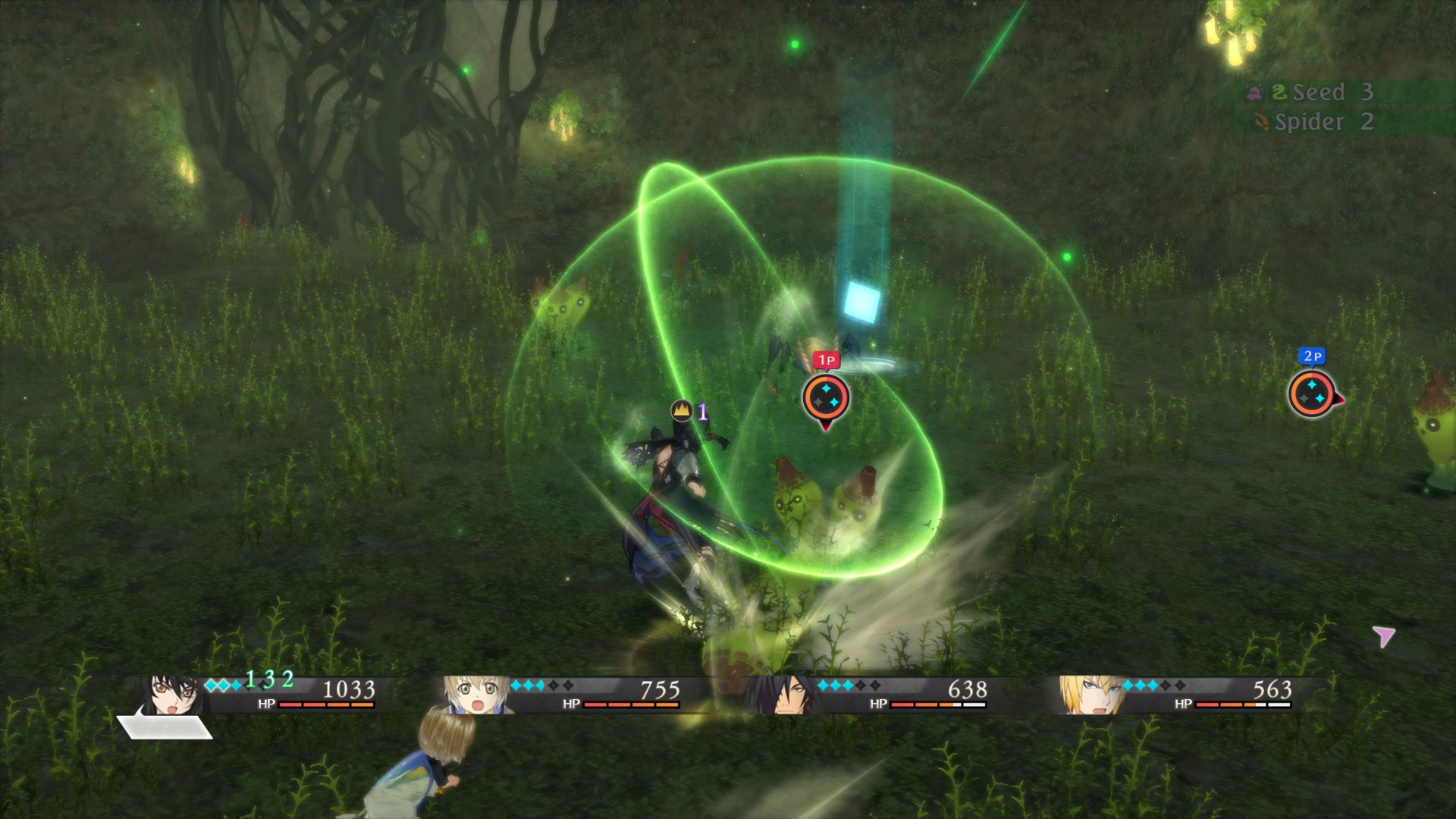 At the start of each fight, you get 3 souls. They're the little blue diamonds in the corner of everyone's portrait. You can upgrade your souls as you fight by inflicting Power Hits, inflicting Stuns on an enemy, performing a Perfect Dodge and getting Souls that way, or just straight killing the guys. Out of all four of those options, only one of them is really a consistent means of upgrading your Souls. When you inflict a Power Hit on an enemy (using moves that hit an opponent's weakness), they take more damage. If you manage to hit all of the opponent's weaknesses, it starts a Chain. When an enemy is under a Chain, they're more susceptible to being Stunned. However, even if you manage to Stun an enemy, there's no guarantee you'll actually get a Soul for all of the hard work that you put in. It's completely random. Same with getting a Perfect Dodge. As you can see in the screenshot, I managed to Perfect Dodge and a Soul popped out. Yet, it's completely random on how these things work out.
So you might be asking why is this a bad thing, you might ask?
There are abilities you get throughout the game that take advantage of how many souls you have. By expending a Soul, you unlock a move that is more powerful than the rest of your moves (in the case of Velvet). But you can only use these moves if you have more than 2 Souls. Since you start off with 3, you can only use it once before you inflict a Stun, dodge perfectly, inflict a Chain attack, or beat the fucker to a pulp. Not only that, they are your primary source of healing. Remember that as I move along to this next section.
So you might be asking why is this a bad thing, you might ask?
There are some enemies in the game who like to start with a certain skill, called "X Break", where X is the most annoying status ailment you can think of given your particular situation. Not only do these incredibly powerful attacks have a wide area of effect and inflict Status Ailments, they Break your Guard if you try to Guard, AND reduce your Souls immediately. Tell me that's not a bogus idea to not only inflict Paralyze, but also reduce your ability to fight and heal for almost every single party member unless you happen to miraculously dodge at JUST the right time. Remember how I said before that Break Souls are your primary source of healing? Yeah, Healing Artes in this game are fucking useless. Oh, here, take this First Aid spell that heals you for 20 damage.
...
I don't think I need to explain any more than I already have.
Ultimately, the gameplay wears itself down to, if you can get all the enemies in a corner and wail on them with all of your best attacks, accumulate a shit ton of Souls, and spam RT as it is the most powerful attack at your disposal, you'll win and be fine. But take note that enemies can also Stun you just the same as you can to them, and when that happens...well remember this. If you get Stunned, not only do you lose a Soul but you take more damage as long as you are Stunned. And, as if by some miraculous exploitation of Artifical Intelligence, as soon as you are Stunned, ALL OF THE ENEMIES in the fight will run up to you and start hitting you immediately. And then you're dead.
That's not fun at all. That's unbalanced.
Granted it's unbalanced for both sides as you can get everyone into a corner and hit them like a punching bag, which is what this game's strategy is, but it's also unbalanced because enemies have these particularly powerful and unbalanced moves like "X Break" or Soul Burst (gives them additional Souls while you lose Souls) that you can't do anything about. It ruins the fun and adds artificial difficulty to a game with a broken ass gameplay system.
You know, looking back on it now, Tales of Zestiria's combat system was way more fun than Berseria's, even though you were locked to a linear battle system. You know why? BECAUSE IT WORKS. There weren't broken enemies who spammed X Breaks or Soul Bursts or did overly insane amounts of damage.
And this is all on Simple mode by the way. I got so fed up with combat that I just said fuck it and blazed through the fights because I absolutely hated the combat in this game. The first time I can say I was incredibly incredibly disappointed with a game's combat system.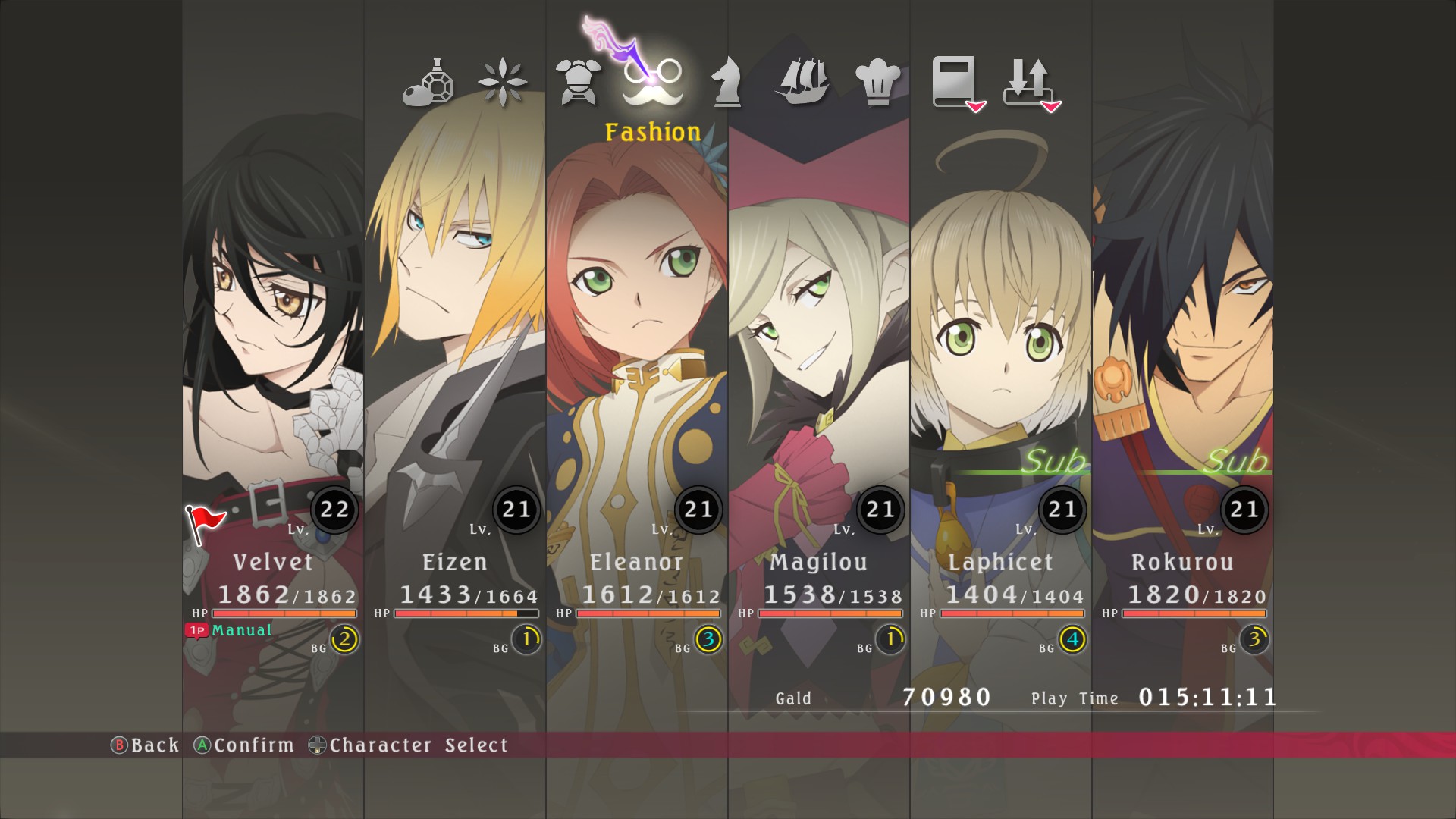 You get Mystic Artes quite early in the game, actually, at about 8 hours in and like when you're Level 10. And I know that's what all of you came here for, right? To see Velvet's bright and shiny face light up when she does a Mystic Arte?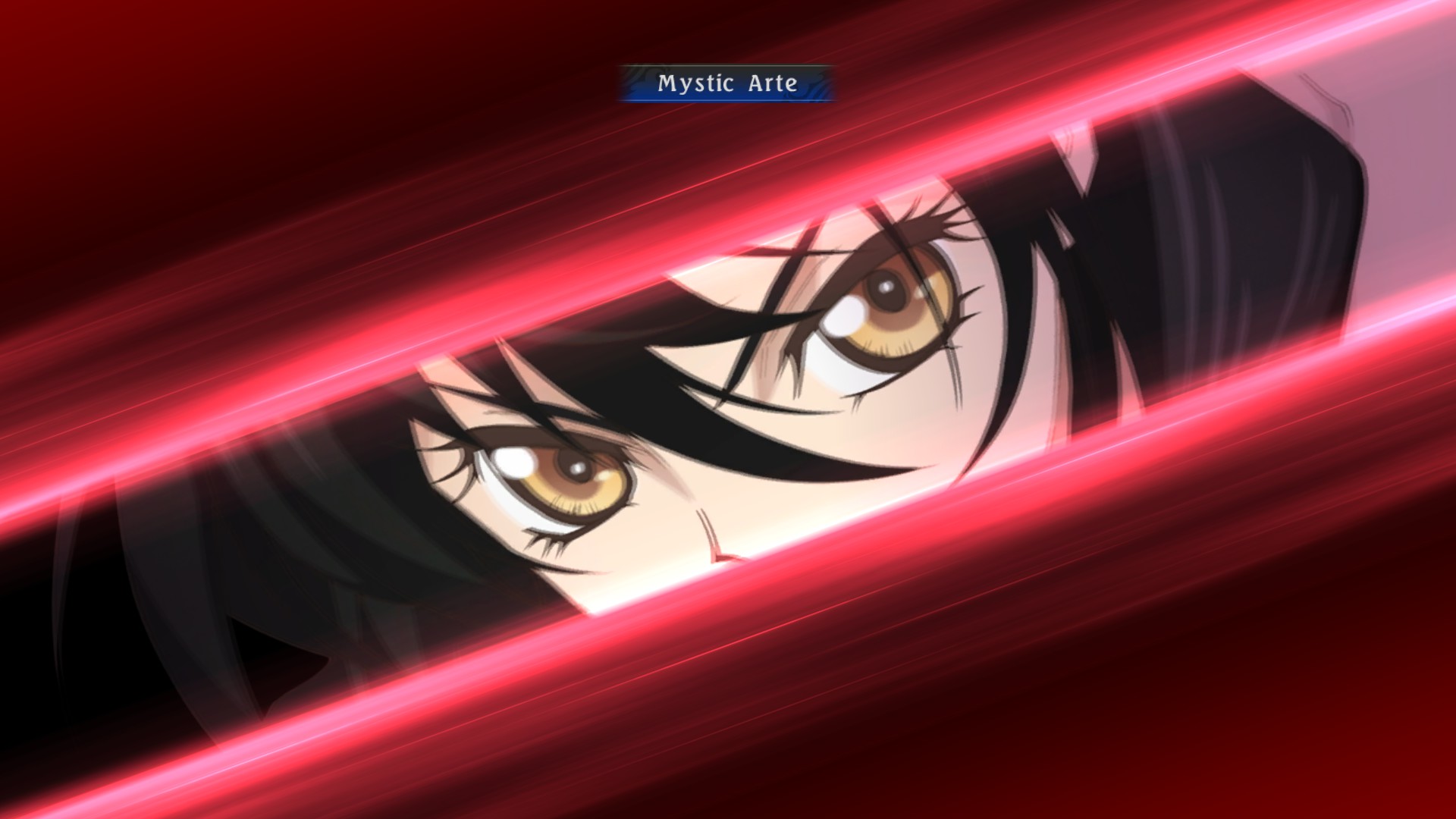 There are some other gameplay aspects I'll go into here but FIRST. Mystic Arte showcase.
...
DAMN IT, I DIDN'T TAKE ONE OF SPIRAL HAIL GDI-
Needless to say, Eizen's "Perfect Mayhem" and Eleanor's "Spiral Hail" are among the top two of my Mystic Artes in this game. Both of them are just so amazing and I have nearly fallen over out of my chair pretending to stab something as if I'm Eleanor. Oh, and punching the air is pretty fun, too.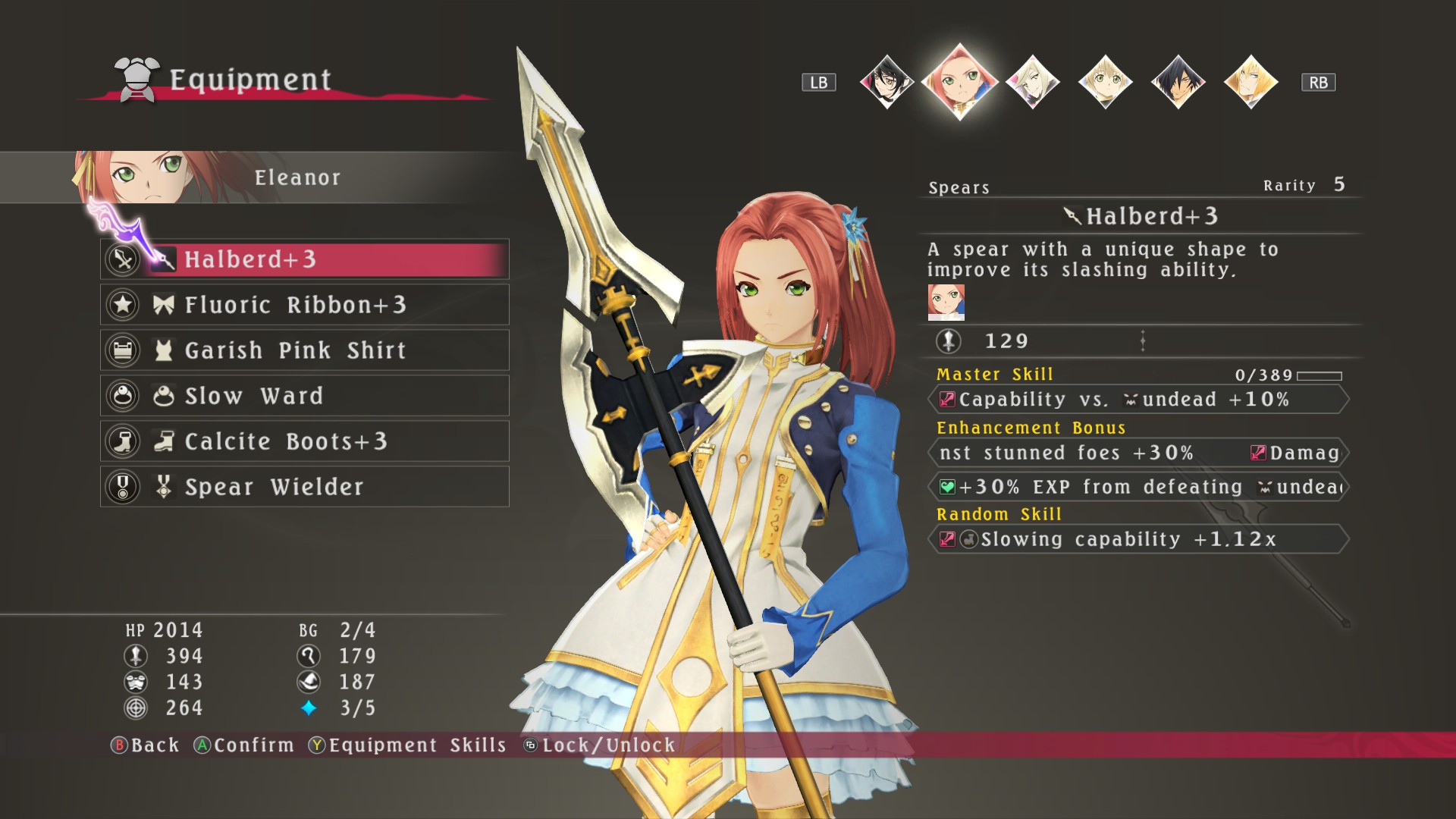 Like in the previous game, you can upgrade your equipment. The amount of skills and battle prowess you get from upgrading your equipment can drastically change how fights work. For example, if you upgrade your equipment enough, you may get extra BG, which is needed to activate Mystic Artes, or gain extra Souls at the start of combat. However, the shortcoming of this is you have to go into the shop menu to disassemble items you don't want or don't need anymore. From those dismantled equipments you can get various materials used to upgrade equipment. However, if you've been grinding in a certain place for hours on end and you have about 100 pieces of equipment in each category, like I ended up having once, you have to spam the A Button in order just to get through all 100 pieces of torturous equipment. And by that point, your thumbs probably already hurt because you're mashing the buttons in combat just to have a chance. So, while it's a good system, it has quite a few shortcomings associated with it.
There's, umm...there's card games.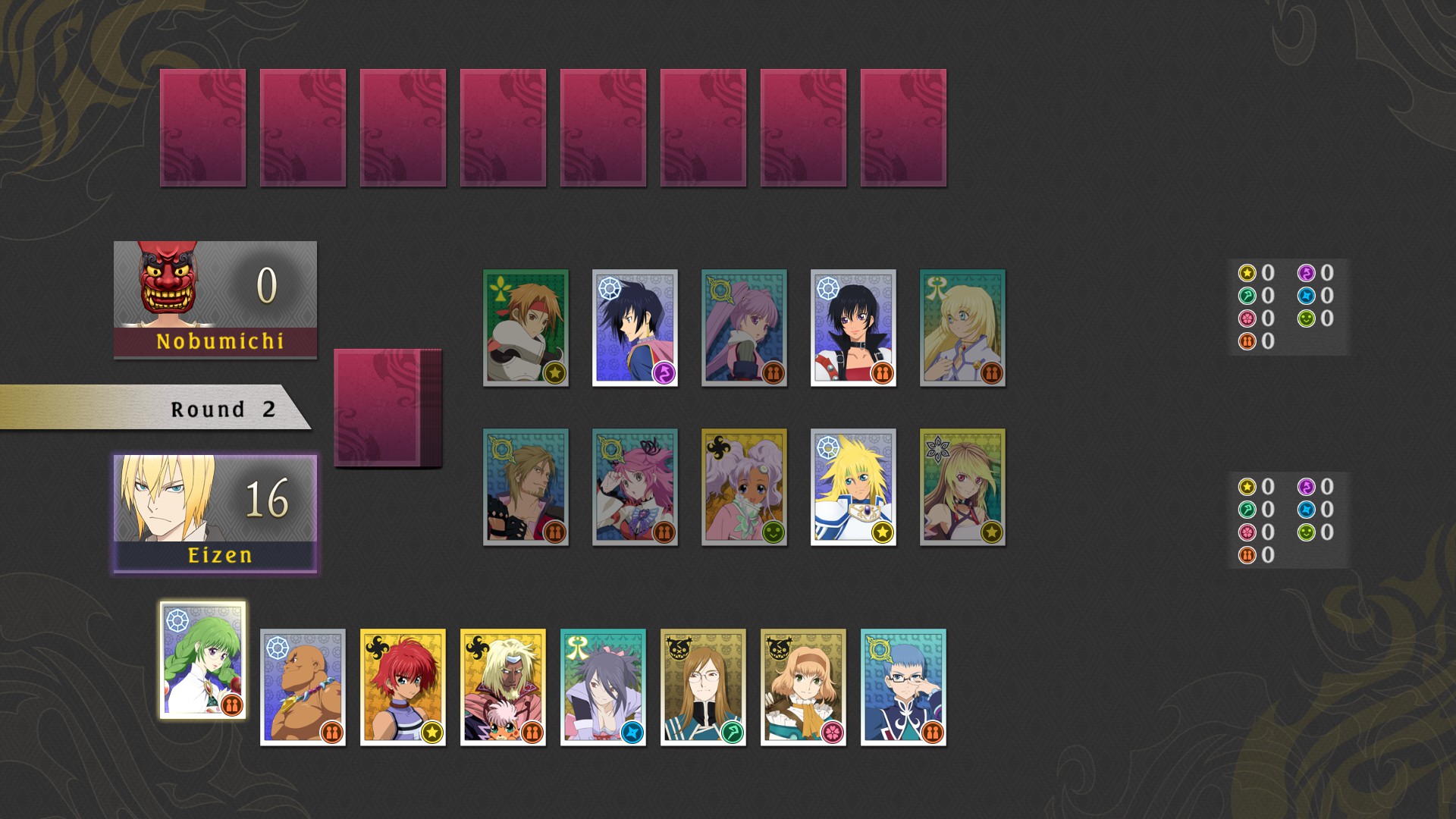 I'm gonna be honest, I spent almost zero time playing the minigames. They're just pointless. And they are extremely confusing to understand, especially Card Heroes, like pictured above.
But I guess if you wanna waste your time, go ahead.
So the main bulk of gameplay is basically get beat up, die a lot, get frustrated, stop playing the game for about a week, suck it up, do it again, miraculously do 100000 damage in a single hit because what the fuck Velvet is OP, and then fly through combat.
Disappointing gameplay.
OH, BUT YOU DO GET A SKATEBOARD-I mean, A GEOBOARD THAT LOOKS LIKE A SKATEBOARD!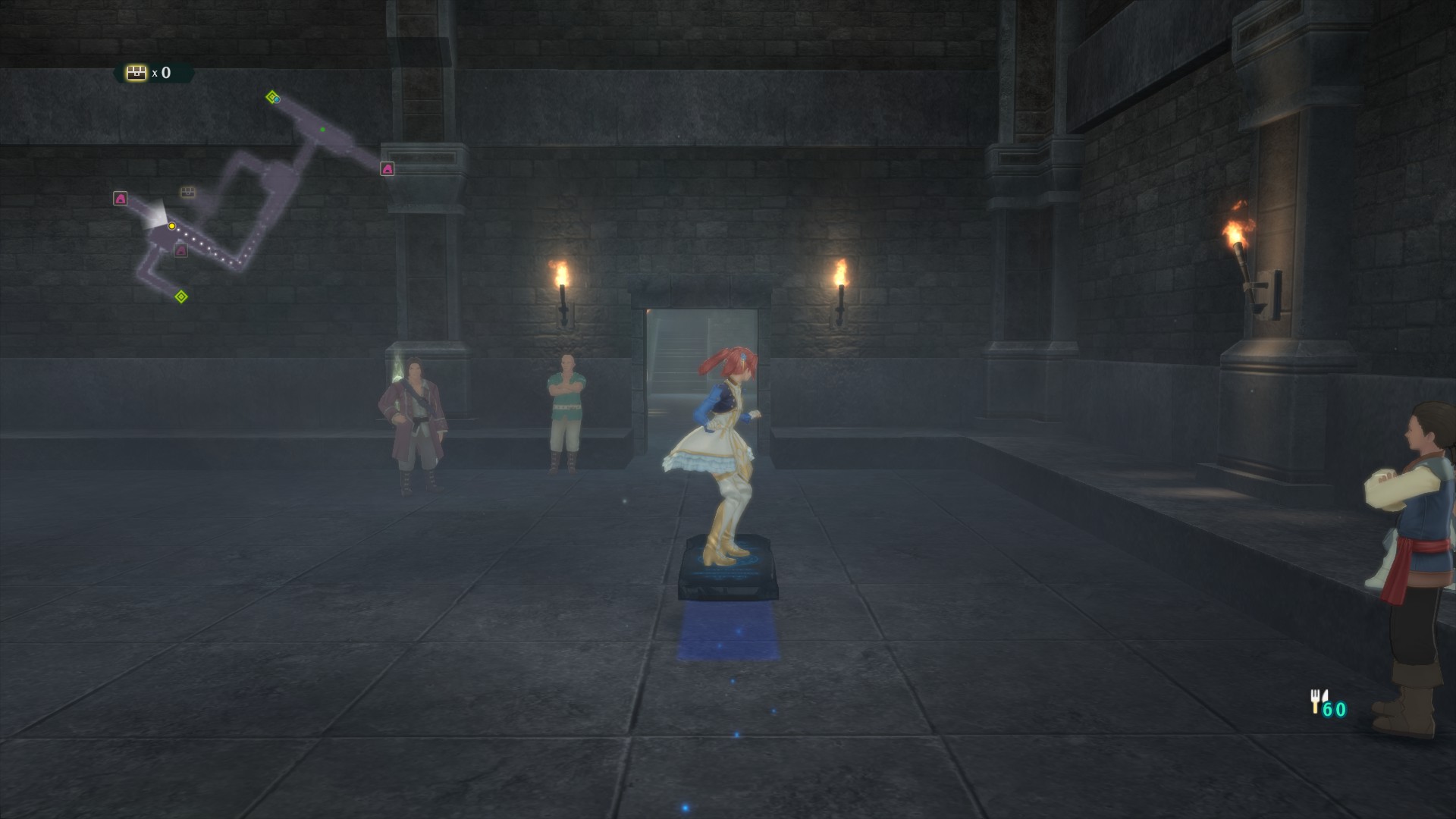 Gameplay: 4.5/10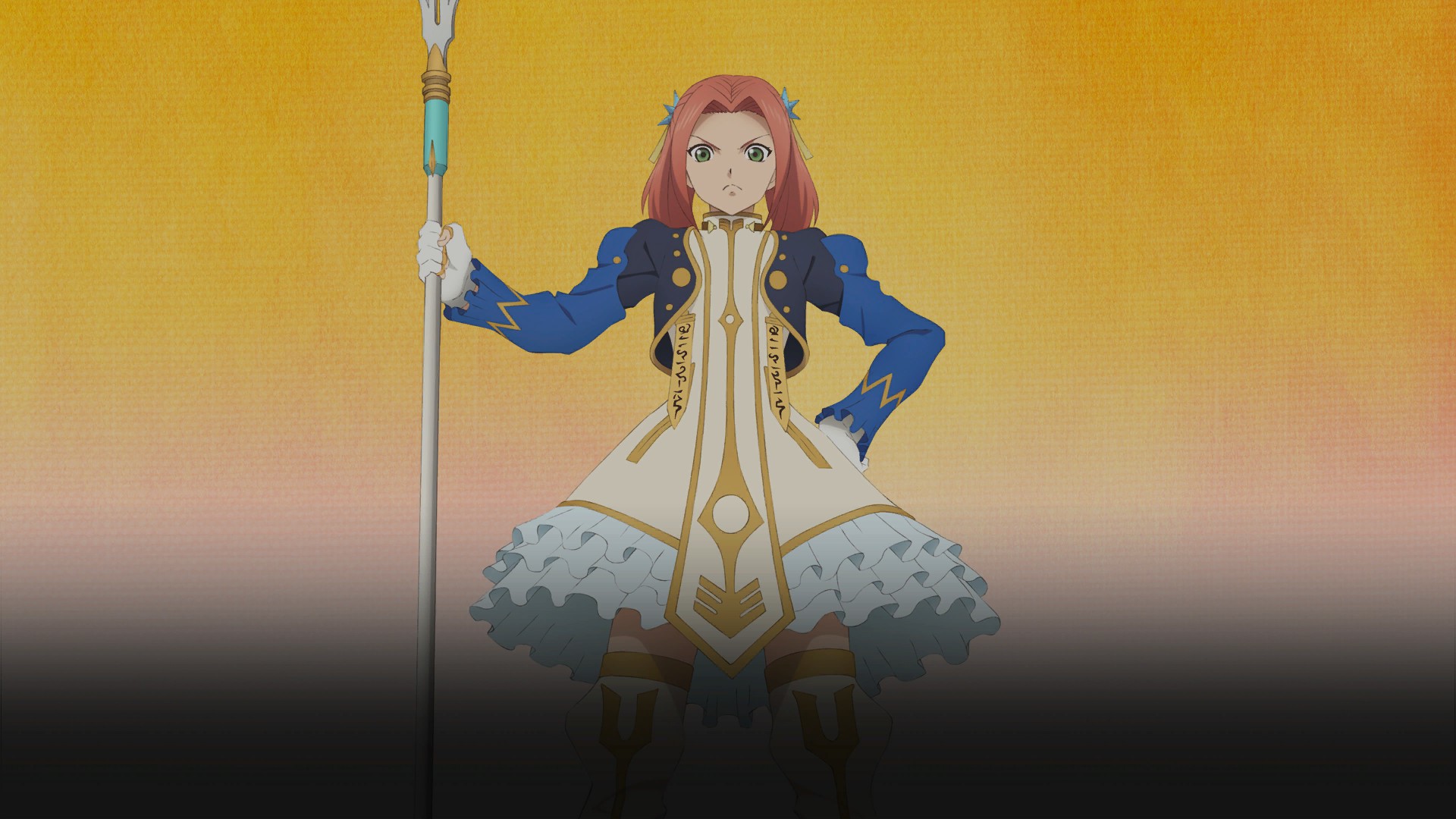 Quality:
This game was rushed. It's painfully obvious and Namco Bandai didn't even bother to cover up that fact.
Take the following skit for example: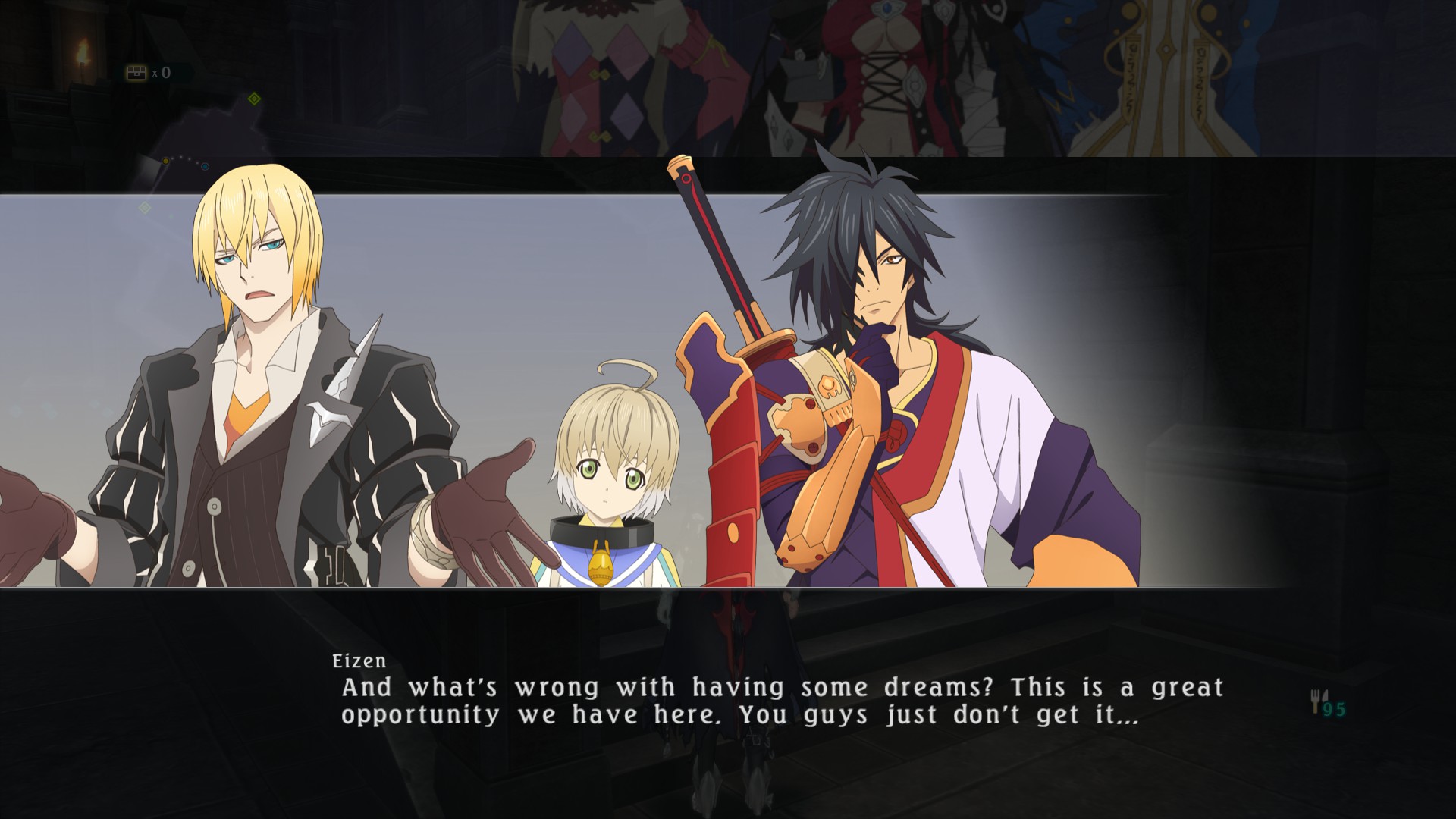 And yes, skits are back as usual.
But look at the following text. The voice actor for Eizen, however, ends up saying something completely different, something along the lines of "And what's wrong with having some dreams? It's a great opportunity you have. You all just don't get it."
And this just doesn't happen once. It happens A LOT. Like, it's like the script for the game and what the voice actors are saying are completely different. It's like Namco Bandai gave the script to the actors incomplete and just said "Ad-Lib the parts we didn't fill in because we're too lazy for that and it isn't our first priority."
Remember when annual games used to be good?
However, I can't say that the voice acting in the game was all that terrible. Most of you have probably seen this scene floating around on Youtube, but it perfectly showcases just how well Velvet's VA nailed the character in question.
Probably one of the best delivered scenes in the entire game in my opinion. But unfortunately, it doesn't overshadow all of the other problems regarding how rushed the game was regarding skits, scenes, and "lost in translations" the game got.
Quality: 6/10.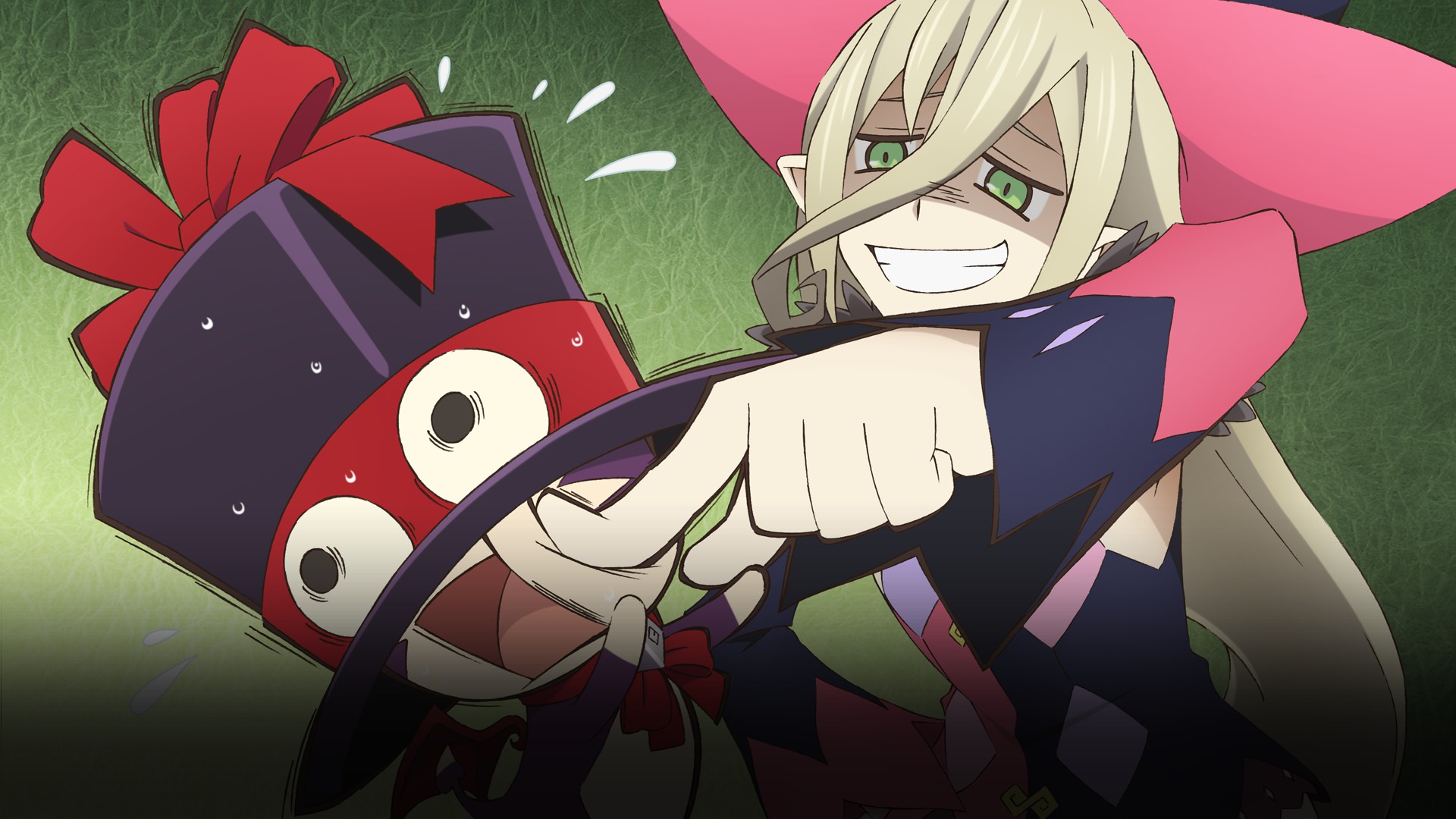 Replayability:
Yeah, yay, New Game +.
Why the fuck would I want to play through this garbage game again?
Replayability: 0/10.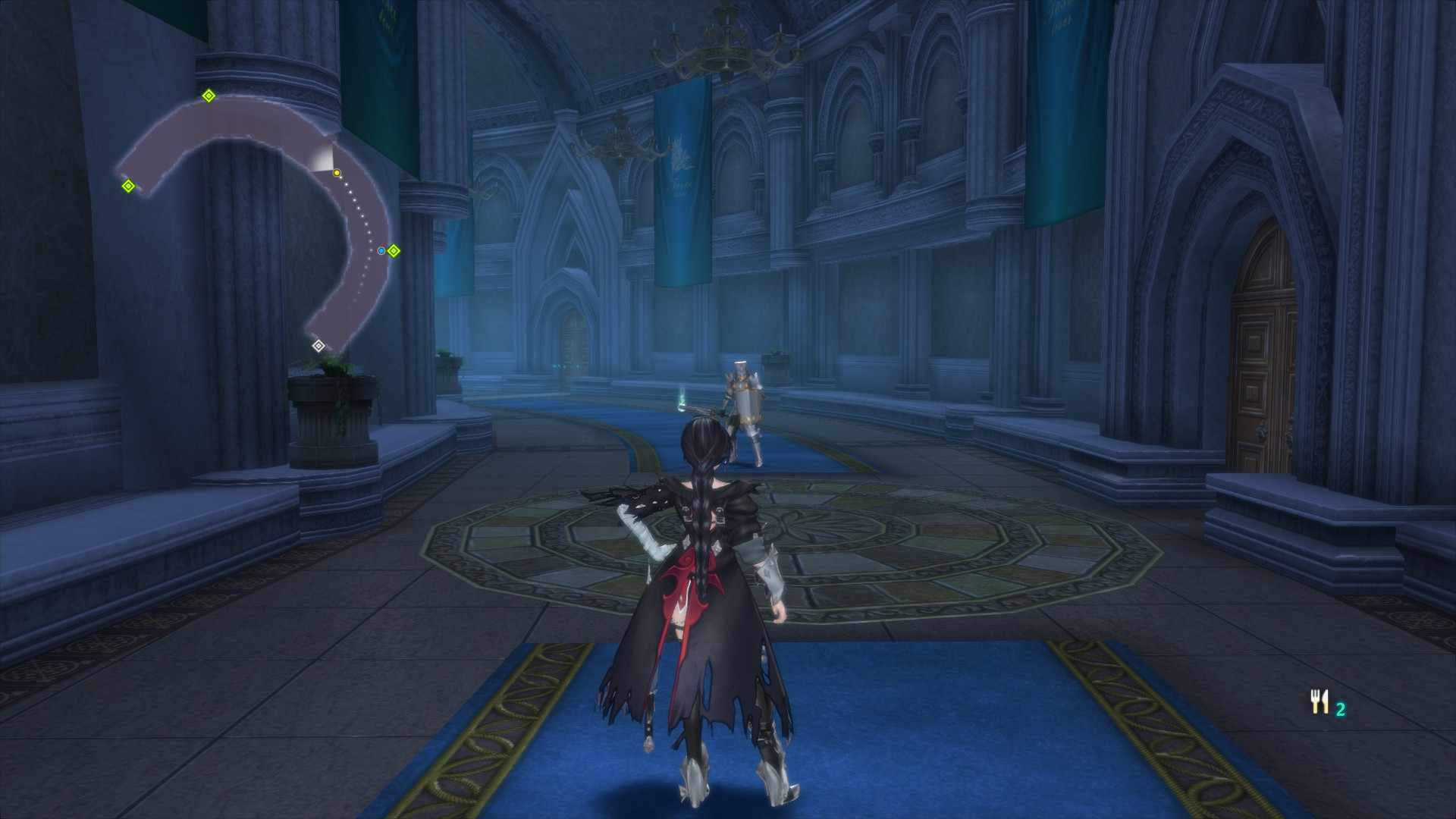 Now, it's time for the final wrap-up. In this section, I'll detail if this game is truly one for you, and if you should decide to play it or not.
Would I recommend this game?:
No. It's not good, honestly. If the combat were to be completely gutted from the game and the story to be the main drive and focal point, with a bit of better execution, I probably would have liked it more. I've played games with a good story with slightly less good gameplay (Nights of Azure), but this game's gameplay is just downright ridiculous. Stay away from this one.
Overall rating of the game: 4.5/10. Terrible.
Now take some music or some shit, I don't care.