Region Effects - Version 1.7
By Galv
Introduction
I created this script for myself as a "learning ruby" project. It was designed to activate effects when the player stands on designated regions so there's no need to spam events across the ground to do things.
Features
Specify effects you want to happen on designated region tiles.
Region effects can include:
-- A sound effect (automatically varies volume and pitch so not to be repetitive)
-- An event that appears at the player's location (for example, footprints. These events are stored on a designated map)
-- Activating a common event
I figure with access to these three things (and some eventing knowledge), you can create a region effect that does nearly anything you want so you don't have to spam events everywhere.
Included in the demo are some basic pre-made effects as examples - footprints, water splashes, fire trap, dust trail, bushes rustling, footstep sounds on different surfaces.
Screenshot
A screenshot of just a few of the pre-made effects in the demo: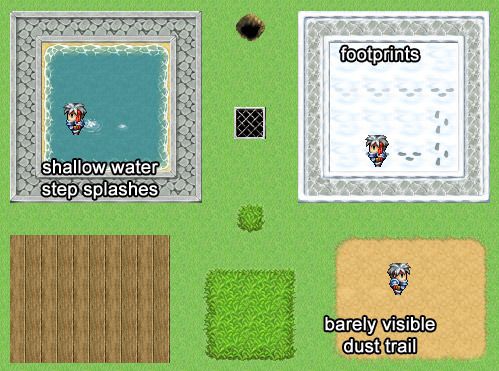 How to Use
Place script under Materials and above Main.
See top of the script for instructions and settings.
To transfer pre-made effects to your game:
1. Copy image from /Graphics/Characters/!Other-specials.png to your project (into same folder)
2. Copy the "EFFECTS TO SPAWN" map from this demo into your game. (Ctrl+C on the map and Ctrl+V into your game maps is quickest)
-- this map has events set up for the pre-made effects
3. Check the map ID of the copied map as it appears in your game
4. Change the SPAWN_MAP_ID number to this map ID
5. Change REGION_EFFECT_SWITCH to a switch you are not using in your game.
6. Add some regions to your map to test.
7. Make sure you start a new game. It will not work loading a pre-script save file.
Script
Get it here
FAQ
None yet.
Credit and Thanks
- Galv
- Yanfly and Quack for the method to spawn an event
Author's Notes
Updates
2012-11-15 Version 1.7 - made the effects work during forced move routes
2012-11-15 Version 1.6 - fixed a major bug that caused events to disappear
2012-11-04 Version 1.5 - bug fix and efficiency updates suggested by Quack
2012-10-24 Version 1.4 - updating alias naming to be compatible with my own scripts... heh.
2012-10-19 Version 1.3 - re-wrote some of the code make it more effecient when using large amounts of effects.
2012-10-09 Version 1.2 - fixed up some dumb code that should reduce lag on low-end pc's
2012-09-16 Version 1.1 - now works with Yanfly's spawn event script