Holders Animated Battlers
Please click each thumbnail for the full Animated Battler XP, VX, VXAce sheet.
Terms of use
Please check the new terms of use at my blog.
Actors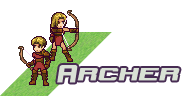 Ranged attacks using bows, this eagle eyed class can attack from a great distance or even rain down a shower of arrows.
Using single handed swords or axes these are the standard fighting class, a shield can be applied for a little extra defence.
Pets
These float behind the Actor.

Based on Phantasy Star Online