Arin's In Depth Reviews: Blue Reflection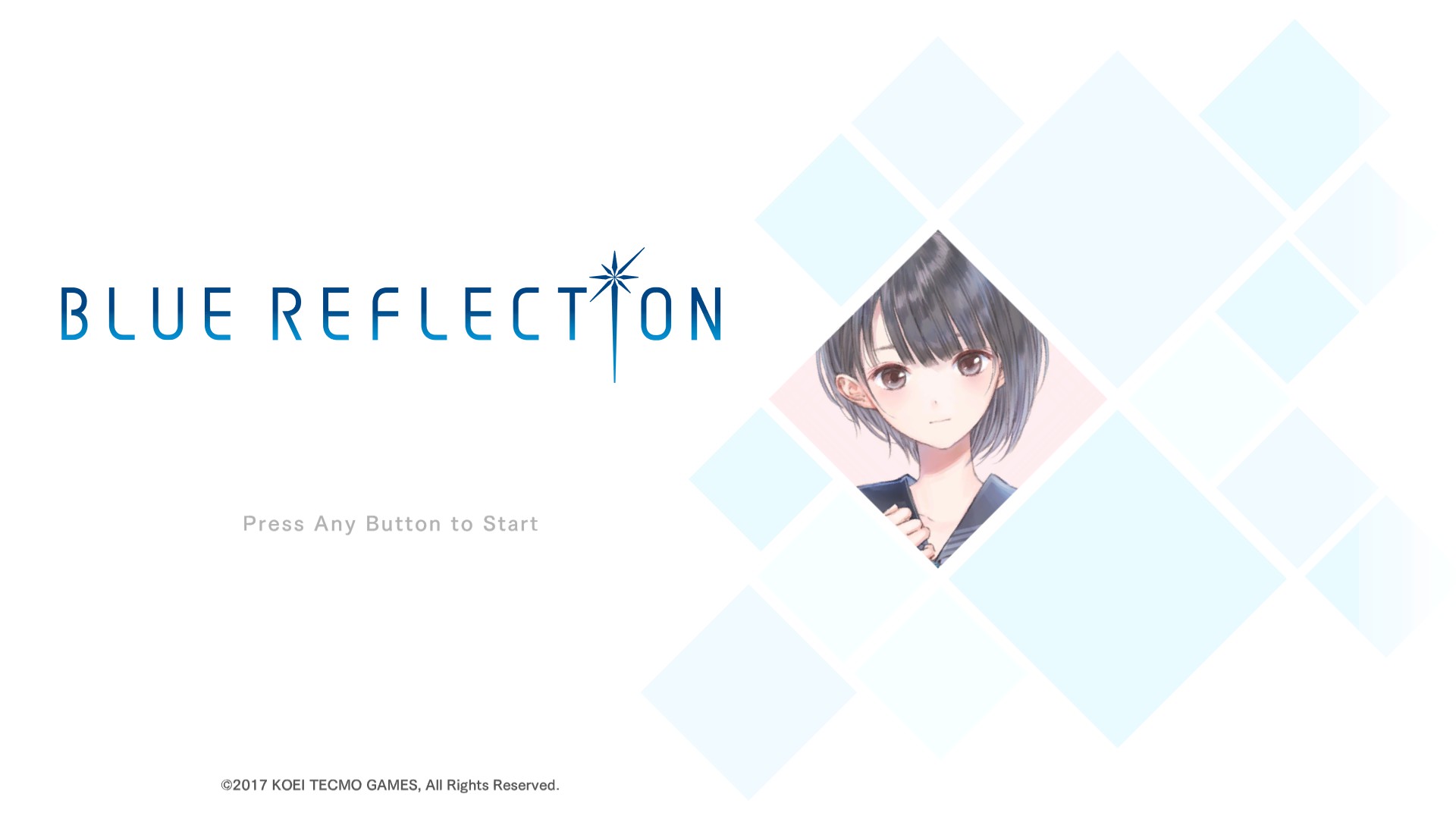 Emotions are a very fragile core of our very hearts, but they can also become the strongest weapons if wielded properly. To watch friendships blossom, to have true love and friendship come to life, to have people rely on you and you rely on other people...these are all emotions central to the human heart, and why friendship is such a critical aspect in our lives and why it should never be taken for granted. I'll break the game down into several segments, consisting of story, gameplay, quality, and replayability, and judge the game on all of these criteria.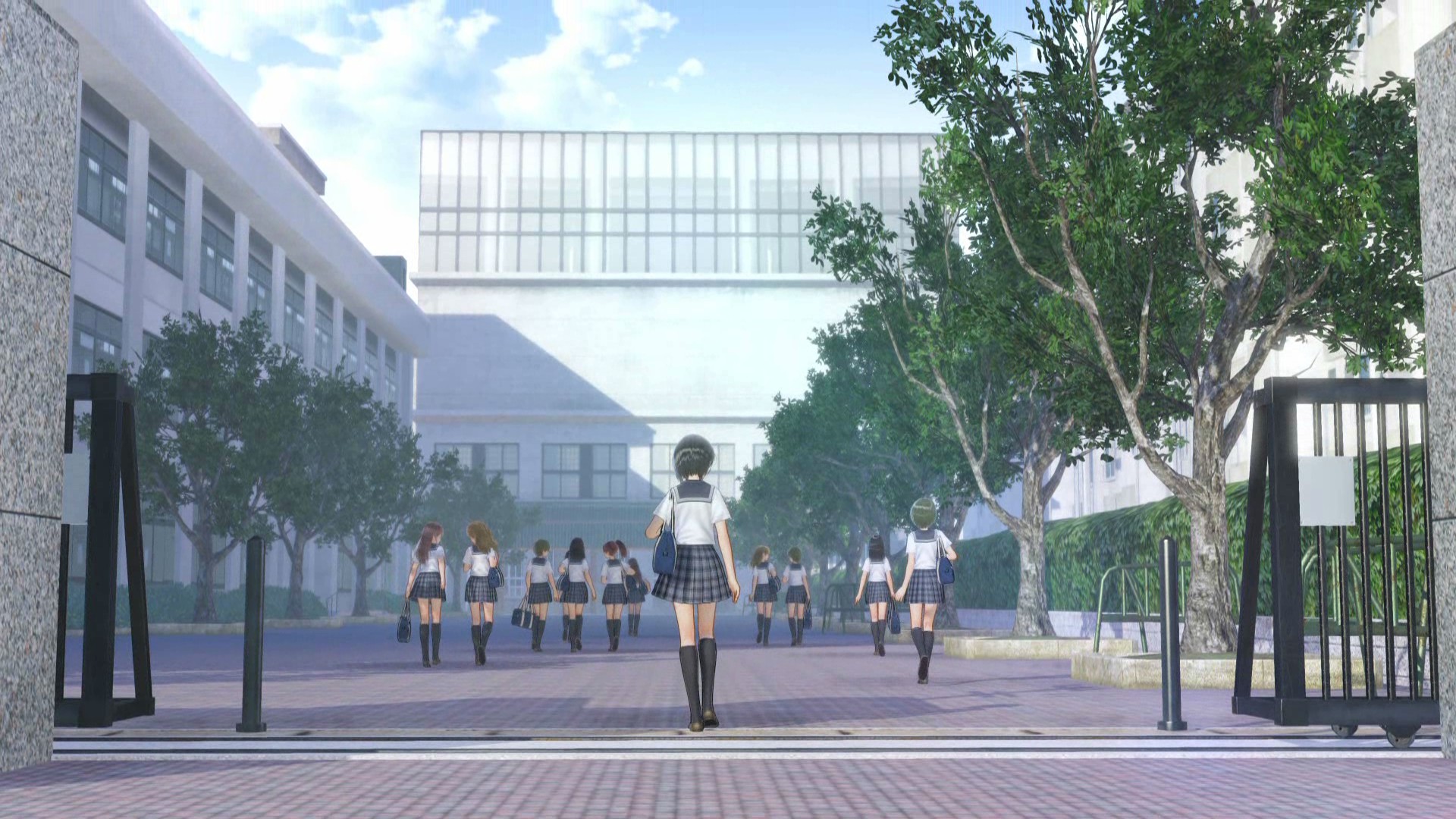 Story:
Emotions. They are the basis of a human heart. And Blue Reflection is a compelling story following three girls who help those in their school, Hoshinomiya High School, overcome their emotions and let them fight on. Because I want you all to experience the story the same way I did, sit down in your chair, your bed, or wherever you are currently at right now, close out of other distractions...and put this following song on repeat and listen closely.
Blue Reflection follows a girl named Hinako Shirai, a first-year student attending Hoshinomiya High School. When the game starts up, you see her in a very solemn and very lonely state. Hinako originally before was the famous star of a ballet school, almost at the top of her class, but due to an unfortunate injury concerning her knee during ballet class, she would never be able to dance again. After the accident, she switched schools and was made to live a "regular life", as a schoolgoer. She was put into the 1-A Regular Class of Hoshinomiya High School, which has a less strict curriculum than the Special Class, but more about that later.
Hinako shortly thereafter runs into another girl, Sanae Nishida, who originally was in the same grade as Hinako in their previous school, has also transferred to Hoshinomiya to work on her cooking. The two bump into each other in the hallway, and Sanae is simply ecstatic. However, this triggers a change in the atmosphere...a side effect of uncontrolled emotions called "rampancy".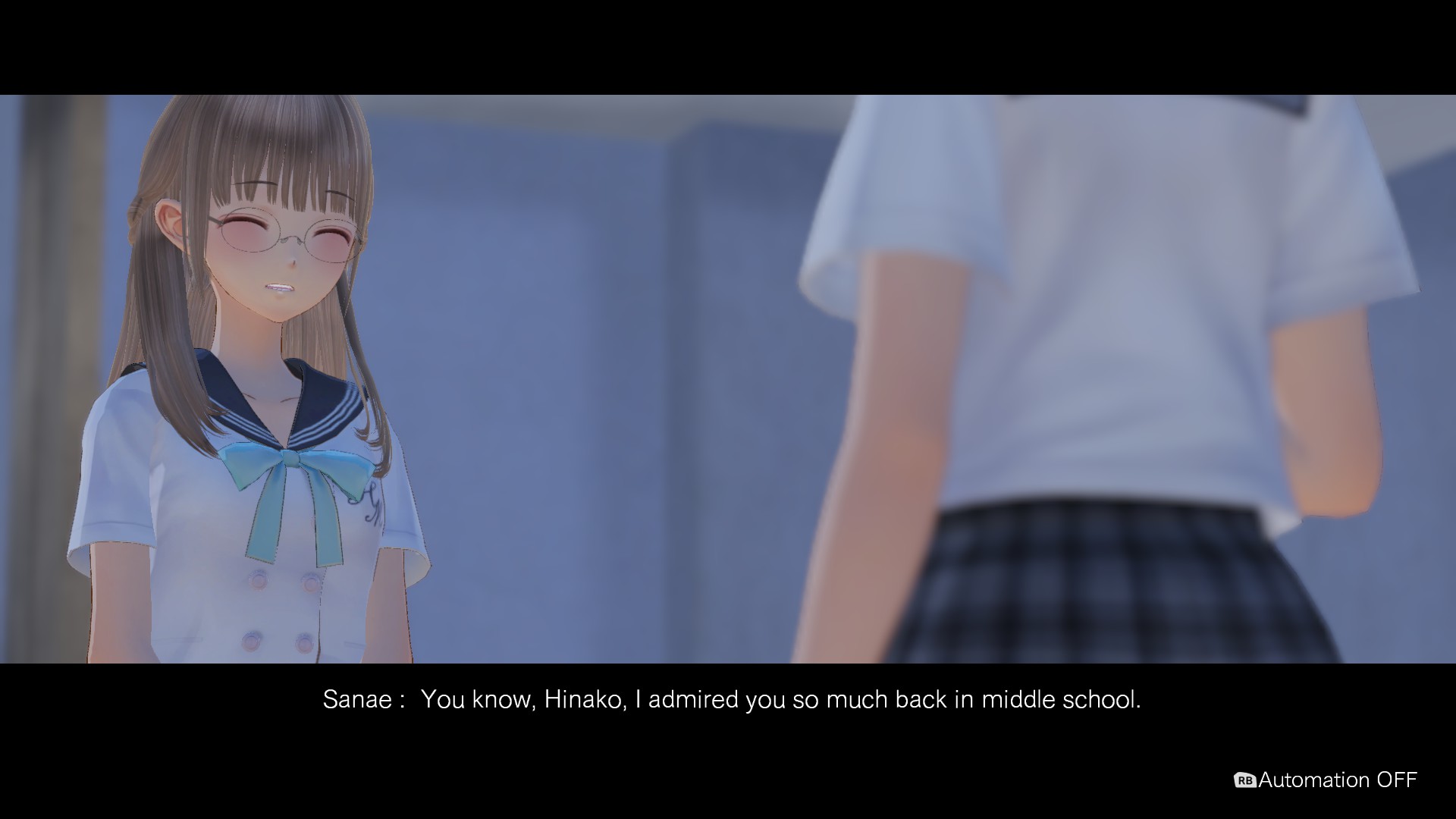 Hinako becomes teleported to this strange world thereafter with lots of flowers around and a very calming and serene atmosphere. However, a strange entity on the other side of the riverbank, a Demon, as it is called in the game, attacks Hinako and forces her into the river. Hinako drifts downward to a nearby spot, crawls out, and is surprised. However then, she hears two voices in her head that allow her to give her the power to eliminate the Demon. The two girls, Yuzu, and Lime, give Hinako the power of the Reflector: the power to balance human emotions through kindness and understanding.
After completing the dungeon, Sanae returns to her normal state, still admiring Hinako, but in a much less over the top way. The next day, Yuzu and Lime appear as classmates of Hinako's, with the intention of collecting Fragments, a collective of human emotions, to bolster the Reflector's power. The game then becomes about the three girls, Hinako, Yuzu, and Lime, as they collect Fragments through the Reflector's power in order to defeat the most menacing of foes in the world: Sephirot.
Along the way, you'll find more girls around the high school, such as Sarasa Morikawa, who originally looked up to Hinako as a rival in ballet and aspired to be everything she was, Rin Sanada, a tennis ace with a perfect record, who is amazing at cooking and loves older men (personally, my favorite girl), Ako Ichinose, a news reporter/broadcaster who wants to make friends through videos and sharing her upbeat personality, Shihori Sugamoto, who is a pervert and we don't associate with her, Chihiro Inoue, a cute girl who uses her arts and crafts to charm and make friends with everyone, Fumio Taya, a musical prodigy who works tirelessly to become the best musician, Kei Nariyama, a high school basketball star with pizzazz in sports, Kaori Mitsui, a gamer girl who was originally on the track team, along with Rika Yoshimura, track star who wants to break out of the "normal" nomenclature, Yuri Saiki, a genius girl who is emotionless and the toughest nut to crack, and Mao Ninagawa, a famous actress with dual personalities. Each of these characters brings so much life to the game and makes each character shine as though they were really alive, and not just 2D models in a game.
Eventually, emotions within the real world start to become more complex. Things start blending together and human become harder to understand for Hinako as she tries to fight her way to save her friends' hearts. Fear can spill into sorrow, happiness can spill into anger, anger can spill into sorrow, and everything just...comes together so well. The story was so amazing from beginning to end, as we see Hinako fight for what she believes in: her friends, her compassion, and her sense of conviction in doing the right thing. There are many beautiful moments throughout the story that can occur in every day life, ranging from dealing with troubled teenagers spouting rumours about you over the Internet, dealing with a high-class versus low-class daughter who can't follow their dreams, splitting from the track and field team due to not having confidence, not having someone to look up to in your darkest hour, and so on.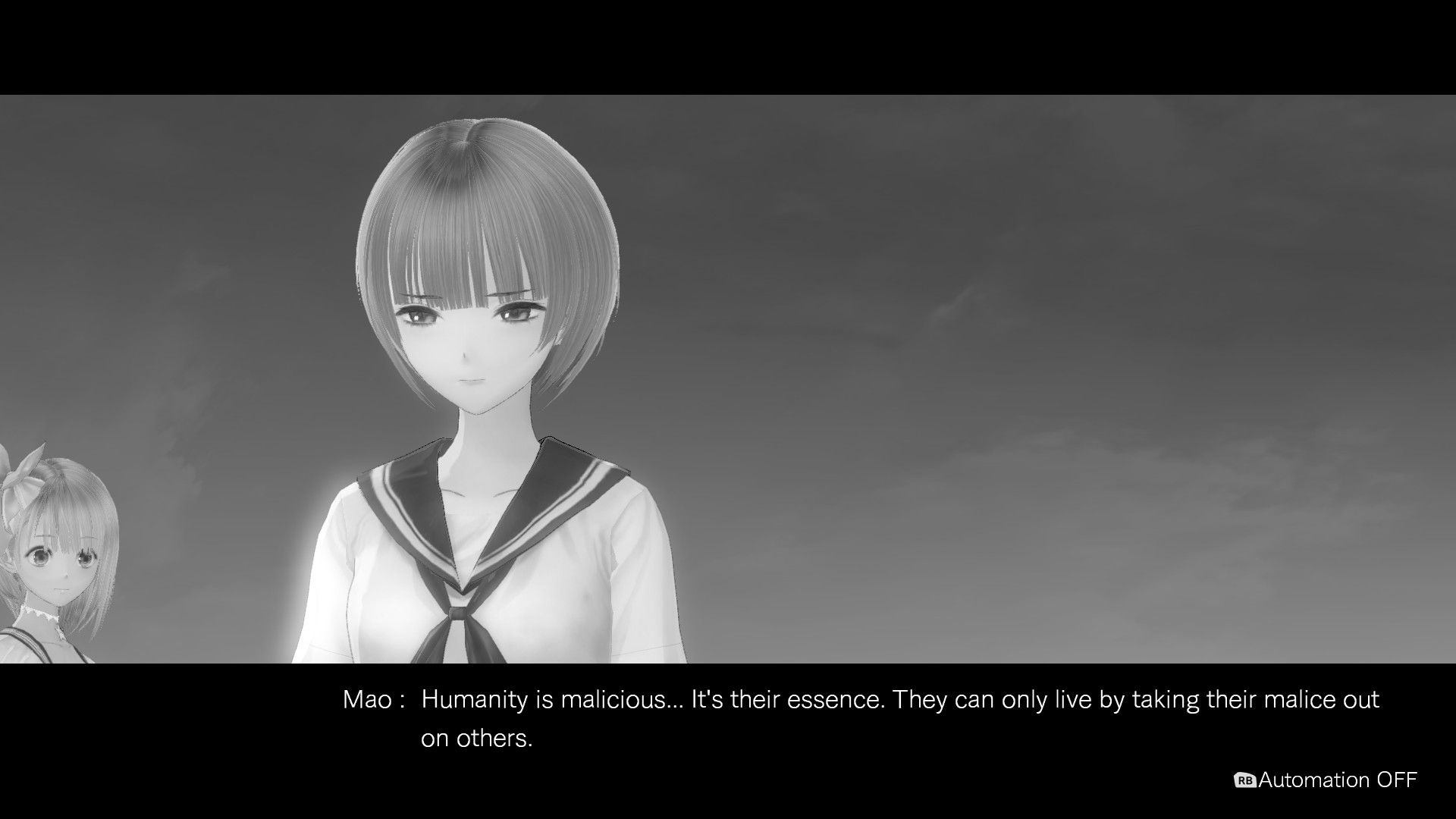 Through the collection of many Fragments, Sephirot appear to attack the school, and as is your job as a Reflector, it is your duty to reflect them off. However, later on, you get the ability to kill them outright anyway, which kind of makes the first half of the game just plot armor for Hinako. Which is one of the things I kinda didn't like about the game, personally. I would have rather they built up the power to completely annihilate Sephirot in the first place rather than it fall victim to plot convenience, but that's just being very nitpicky of me.
Also, Sephirot look fucking cool.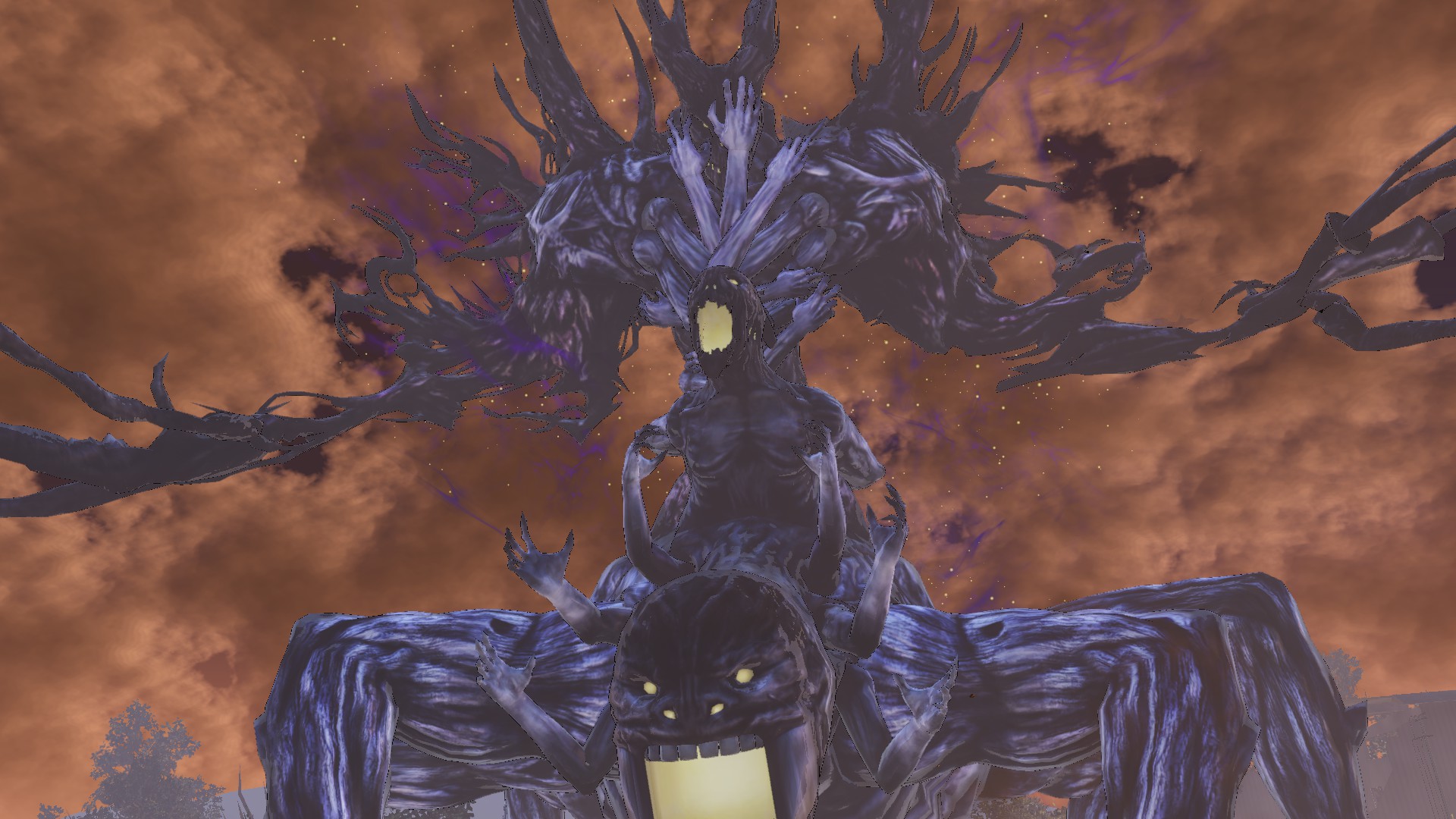 As you fight and fight, you discover that the "dungeons" you can go to is actually the basis of the human conscience and emotion. Now, I'm gonna draw a parallel to Persona 5 for a second here, since this game has taken a lot of inspiration from that game. This game has a place called "The Common", the place you go to to find Fragments and fight Demons in order to increase your power. Persona 5 has a place called "Mementos", the place you go to to find Quests and fight Personas in order to increase your power. Seem familiar?
Yeah, this game is a lot like Persona 5 in a lot of ways, where emotion and friendships are your quick ways to victory. However, I will say one thing, though. The two games are completely worlds apart. If we were to compare the two games as pizzas, for example, Persona would be a sausage and pepperoni extra large pizza with stuffed crust and a side of cheesy garlic bread. Blue Reflection would be a nice Hawaiian pizza with a side of bread sticks. Simple, but MUCH more casual than Persona 5. Streamlined in such a fashion that makes it feel like you aren't stressed for time trying to do the things you love and balance it out with fighting Sephirot.
Now I'm hungry.
As you play along, you'll discover the secret of the two young girls, Yuzu and Lime, who they really are, and why they chose Hinako as the source of the Reflector's power. Turns out, Yuzu and Lime are already dead. In a freak experimental accident gone wrong (totally not senor plot convenience, right?), a previous Sephirot wanted to try and merge The Common and the human world together, but failed. Yuzu and Lime were the result of that experiment gone wrong. However, their souls remain in The Common, but their actual identities are masked and no one knows who they are unless they have specifically come into contact with Hinako first, and given a ring to show that they are friends. By the way, if I ever got a ring from being friends with a girl, I'd marry her.
Then, the Sephirot who wants to erase all human emotion and existence comes after you defeat all the previous Sephirot.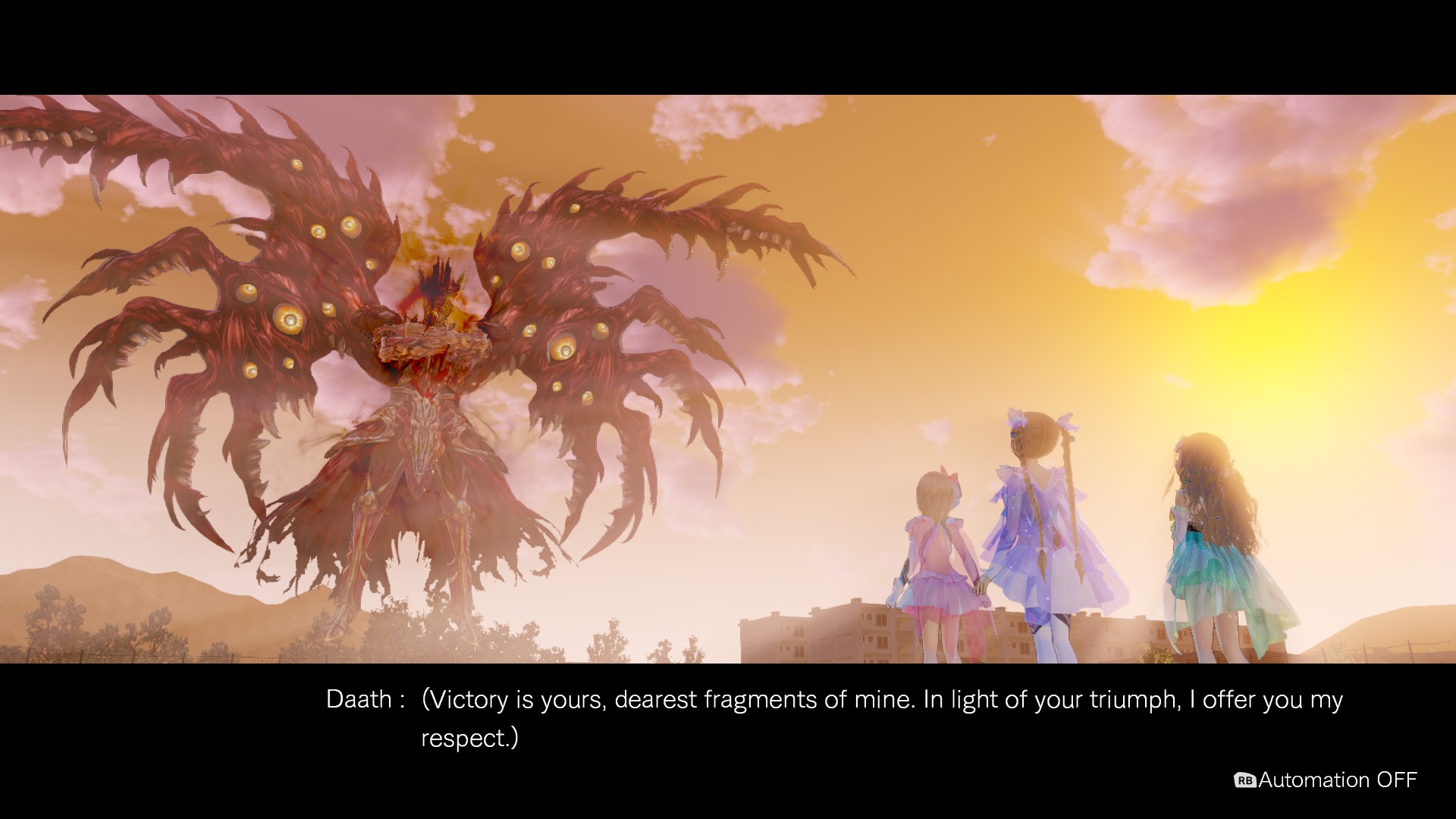 Humans can be so frail and fragile as their bonds with friends crumble apart. Friends go away, relationships and hearts can be broken, people can even die. But that doesn't mean we should give up and lie down. It's in the endurance of the human heart to always persevere, no matter what, and this game has no shame in telling you that. The final boss makes you realize your fear and regret, your sorrow and your anger, and your wish to persevere humanity's wishes, with the concept of "never forgetting the people who made us get here in the first place", even if they aren't really there.
The story is easily one of the best parts about the game. GUST has always made games with really really good storylines because they work. Even though it's overly cliche with the whole schoolgirl trope, it still works. Unlike "That game which shall not be named" that I did last time.
Overall: 8.5/10.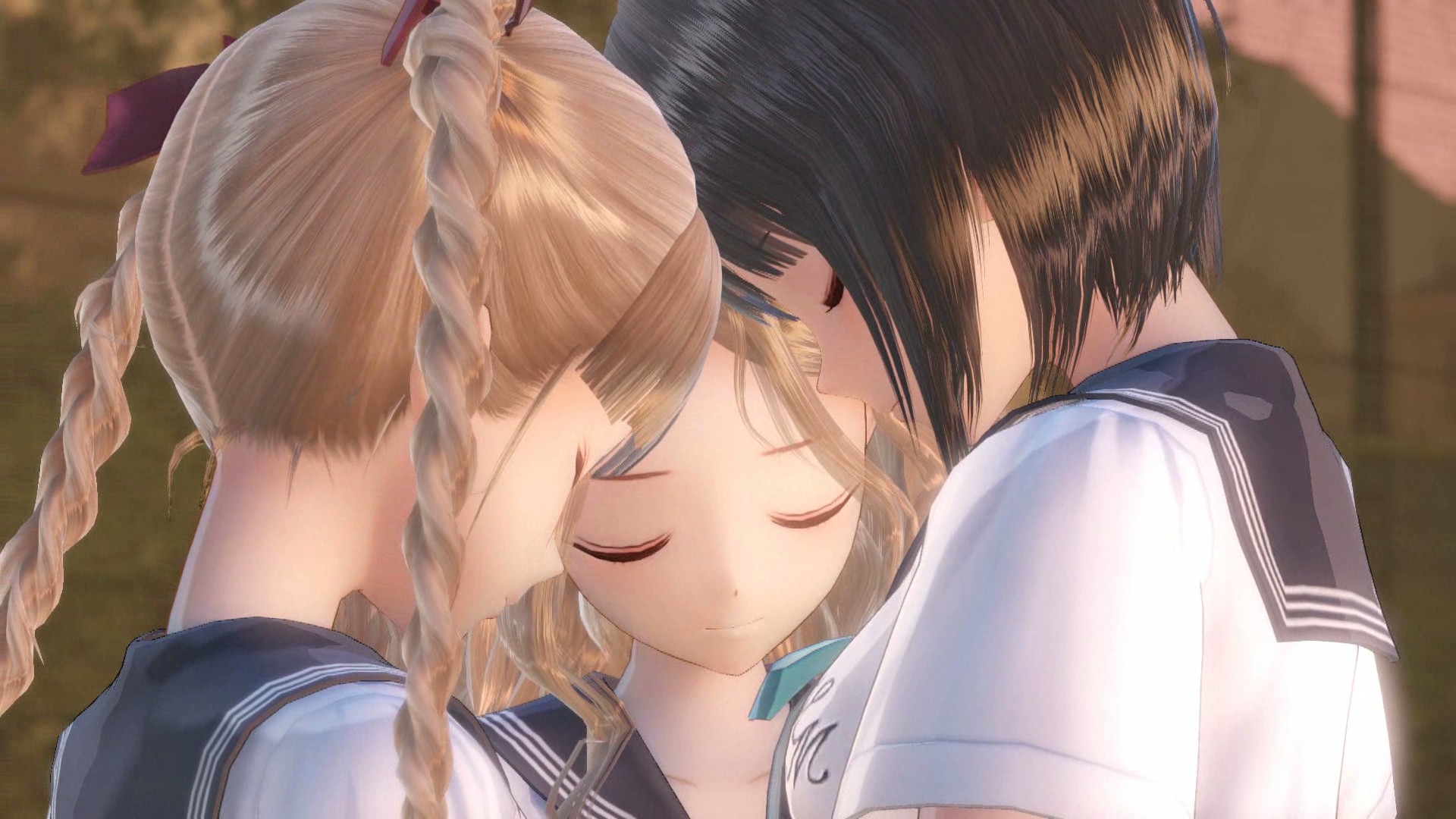 Gameplay:
Oh boy, is there a lot to talk about in this one.
This game is very casual. But that's not necessarily a bad thing, because it follows a system that is very barebones, but still gets the job done. Unlike Persona 5, where you had to grind to Level Up in missions, in Blue Reflection, all your Level Ups are handed to you as you progress. Meaning, that there is no real way to grind, except by doing missions and getting "Growth Points". So, while it doesn't typically follow the usual RPG trope, it's still a good experience.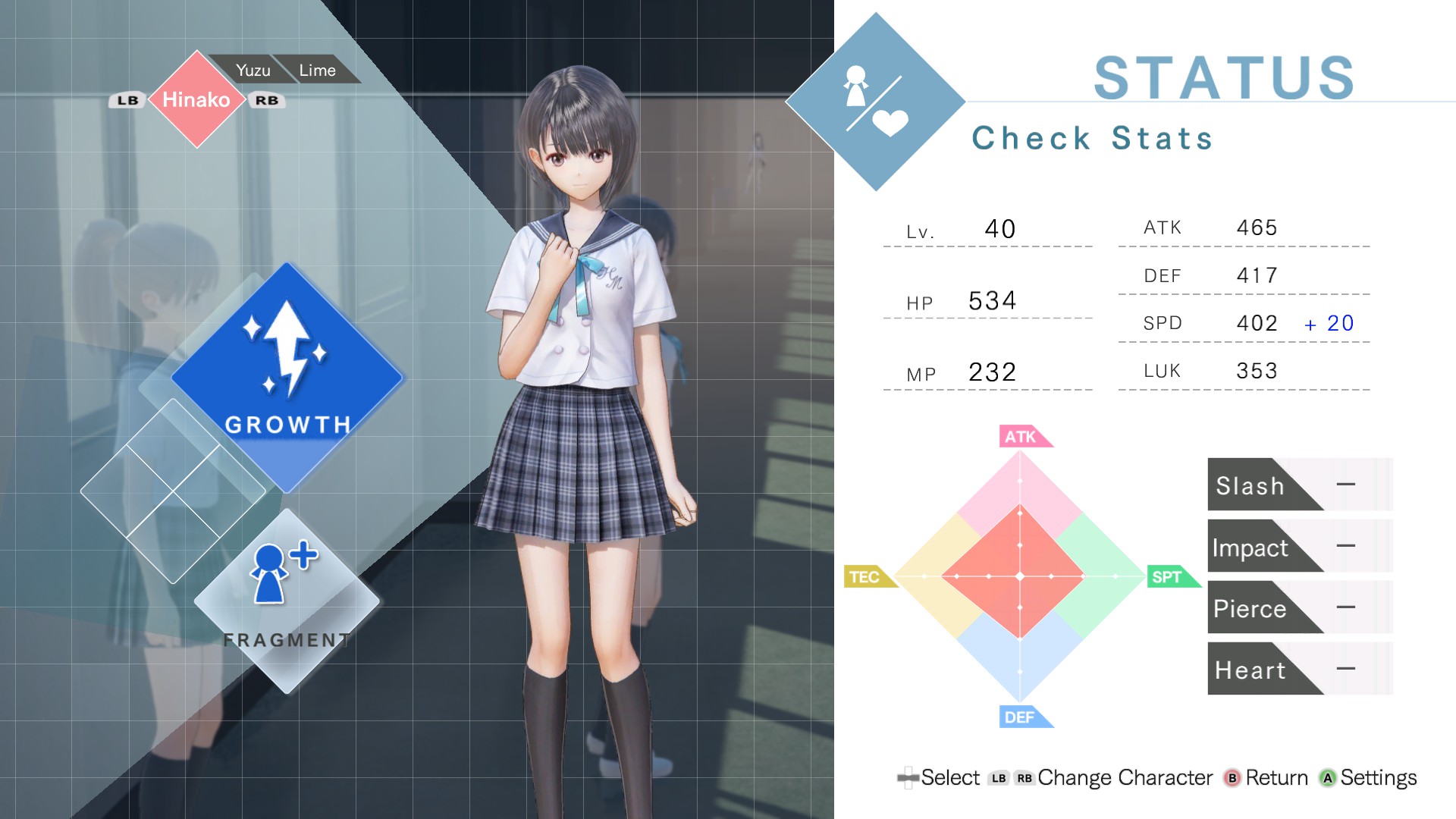 As you can see here, you can level up individual stats for Hinako, Yuzu, and Lime, and depending on how you level them up, they will get skills based on the different types of "trees" you invest in. There's ATK, which is obvious, DEF, which is obvious, SPT, which stands for Special Time, which effects how fast you go in combat (more on that later), and TEC, which does things you may not normally expect from typical RPGs, like Critical Strikes and Luck, and also getting skills that decrease enemy stats or increase your own. The fact that you can mold your characters to suit any role is actually really really fun, and offers a lot of replayability in how you want to build your characters. To start off with, though, Hinako is generally a Jack-Of-All-Trades good in every scenario character, Yuzu is a tank......which is really strange considering she's the smallest character in the game, and Lime, who is a glass cannon.
Every character can learn some sort of healing skill, technical skill, or attack skill that makes them completely not worthless, but not every character will be strong in every situation either. So in that regard, you have to balance your characters through certain trees and make certain that you are investing your points wisely.
Now, let's get into the real bulk of gameplay: Battles.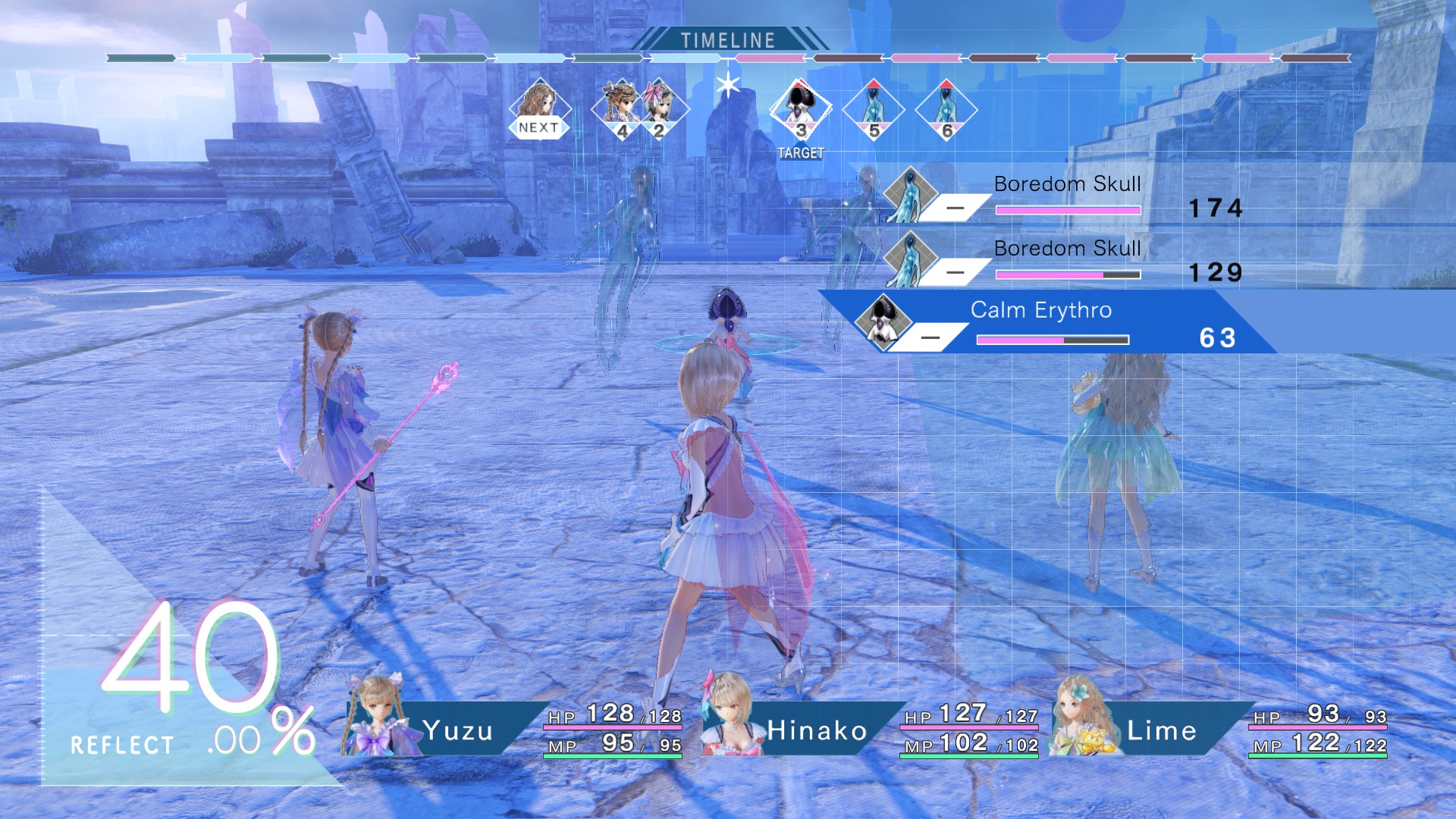 Battles are fought as Wait-Time ATB, for those RPG Maker nerds out there who know what I'm talking about. You have your timeline at the top which is incredibly easy to follow: Your turn on the left hand side, the enemies on the right hand side. When a target gets to the middle, they get to take their turn. Incredibly easy, straightforward, and to the point. And there are also attacks that help manipulate the timeline, for example "Bewitching Ivy" for Yuzu, which can knockback a foe on their timeline, and puts two "nodes" on the timeline that, when they get to their turn, knockback the same foe again. So there are lots of clever ways to manipulate the timeline to your advantage.
However, with it comes a little bit of a negative I have with the combat.
It's too easy. Along the way, you get a skill for Yuzu called "Grape Wave", which deals a shit ton of damage, knocks back foes, and has very little Wait Cooldown before you can take your turn again. Although it costs a lot of MP, you get all of it back anyway at the end of the fight, so all you have to do is spam "Grape Wave" for a majority of your fights, and....you win. And it's like that for a majority of the game after unlocking "Grape Wave", which might I add is a Story Skill, not a skill you get from unlocking and investing Points into trees. If "Grape Wave" were like that, I would have had a MUCH MUCH more fun time with the game, prioritizing strategy and actual thinking, rather than just spamming one single move over and over and over and over and winning constantly. That's not really fun. And because of that, a LOT of other skills during combat aren't really that usable, especially anything with "over time" in it's skill description. 
There is difficulty select, but all it does is make the enemies more spongy, doubling their health. It doesn't change the attack values for the enemies or increase their loot drops or anything like that, which is really a bummer, because if that were the case, I could have flown through the game on Hard difficulty without even breaking a sweat.
Another reason why the combat is so easy. Do you see the Reflect 40% in the corner? That's a special mechanic called Ether Gauge. When it's at 30%, 60%, or 90%, you can use a special ability called Overdrive, which gives up a portion of Ether Gauge to give the turn character an extra action. If enemies didn't die to Grape Wave from Yuzu, the next step would be to use Overdrive on Hinako, use her Attack Up Skill, and then use an attack that hits all enemies and kill them that way. No matter what I did, it seemed like I was always striving for a challenge in combat when it really wasn't there. Even Sephirot fights are ridiculously easy if you know how to use Overdrive, Guard, and other commands at your disposal.
There's no Equipment, no money system, or anything of the sort. Everything is done by stats. Which is both kinda positive and negative. It makes it more casual, but it also makes a lot of the game straightforward and one-dimensional in terms of what you can do.
So while the combat isn't that great, there's a lot of variety with what you can do regarding skills. It's just a shame that Grape Wave is so ridiculously overpowered, especially in a game where you get all your HP/MP back at the end of the fight. If that didn't happen, combat DEFINITELY would have been a lot more challenging and more strategic.
However, onto some of the good things about the game.
Like Persona 5, at the end of the day, you can invite certain girls to hang out with you at various locations: The Tomb, The Convenience Store, The General Store (which is kind of the same thing, game. .-.), the Theatre, the Arcade, the Photo Booth, and the Bus Stop. Do this repeatedly, and you'll get special perks in combat when you fight against Sephirot.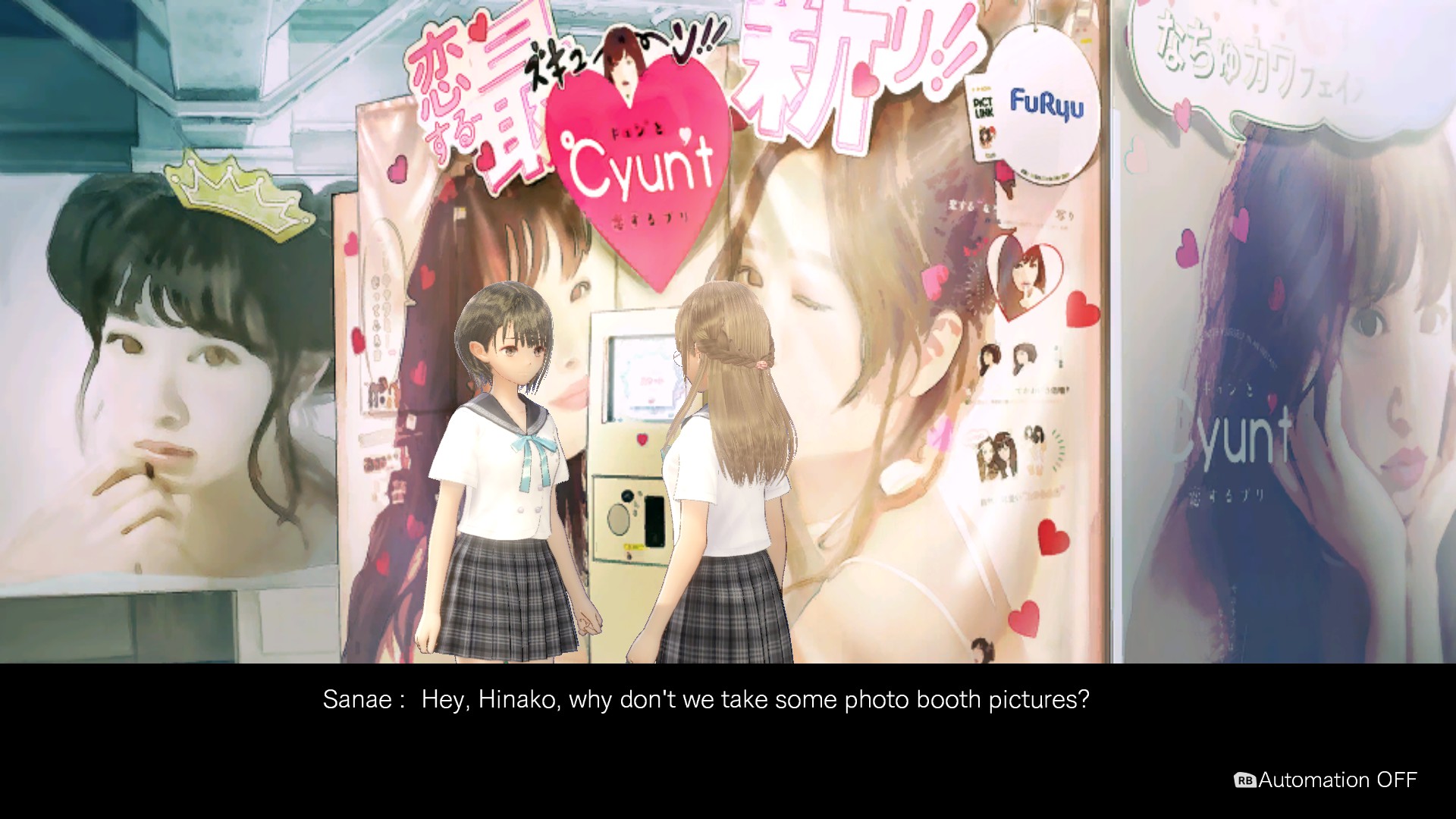 As you develop Friendship Points with your friends, you can unlock some of their most powerful Fragments. And Fragments are easily the most awesome thing about this game, which is why I'm super frustrated why I didn't take a picture of it when I did my playthrough. Fragments are, in essence, upgrades to your already awesome abilities. For example, think back to Grape Wave being ridiculously overpowered. Now imagine it having a less Wait Cooldown time and always guaranteeing a critical hit with 20% more critical damage. Or a heal-all spell that charges up your Ether gauge and also gives everyone an Attack Up buff. Or my personal favorite, a spell that increases every party member's Attack and Critical Rating, but lowers their Speed, which is then counterbalanced by a ridiculous "target party member gets ATK+, DEF+, SPD+, LUK+". Yeah, there are a lot of crazy synergies you can pull of in this game to make your combat experience even sweeter. And that's definitely one of the high points of the game for me.
Grape Wave is still broken though.
And each character you are friends with comes with their own set of Fragments, and as you do their Dungeons, you can get some of their most powerful Fragments. Your best friends are definitely the ones that increase efficiency when over 20% Ether, "Changes the equipped Skill", and anything that gives an ATK+ buff, as those are your most powerful tools.
As you fight in The Common, you can obtain items from the monsters you defeat, which can then, in turn, be used to craft certain things. And while I couldn't get a screenshot of the crafting menu, the crafting menu is entirely complex, needing materials from three different, sometimes all four zones, and finding all the similar ways to get the items actually is the only real "farming" you have to do in this game, especially if you're going for 100%, like I am.
So yeah, while the combat is very bare bones, it's still experimental in some regards. Bottom line, I wish it would have been more challenging, but we can't always have everything great in life.
Overall: 7.5/10.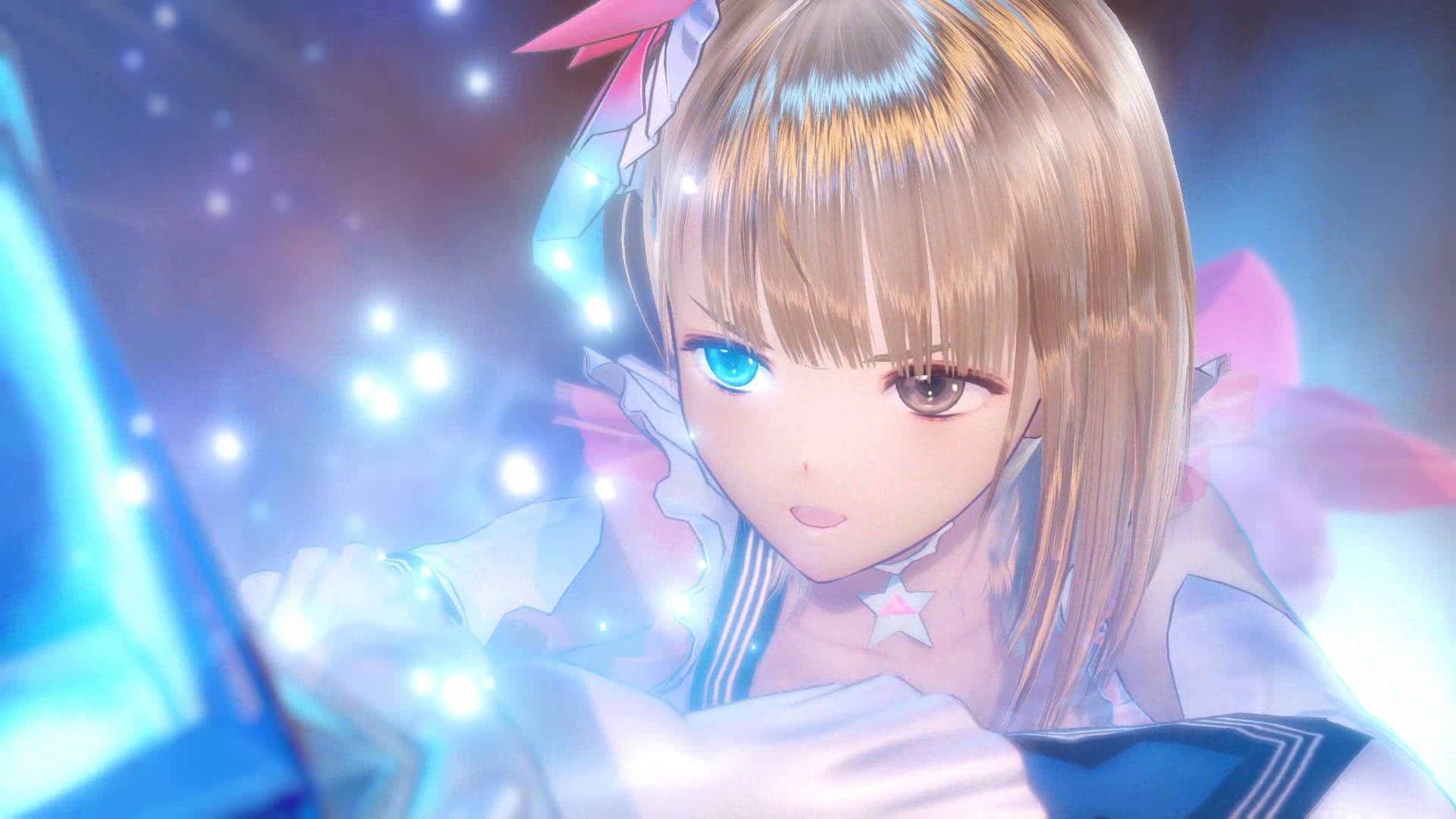 Quality:
This is both the best and worst parts of this game, strangely. And I'll go into a few details why.
This game is fucking beautiful at 1080p.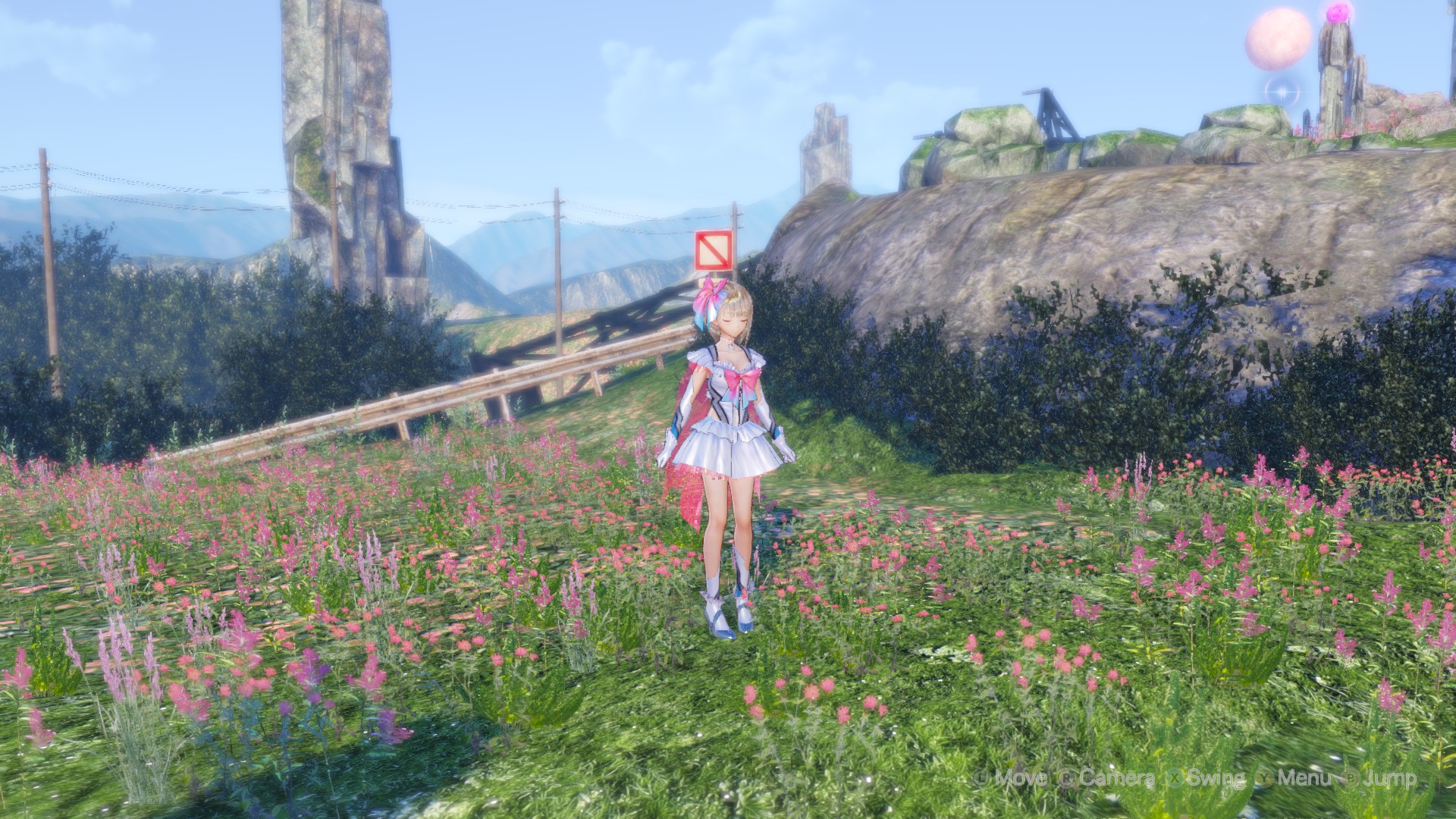 I know the screenshots don't really do it justice but EVERYTHING LOOKS SO FUCKING GOOD AND IT'S LIKE HNNNGGGHHH I CAN'T TAKE ALL THIS BEAUTY. And it runs wonderfully in 60 FPS as well with no frame drops!
....And then there's cutscenes, which look ugly as hell with 480p definition and choppy texture, like it's run through a grain filter from something in the PS2 era. And they're locked to an ugly 30 FPS, which is one of, if not my biggest pet peeve in games. If you're gonna have a game, make it run at either 60 FPS all the time or 30 FPS all the time. Preferably the former. But don't have inconsistencies in your game that ruin the quality experience for viewers.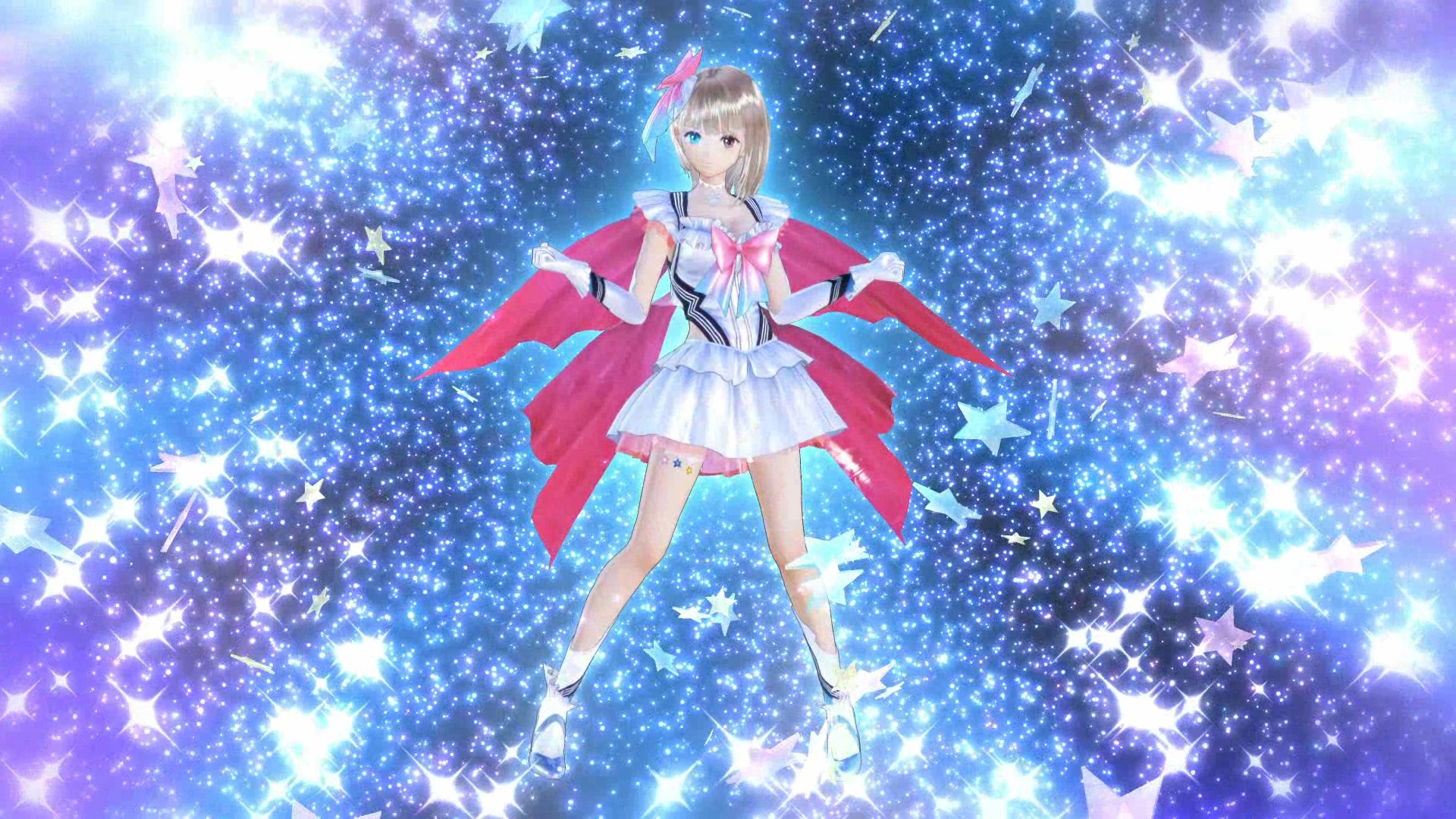 Maps are fucking beautiful and sometimes I just spent my time walking around the Sorrow Area (pictured below) and Happiness Area (pictured above) just taking screenshots because I had nothing better to do.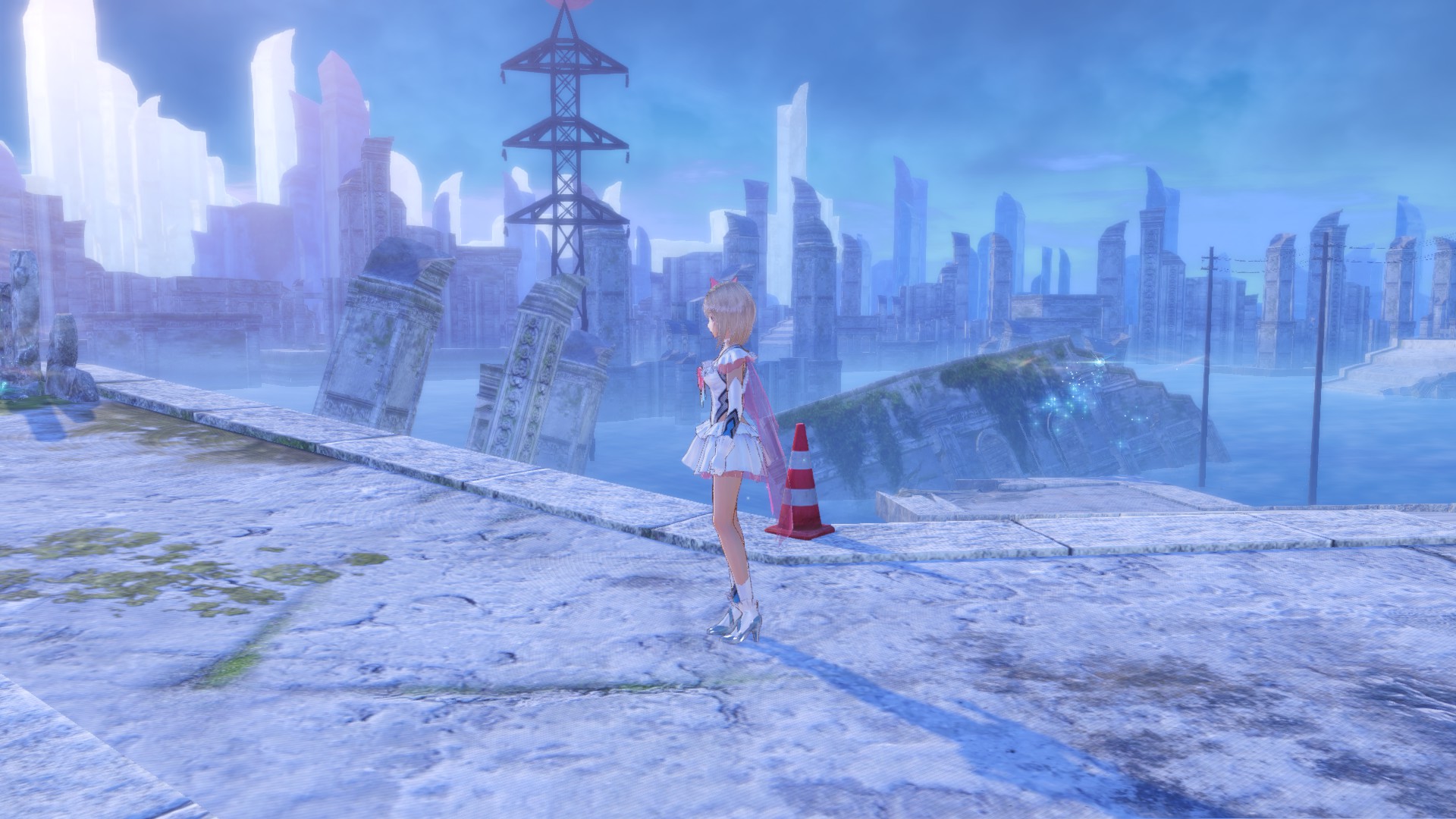 The music is easily the best soundtrack I've heard in years. And that is not an exaggeration. Every track in the game has a beautiful oscillating piano line that is absolutely heart-trembling and amazing. Every track in this game felt vibrant and colorful. The best word I can use to describe this game's soundtrack is....electric.
When you're fighting a Sephirot, the music absolutely makes you want to get your blood racing.
When you're out in school and the rain starts pouring down on you, there's somber music to go along with it.
When you're hanging out with one of your friends, it plays really calm music. Everything about the soundtrack is so incredible and easily one of the highs of the game.
Every track fits in with the game so well. Especially in the Fear Zone, which is easily the most unsettling track in the entire game, with off-beat and off-key piano strokes hidden behind a filter that screams uncomfortable.
...*sigh* And then camera angles like this can happen where you're stuck looking at the ground and not being able to take in the scenery of the game.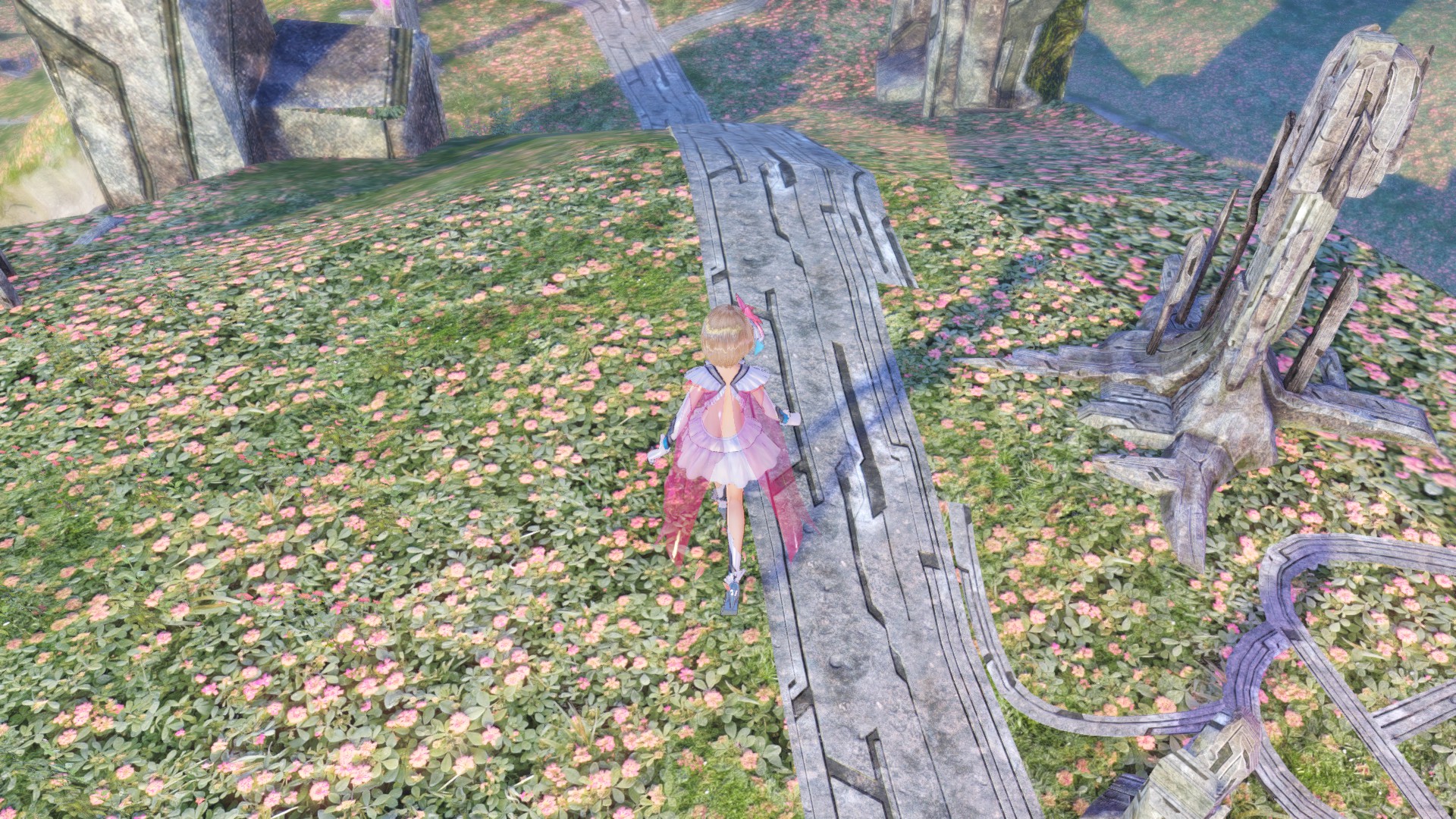 And yes, that's me with the maximum amount of tilt DOWN I can go.
And now for the negative, besides the gross looking cutscenes. The script looks like it was rushed and made in two days. There are spelling errors and grammar mistakes all over the place. It really ruins the immersion of the game when there are constant spelling mistakes. Mistakes that can easily be rectified by plugging your script into Microsoft Word, hell, even NotePad of all things! And the port on Steam is riddled with gross and quite often, frequent, crashes whenever a cutscene decides to play. I know TecmoKOEI aren't the best at making ports, given their ignorance to the DW series and Toukiden, but come on, this is ridiculous. I don't want to have to lose 45 minutes worth of progress in the game due to a random infuriating crash.
Quality is hit and miss, honestly. Depends on if you're a graphics freak like I am, but infuriating random crashes aren't tolerable. Everything else about it was good, though.
Overall: 7.5/10.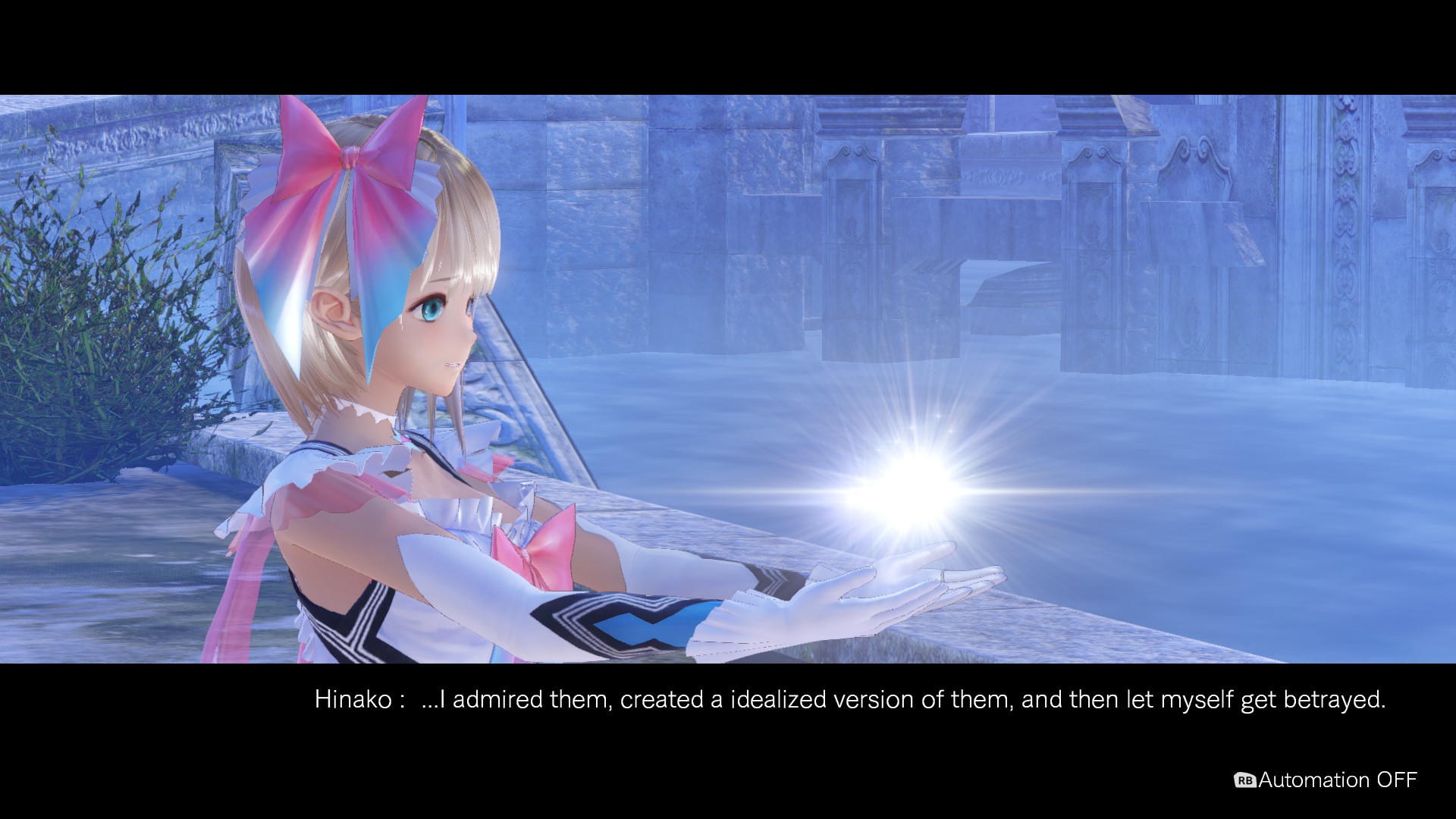 Replayability:
As stated before, there's a lot of different things to do regarding building your characters, and there's a New Game +, but unless you're going to 100% the game the first time, there's really no reason to go back for a second playthrough unless I really really loved the game as much as I did. So ultimately, that's not really the greatest of determiners for a game's replayability value, but honestly, there needs to be a reason to go back through the second time and cherish the game as much as the first time.
Overall: 6/10.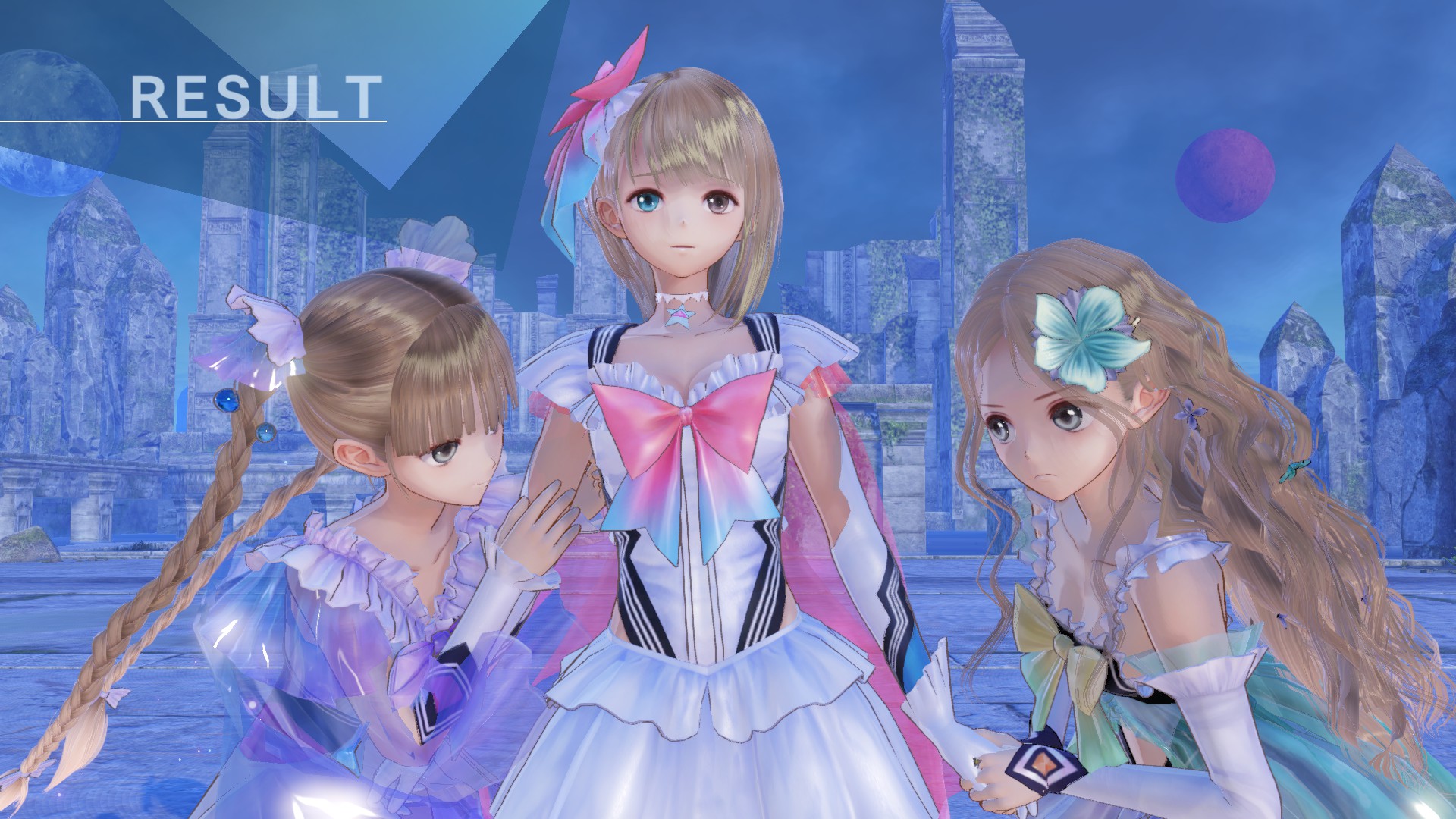 Now, it's time for the final wrap-up. In this section, I'll detail if this game is truly one for you, and if you should decide to play it or not.
Would I recommend this game?:
Absolutely yes. However, don't buy it on a whim like I did for the $59.99 price tag when it has glaring issues with the port development, such as lackluster cutscenes and random crashes. Wait until it goes on sale for about $40 before trying to consider this game. It's at least not as bad as NieR: Automata in terms of port development, but it still has glaring issues. Unlike NieR: Automata, there's no fixes for the crashes either. But if you want a casual RPG you want to breeze through while looking at cute girls, then this is absolutely your dream game. If you want to buy this thinking it might scratch your Persona fix, you'll be disappointed as those two games are worlds apart. It's still a very fun game in its own regard, and I highly recommend it.
Overall: 7.6/10. Great.
Now take the absolute best track in the entire game no questions asked.