Arin's In Depth Reviews: NieR: Automata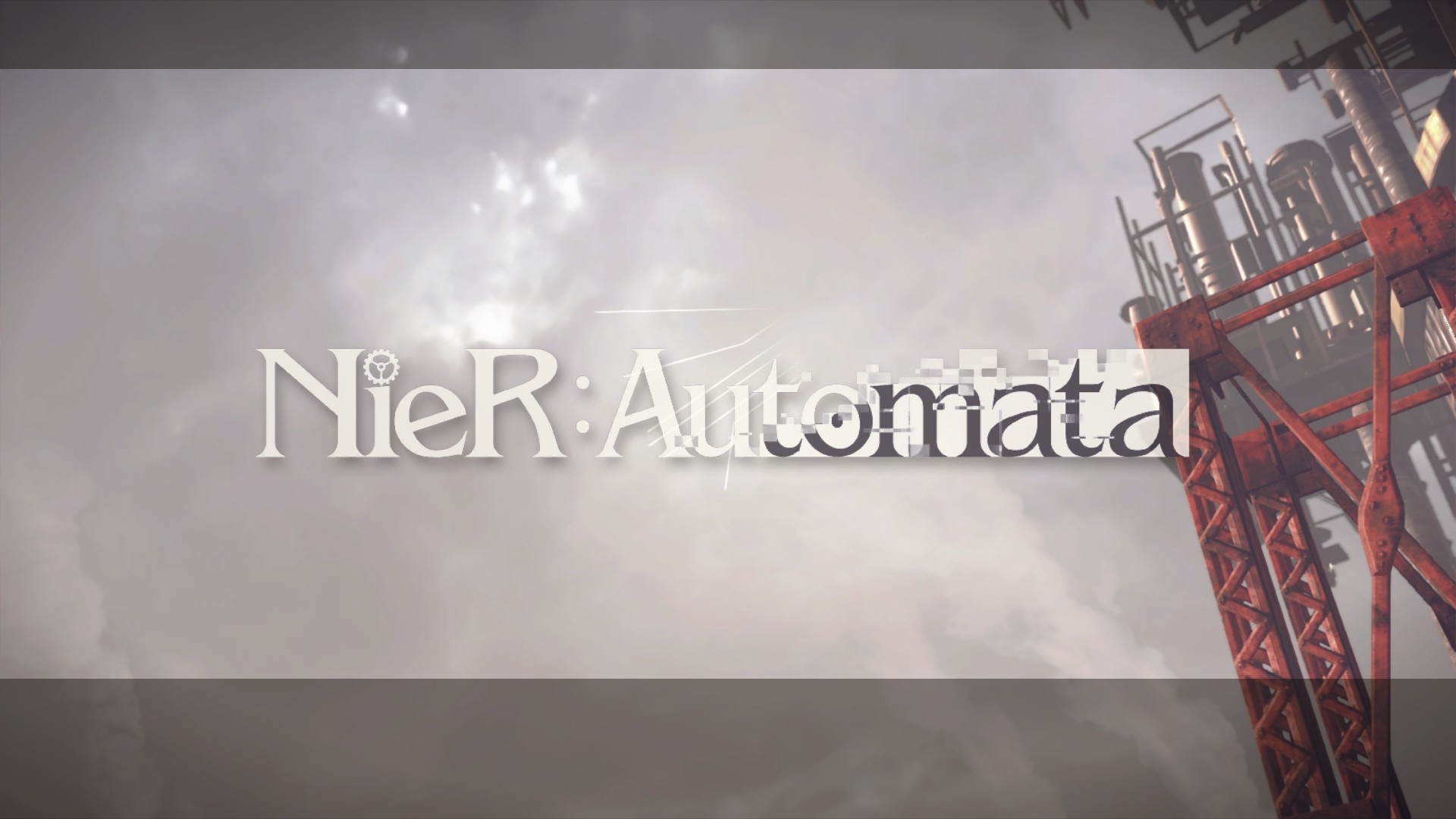 Oh man.
Oh fucking man.
This was a joyride, a rollercoaster of emotions that had me biting my metaphorical fingernails until the very end of the presentation. No other game has had me as captivated as this game, and Square Enix did a miraculous job with this title. I'll break the game down into several segments, consisting of story, gameplay, quality, and replayability, and judge the game on all of these criteria.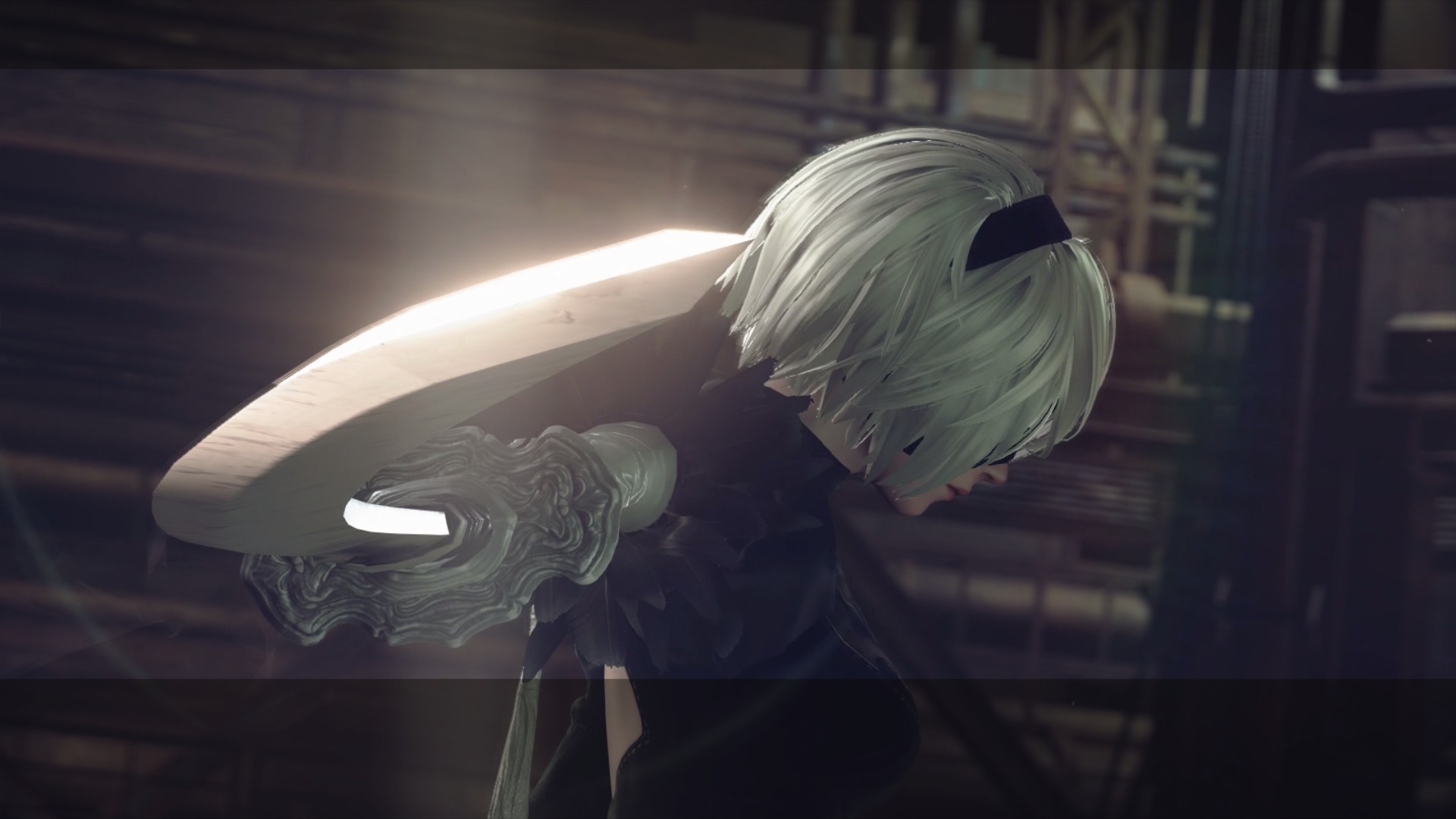 Story:
"Everything that lives is designed to end. We are trapped perpetually in a never-ending spiral of life and death. Is this a curse or some kind of punishment? I often think about the God that blessed us with this cryptic puzzle...
...And wonder if we'll ever have the chance to kill him."
NieR: Automata follows the story of two characters, androids who are fighting machines on the surface of Earth several thousands of years into the future. The story follows 2B, a combat model, and 9S, a Scanner model. Their target: a large massive machine that is classified as a Goliath-class Unit. Being led by several other relative Units, named YoRHa Units, 2B commences a strike on the Goliath class Unit, striking at its weakness.
Afterwards, you meet 9S and team up with him to scavenge the abandoned factory for the large Goliath class Unit. The true enemy is swarming all over: machine lifeforms. After quickly dispatching them, 2B and 9S make their way to the very top of the factory where they fight and seize the Goliath class Unit.
NieR: Automata actually has a really strong opening that gives you a sense of danger and loss immediately, which pulls you into the gameplay that much faster. It's executed very well, and from that, keeps you on a rollercoaster of emotions and experiences. That, combined with storytelling from multiple fronts (we'll go into detail about that later in Replayability, as there is a lot to cover in that one). As you progress onward, you'll see that the machines start to form feelings of hatred, wanting to have families, conceptuality; almost akin to human emotion. With you, the player, as an android, you are sent to strike down these machines, but you wonder along the way...How did these machines start to develop feelings? Or should they even be allowed to develop feelings at all? Or to even understand what it means to have emotions and feelings?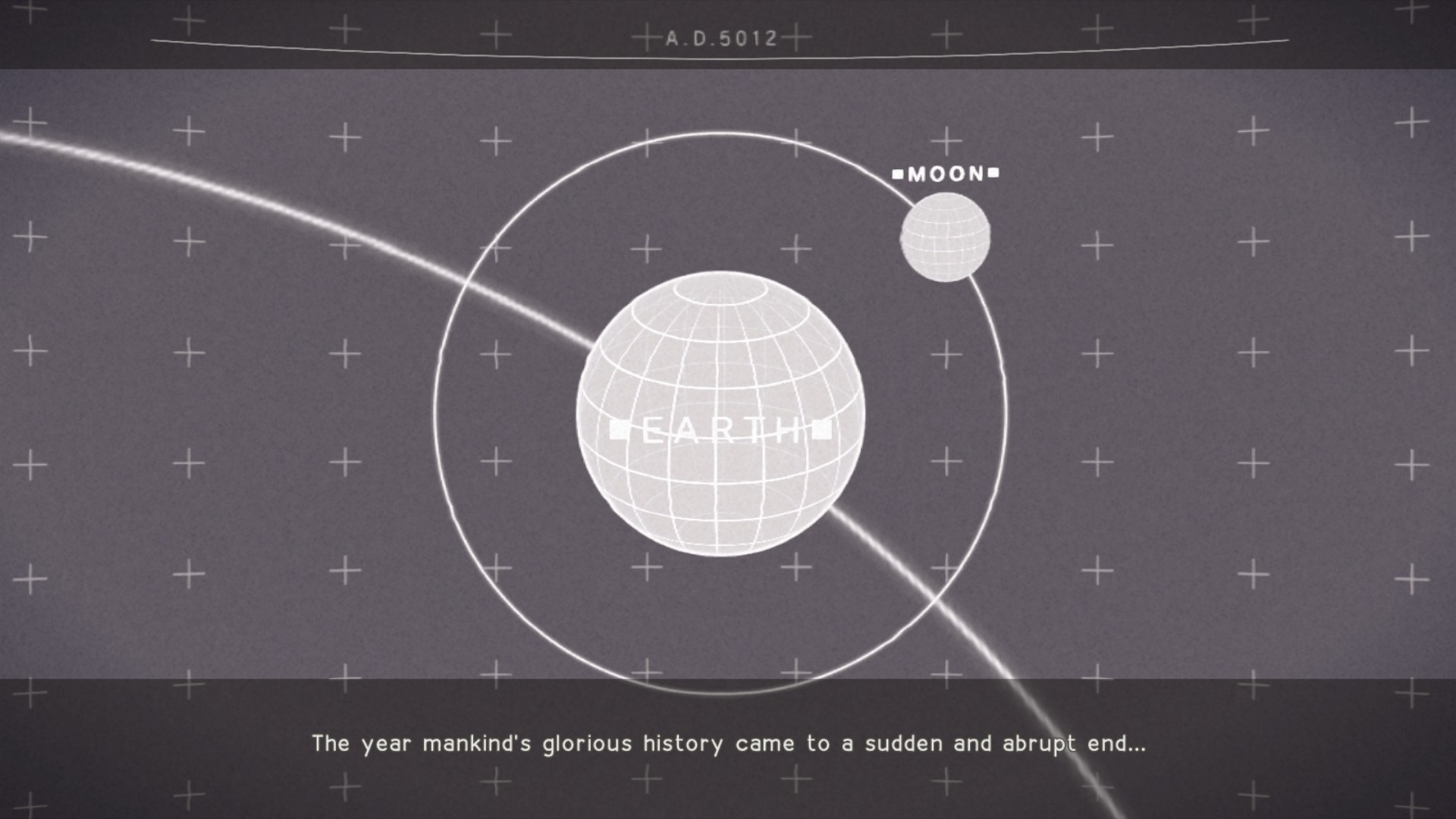 As humanity was wiped out several thousands of years ago, the inhabitants were launched onto the moon and were forced to live there while the fighting between androids and machines continued on the surface of Earth. Remember that as we go along.
Yoko Taro blends so many references together in a congruent fashion. You'll soon discover as you play through 2B's "route" (again, refer to the Replayability section), the machines soon become deranged, wanting to fell others to become Gods in their own right. And the mastermind behind this large scale attack? Two machines named Adam and Eve. Yes, the very same names from the Biblical reference. Eventually, before long, you kill Adam in order to quell the machine uprising, which however, throws Eve into a maniacal state and going on a rampage.
And that's the end of Route A.
And yeah, that's what I thought, too. That's it? That's the whole story? But then the game tells you to play it through again to experience the game from someone else's point of view.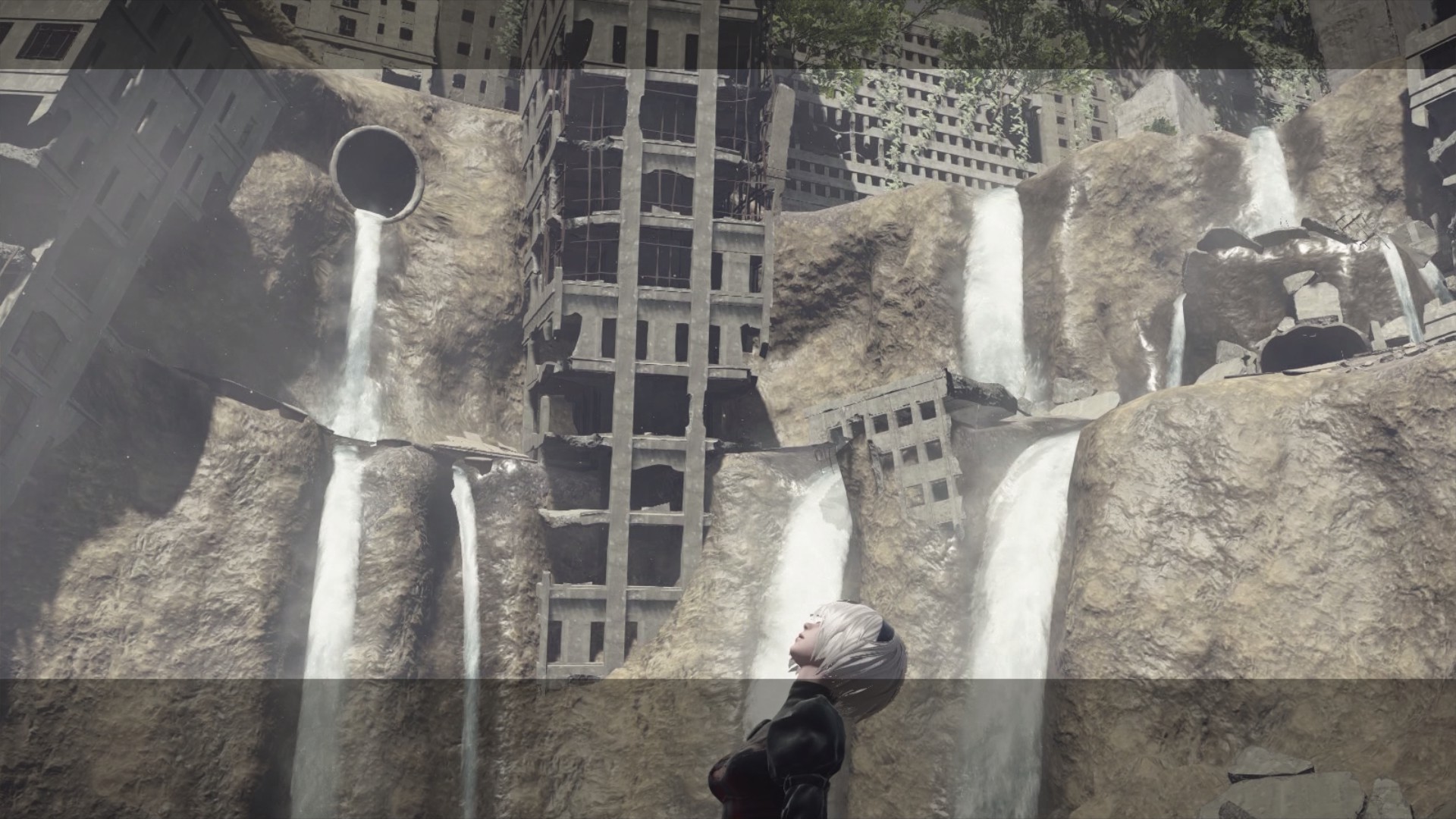 Now, you play through the game again as 9S. The very same character that made his first appearance helping out 2B. You play through the story again, but as you play through the game...you realize that machines want to become human, more and more, displaying emotions that machines shouldn't exhibit. 9S however often reports that "machines don't have feelings" and that "the things they say aren't supposed to make sense". You'll see more development coming from Adam and Eve as characters than you did when playing through 2B's route, which gives Eve his motive for...you know, being an asshole. You also discover as you wake up from a strenuous fight one day while repairing your system as 9S that there is a confidential Bunker notice. It is explained throughout the game that YoRHa was established in order to fight the machine threat on the surface of the Earth. A separate subfaction, known as the Council of Humanity, was created to lead YoRHa along the right path. However, in the records established, there is no such thing as a Council of Humanity. Meaning that once 9S has access to this knowledge, he begins to become aware that something heavy is going on with YoRHa and the Bunker in general. 
I for one personally had a problem with the fact that if something is supposed to be that confidential, what is it doing sitting in 9S' memory banks but whatever.
You then kill Eve again, and unlock Route B.
And then...whew, the game takes you for a wild ride.
Route C, D, and E, are probably where you are going to get most of your "feels" from the game. Route C, D, and E lets you play as the rogue YoRHa Unit, "A2", a defective combat model who was originally in YoRHa, but left. Originally, when playing as either 2B or 9S, you run into A2 during the course of your travels, fight briefly, then she leaves with a very cryptic message. "Command was the one who betrayed you."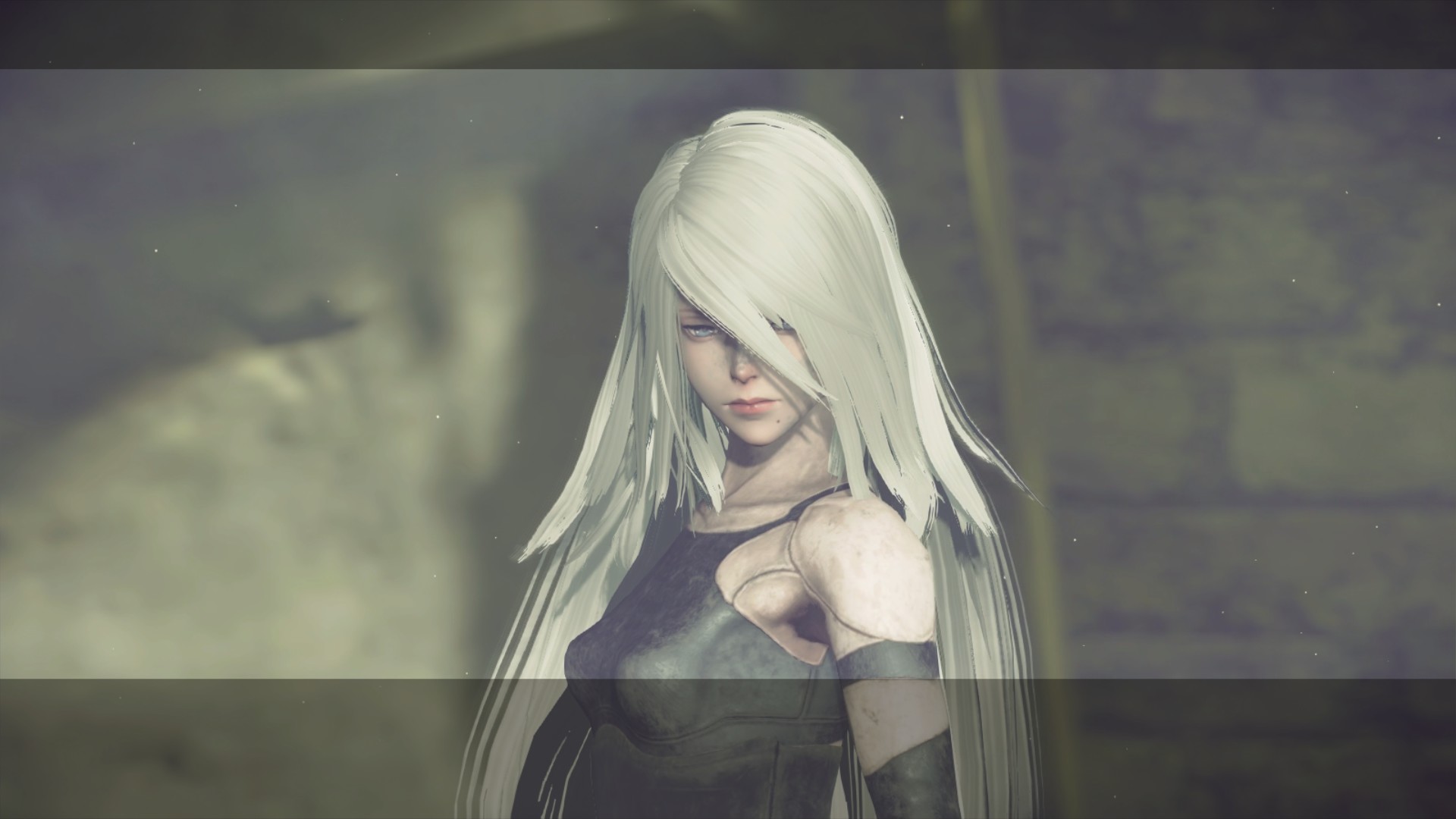 Now, Route C starts off with 2B and 9S acting as a guerrilla tactical Unit providing support to other squadrons throughout the city, who have gone on a rampage ever since Adam and Eve were destroyed. Their rampage, however, isn't caused by them dying, it's actually from being disconnected from the network, a vast port where machines reside. At least, in theory, it's never really explained that well in the game aside from Archives (refer to Gameplay section). After wiping all of them out, a group of machines comes in, and, to pretty much sum up about ten minutes of backstory, fucking wrecks your shit, infecting the YoRHa battalion and all the androids in the vicinity, leaving 2B with a viral infection that, you, as 9S, have to solve. However, it's not enough and 2B is ultimately left to the fate of becoming corrupted by the virus. She isolates herself by slowly walking her happy ass (refer to CTRL + F and then "pacebreakers") all the way to an abandoned commercial facility where she is ambushed by several corrupted YoRHa models.
And this is where you take control of the rogue YoRHa fighter A2. By fighting them off, you are alleviating 2B of the responsibility of being a badass main character and shoving all of that on A2. Oh yeah, also, you kill 2B in the meantime because she doesn't want the virus to contaminate any more androids. 9S, however, is in the distance, and notices A2 killing 2B, and now he swears revenge on all machines and A2 for killing 2B.
So edgy.
After 2B's death, a giant tower struts up from the ground, mechanical in origin, which is explained later on as an "ark that is used to transport the memories of humanity to space to preserve their knowledge". Now the game gives you options: To fight either as A2 or as 9S. Both of them lead to the same conclusion, it's up to personal preference on how you want to complete it: 9S first of A2 first.
On A2's path, you discover machines attacking other peaceful machines who have no desire to fight. A2 originally thought, same as 9S, that all machines need to be destroyed because they are the enemy, but she then quickly realizes and changes her stance when these peaceful machines want to help androids. A2 is a character that comes off as incredibly jagged, almost careless and only pursuing one goal, while 9S however deteriorates into a manic being bent on revenge on all machines and A2 for killing 2B. As 9S, your responsibility is to acquire "keys" which are needed to get inside the monstrous tower. As you do, a girl in red, called the Red-Girl Assassin in the game, calls out to 9S, stating "We cannot be killed. We are infinite, yet we are finite. We are the collective consciousness of all humanity. We are the embodiment of the perfect being."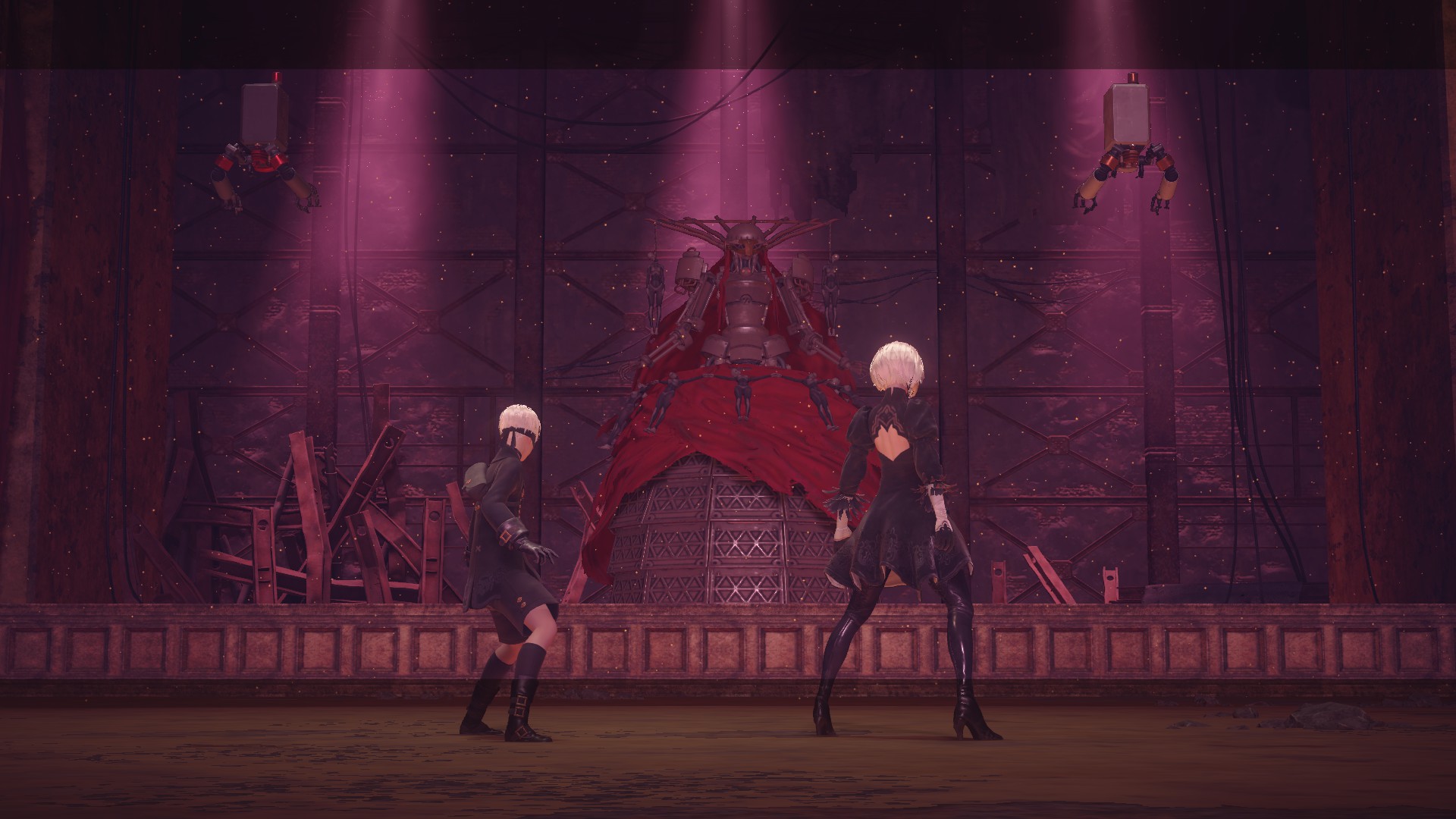 As you play along, A2 and 9S eventually meet up, fight a large Goliath class enemy. The game rapidly switches back and forth between A2's and 9S' perspective in dealing with the huge threat, and eventually the two team up and destroy the Goliath together. I use the term "team up" loosely, because after the fight, 9S wants nothing more than revenge for what A2 did to 2B. And then, depending on who you choose, you get to see two different endings, with humanity's thoughts and logic being launched up into space. 
As you play through 9S' route, you discover that there is no more humanity. Nothing at all. Not even the people on the moon are real; their collective thoughts are stored on a consciousness on the moon. 9S begins to question the meaning of their existence if there is nothing to protect, as androids were tasked with killing machines and protecting humanity as their only values. Which...becomes the focal point of the story as you play as 9S. What is the meaning of life if there isn't something to protect?
Yoko Taro does an excellent job blending so much together in a cohesive fashion, even if the first ten hours or so of the game felt like filler and then playing through Route B again made it all completely impactless and pointless. At the very, very end, though, once you struggle through the entire game, you start to understand and empathize for all the characters: machines because they want to feel as human as possible in a desolate, lonely world, 9S because there is nothing more to protect since his concept of revenge has been shattered, and A2 because she goes from being narcissistic and angry to caring about machines, and even 9S, to protect and preserve his memories.
Overall: 8.5/10.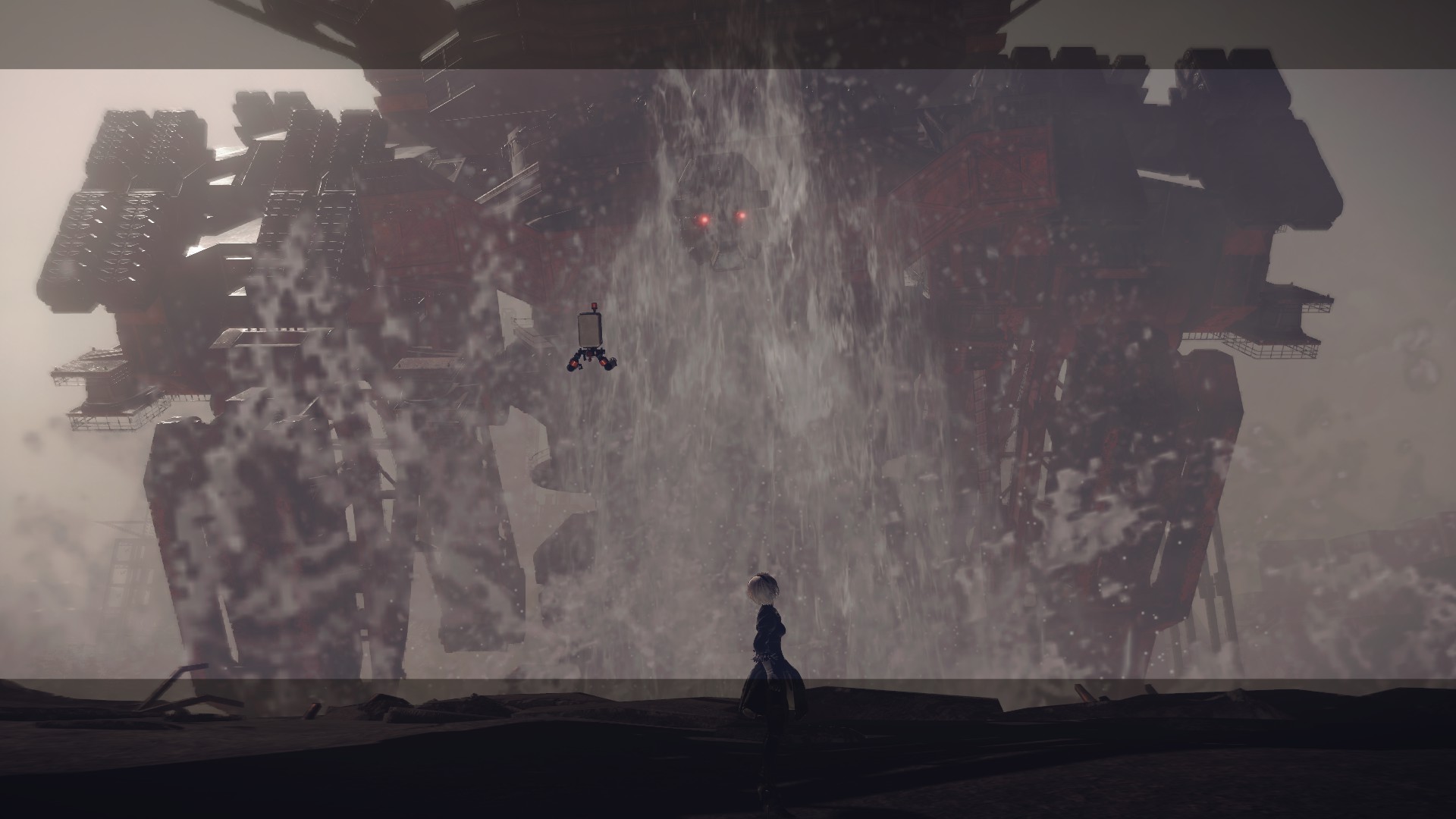 Gameplay:
Alright, let's get the negative out of the way first.
YOUR CHARACTERS ARE THE CLUMSIEST DUMB SHITS EVER.
And what I mean by that is they trip over every single object that they can find, or they just run through bushes at 200 miles per hour and stop for no reason. Now, this is one of the biggest gripes I had in the game: Pacebreakers. I didn't care at all about the fact that when I'm trying to get from Point A to Point B that my character that I was controlling stops ALL of their momentum and trips over a bit of rock or sand or goes into a bush and stops all forward momentum. It's irritating. I want to play a game to get immersed into THE GAME. I don't want to have to be constantly watching my feet to jump over every spot of what might be considered a trip spot or a pacebreaker because that's not fun. I didn't want to have to walk at 2 miles per hour when I was controlling 2B when she was infected by the virus because it breaks the pace of the game and makes it much slower than it needs to be. I don't want to be able to lose all my forward momentum when coming off a Glide because that's also a pacebreaker.
The world of NieR: Automata isn't as big as I had imagined it to be. Considering we are in an age of JRPGs with notoriously big areas and cascading plains, mesmerizing forests, and big blankets of snow areas, it disappointed me that the world of NieR: Automata only consisted of a few largely inhabited zones, but nothing really more grand-scale beyond that. I would have liked to have just a slightly more tad bit of variety with the maps. The Desert Area, however, was easily my most favorite area, tied with the Forest area.
Alright, now that all the negative is out of the way, let's focus on all the things the game does well.
The game can be split up into three different types of areas: 1. 2D top-down Flight Unit sections that function similarly to games like Galactica or Space Invaders, 2. 2.5-D Flight Unit Sections that function similarly to twin-stick shooters by using the Left Stick to move and Right Stick to Aim and fire, and finally 3. The RPG aspect of the game, where you are running around killing badass machines that are the size of skyscrapers.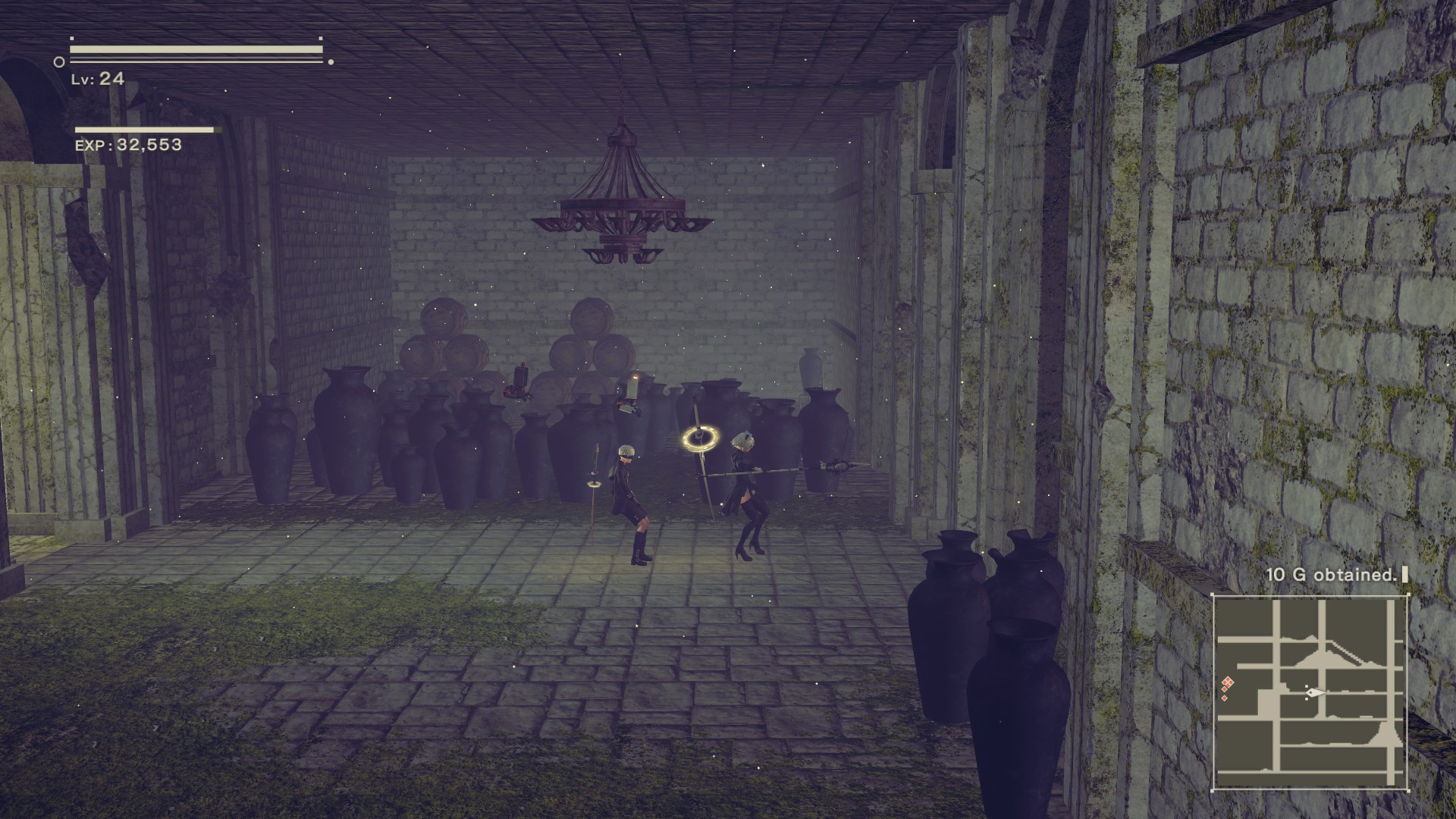 And in those RPG sections, you can get 2D environments like this (which I didn't really care for), and other 3D environments which are gorgeous as hell.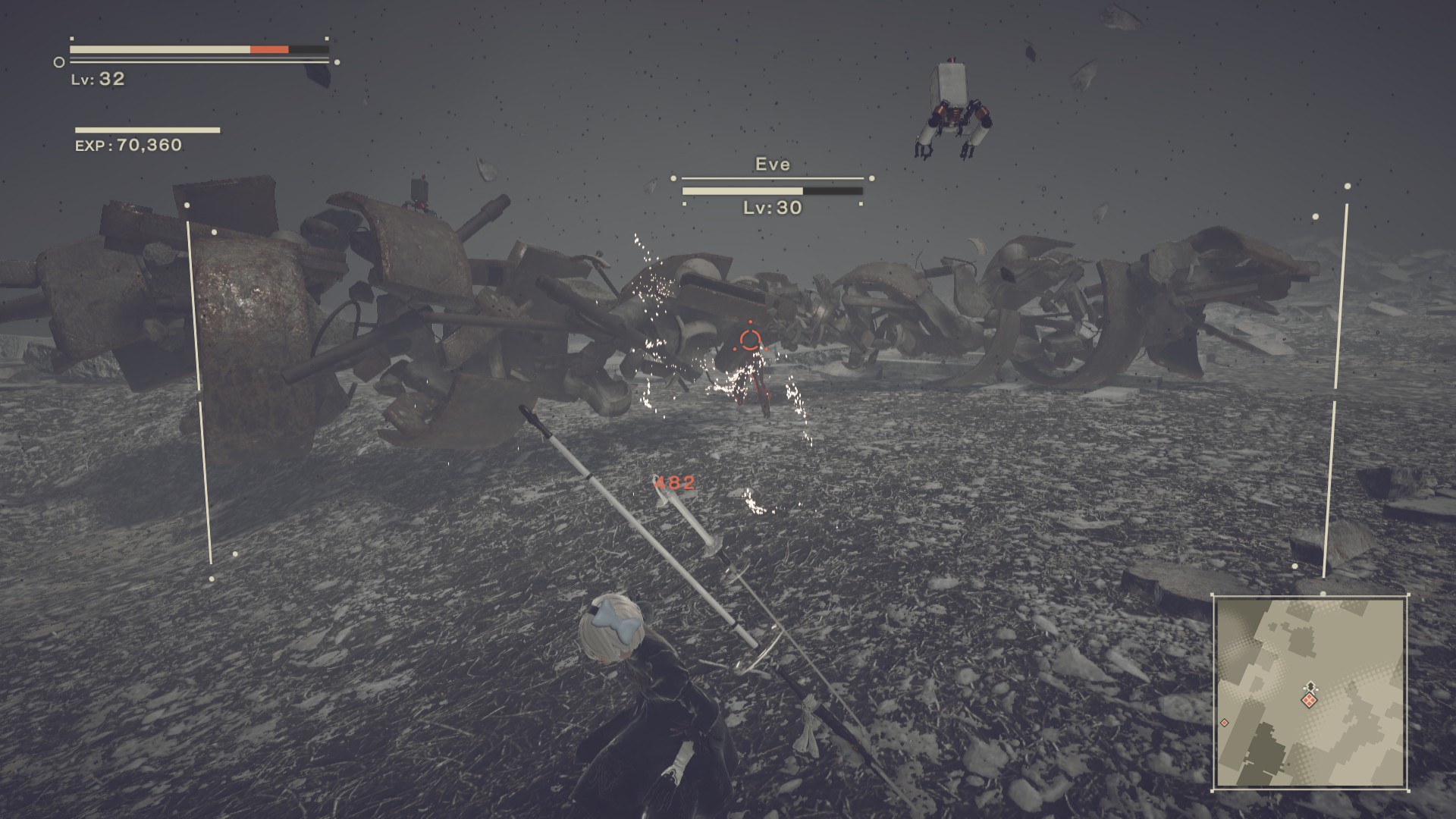 The amass of enemies you can fight are incredibly vast, ranging from bipedal enemies to large cylindrical enemies that shoot out of all sides, to enemies that crawl around 2D environments like snakes. And then you have chances to fight insanely huge Goliaths in flight Units, making combat exceptionally large-scale.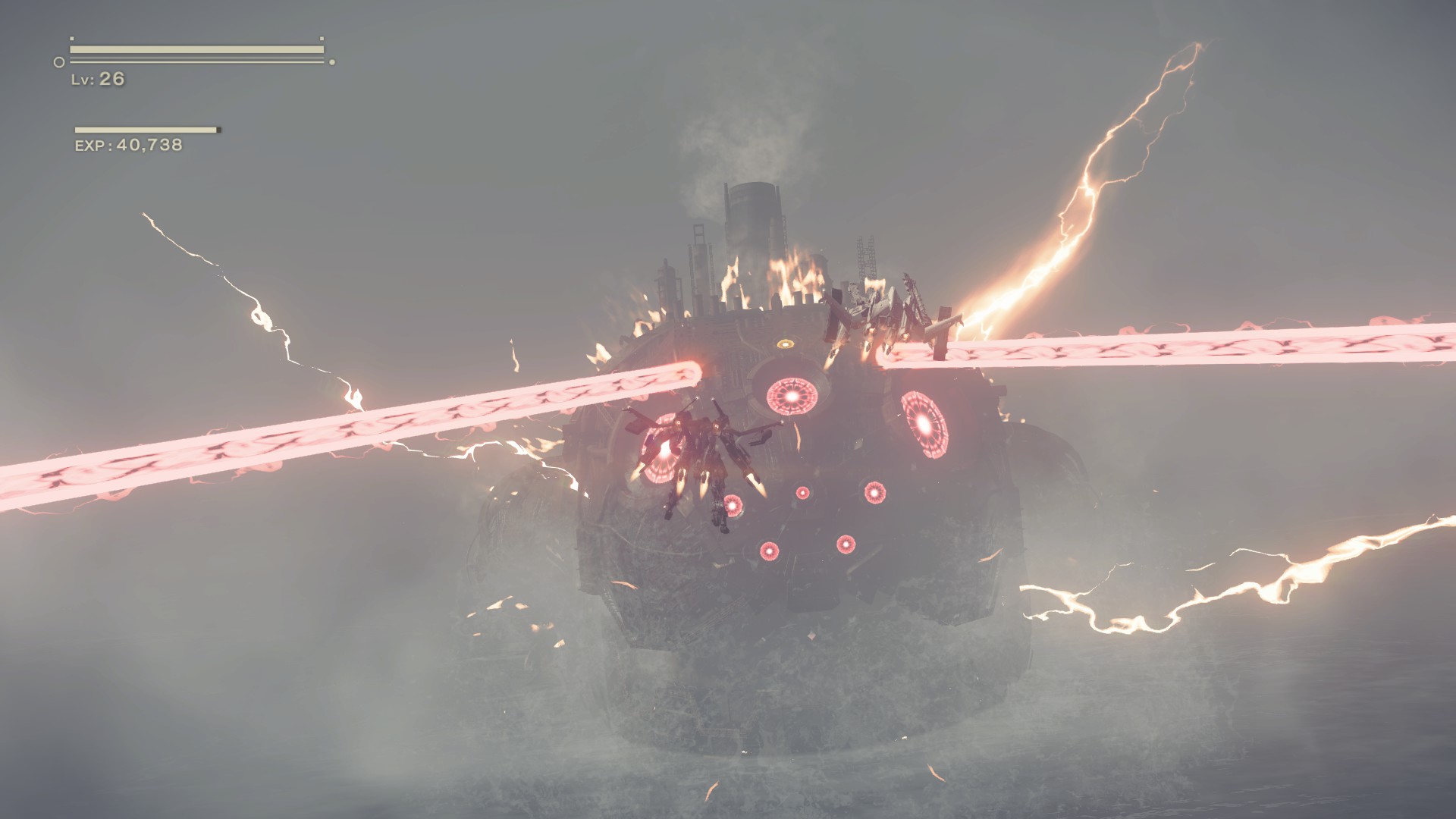 Each character that you play as in the game has their own skillset and moves that you can utilize. As 2B and A2, you have a second weapon which you can equip that you can use with Y to keep your attacks going, and as 9S, you can hack into enemies with the Y button and get into a 2D top down twin-stick shooter portion, where you have a certain limit of time to defeat all the enemies in order to hack the enemy, dealing a shit ton of damage to them.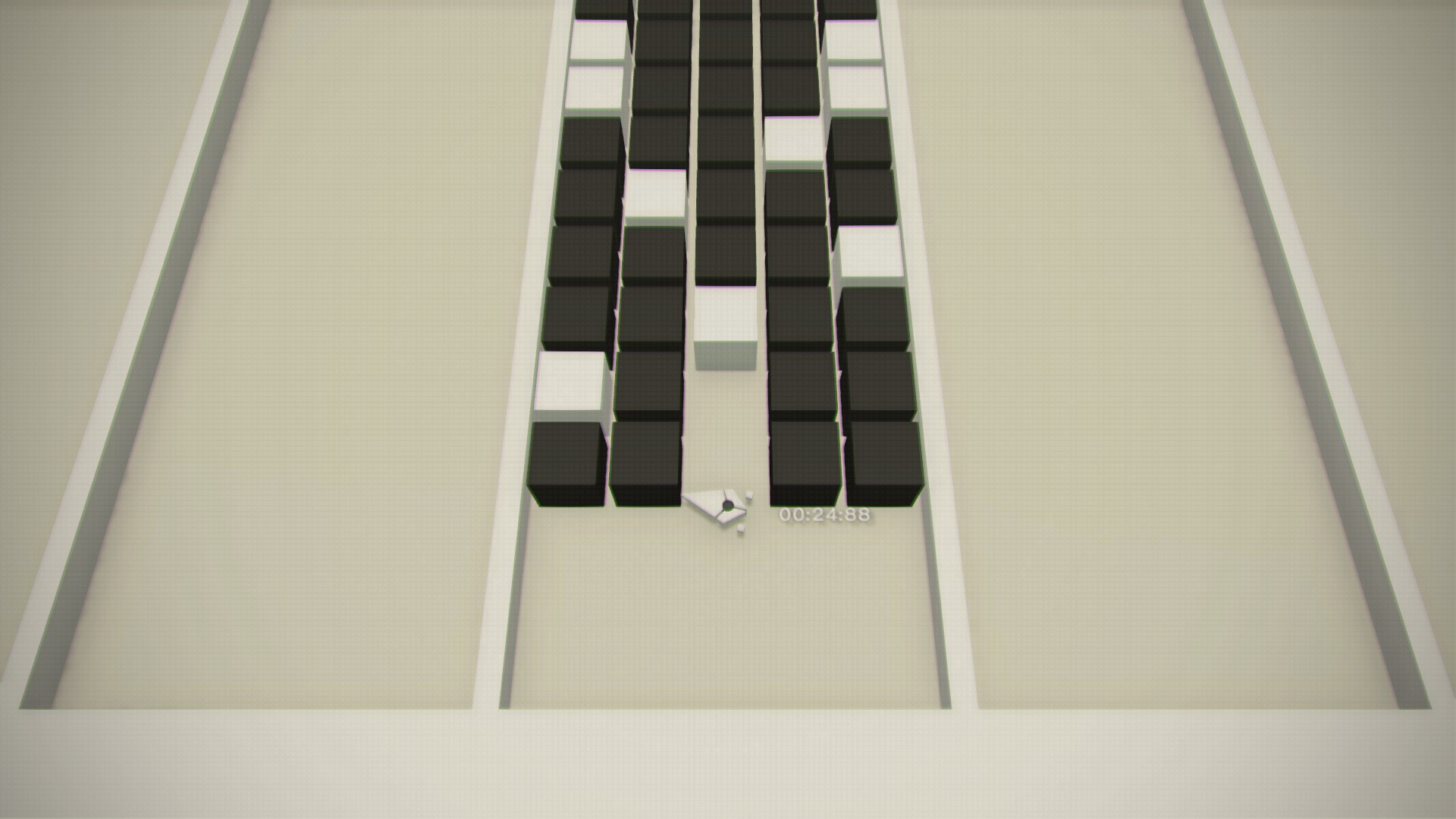 Unfortunately, I didn't like these sections too much because I'm horrible at twin-stick shooters. Don't expect me to be playing Metroid or any other twin-stick game in the future from now on. And the bullet hell when unlocking Route E....uggh. Never again.
As for the actual RPG portion of the game, it's quite robust. There's a multitude of Side Quests you can do if you're ever bored out of your skull and want to kill some time. Given the size of some of these quests, some of them take literally like five minutes to do. I think the longest Side Quest was still Emil's Determination, and that only capped out at about thirty minutes give or take.
You have a weapon selection system, ranging from Short Swords (Katanas), Large Swords (giant ass Katanas), and Spears (duh). I found Spears to be rather fun to use, but also clunky in some regards when fighting as 9S, but as A2 and 2B, Spears were incredibly fun. Short Swords are all around balanced and Large Swords favor more damage and swing really really slowly. Duh.
The kick though is, each weapon comes with its own backstory that you can view in the weapon information tab of your Main Menu.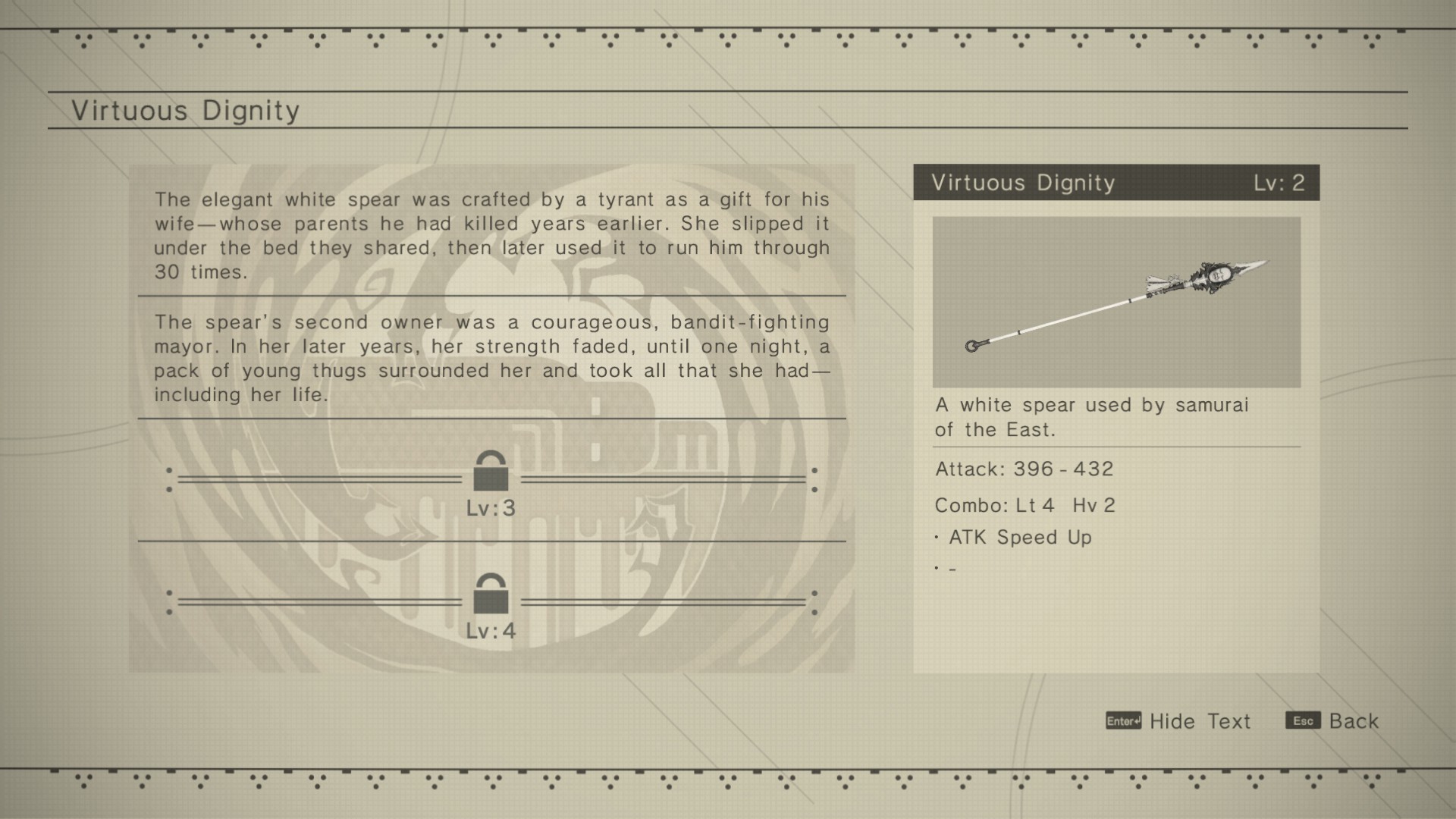 This adds a really flavorful portion to the game and making weapons have sentimental value, instead of them just being static icons with damage values and combo values. I really appreciated that little touch.
There's a skill system in the game where you can apply chips to your characters to augment their combat abilities. But to be honest, once you have all the required chips, all of the other ones seem pointless. This is your chip setup for about 99% of the game once you get these chips: Deadly Heal, Vengeance, Anti-Chain Damage, Overclock, and any of the Maximum HP, Short Range, or Long Range Attack Up chips. Deadly Heal makes it so that you heal a certain percentage of your total HP after defeating an enemy, and since the game is pretty much a horde mode game where enemies come at you by dozens, except during Boss Battles, Deadly Heal is pretty much an auto-include. Vengeance reflects all damage back to the attacker, so it's also an auto-include. Anti-Chain makes it so that when you are hit, you are invulnerable afterwards for a brief moment. Overclock is whenever you execute a perfect Dodge, time stops for a brief amount of time, making everything trivial in said horde mode game.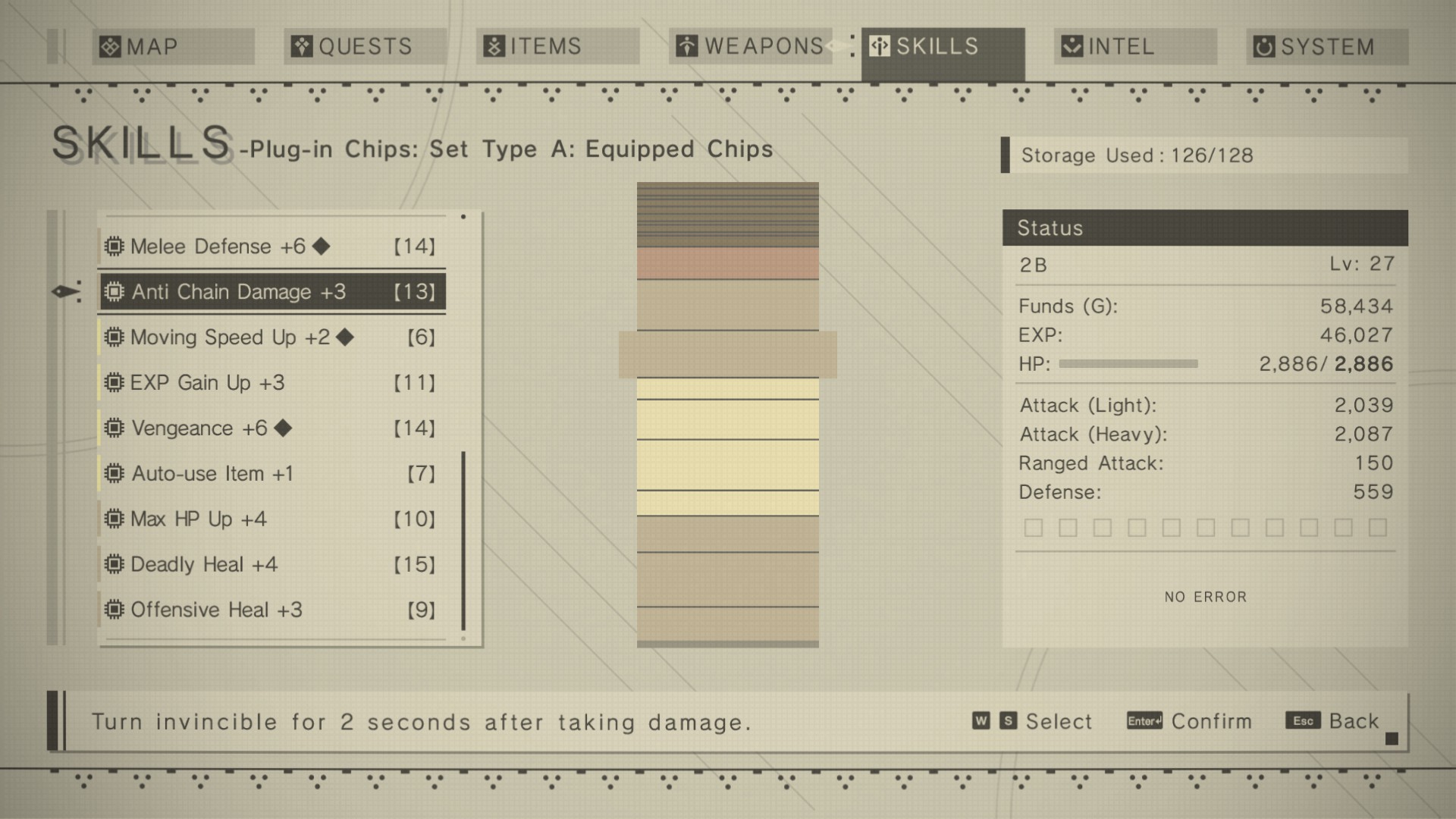 All of the other chips are pretty novelties you can collect, like EXP gain, Offensive Heal (where you recover HP when you deal damage), and Auto-Collect Items (Hey, Warframe fans, there's your universal vaccuum). You can also remove your OS Chip and get a bad ending. And the hilarious thing about the chip system is that it works with flight Unit sections as well, so each time you destroy a dinky little ship after taking essentially 2 hits, you recover 50% of your HP, completely trivializing the game.
Of course, however, this is all for a Normal Mode setup. On Hard Mode, enemies become much much tougher, and Lock-On is disabled, and in Nightmare mode, you die in one hit.
And yes, I'm ballsy enough to try and do a Nightmare Mode run.
There's also online functions in the game. For example, if you are connected to the Network, you will find the corpses of all your YoRHa buddies scattered all over the world. You can pick them up and get their goodies, which augment you with certain abilities for a time, depending on what they were wearing when they died. Or, you can alternatively repair them and they can become your ally for an extended period of time. Which is cool.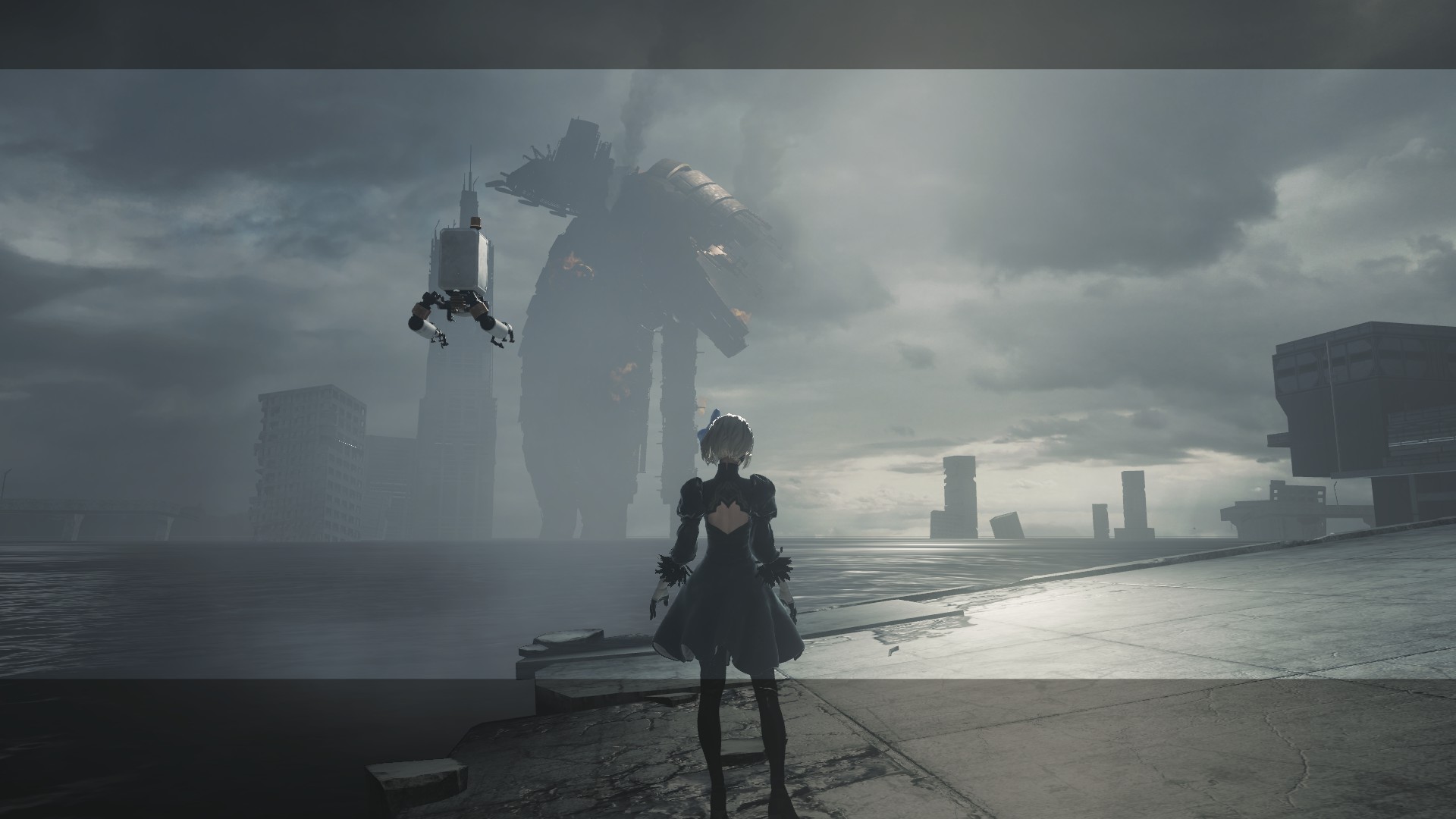 The combat is very fun paced and I thoroughly enjoyed the combat in some regards. The beginning of the game is much much more challenging than the end of the game because enemies scale with you. It reduces the need to grind basically and lets you gather chips you may need in order to completely roflstomp the game later on. Oh yeah, and you also get to fight a huge colossus later on in the game in a sort of 2D fighter fashion- MAN YOKO TARO IS A FUCKING GENIUS.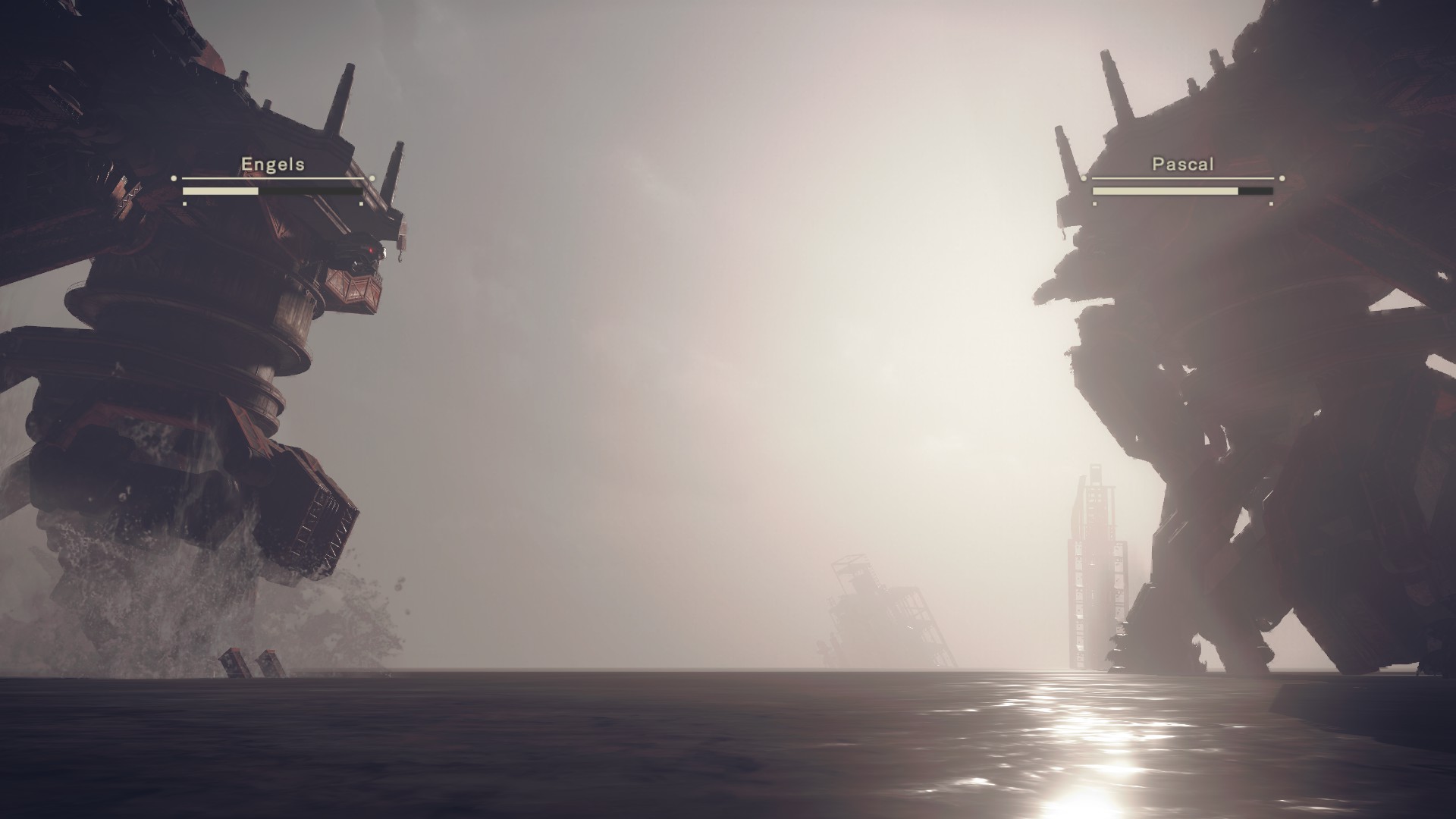 So the overall consensus: The game difficulty is just about right for what the game presents. Fast fluid combat is balanced by expertly dodging and tactfully taking out opponents as they come at you. Or if you have Deadly Heal just go apeshit and kill everything in sight. It nails down some portions of the game completely right, but misses in actually immersing people in the game and WHY they want to play a game: to be able to run around fast and not be distracted by clutter on the ground.
Overall: 7.5/10.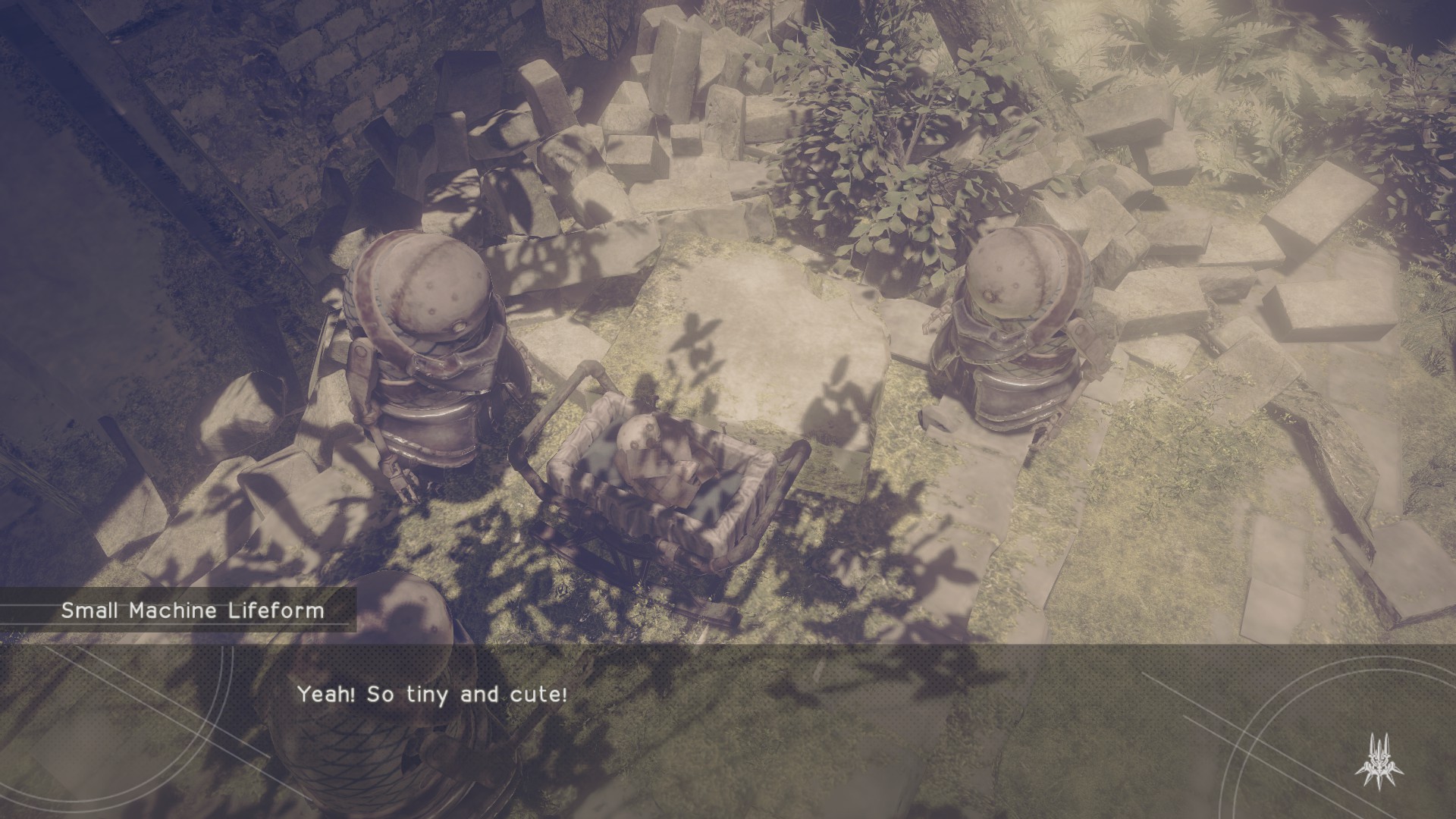 Quality:
Compared to probably about 99% of the dumbass Steam populace that can't seem to get this game to work, I actually had zero problems with running the game.
I just wanted to get that out of the way. You all have seen my computer specs. It's a fucking rig. And yet, I'm happy to announce that I had zero problems running this game at 60 FPS. The only time where my game would hiccup is during the City Ruins because it's a high foliage area, but otherwise, I ran everything at max settings and had zero problems. So...git gud.
The quality of the game is probably THE BEST part of this game. The game is fucking beautiful, the script and deliverance of the lines in said script is amazing, the characters feel alive with intentions, and the best part is...
THERE ARE NO SPELLING ERRORS IN THE SCRIPT.
Compared to the last two games I've played, not seeing any errors in what the characters say versus what the game shows us as text is relieving.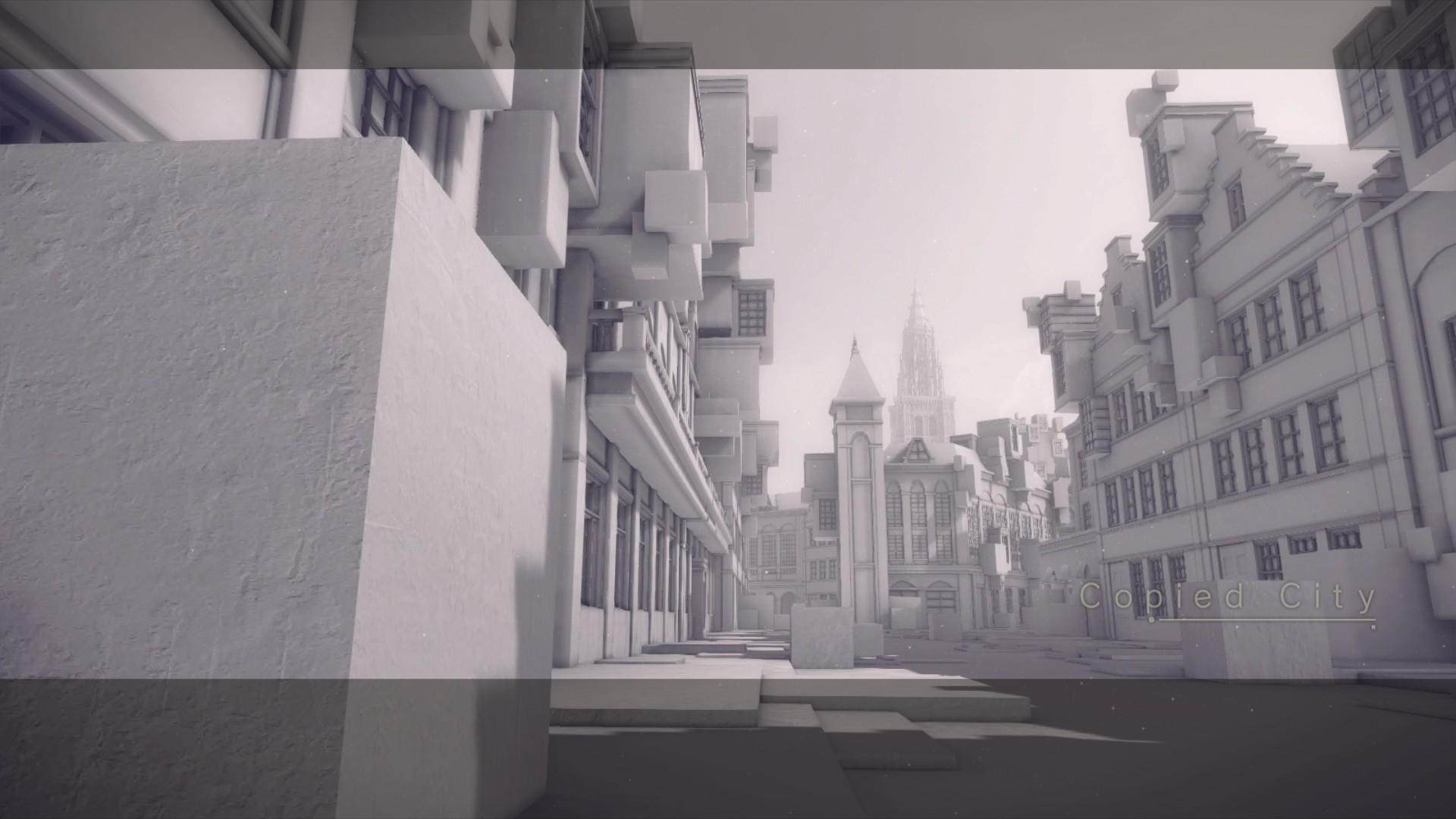 Each zone you go to feels so alive and beautiful that words like "mesmerizing" and "beautiful" don't even begin to describe it. Especially in the Forest Zone where you see giant castles and giant waterfalls cascading the landscape. You can definitely tell work went into this one, compared to the two previous shitty games I've played that were probably released within two months after the first idea was conceptualized.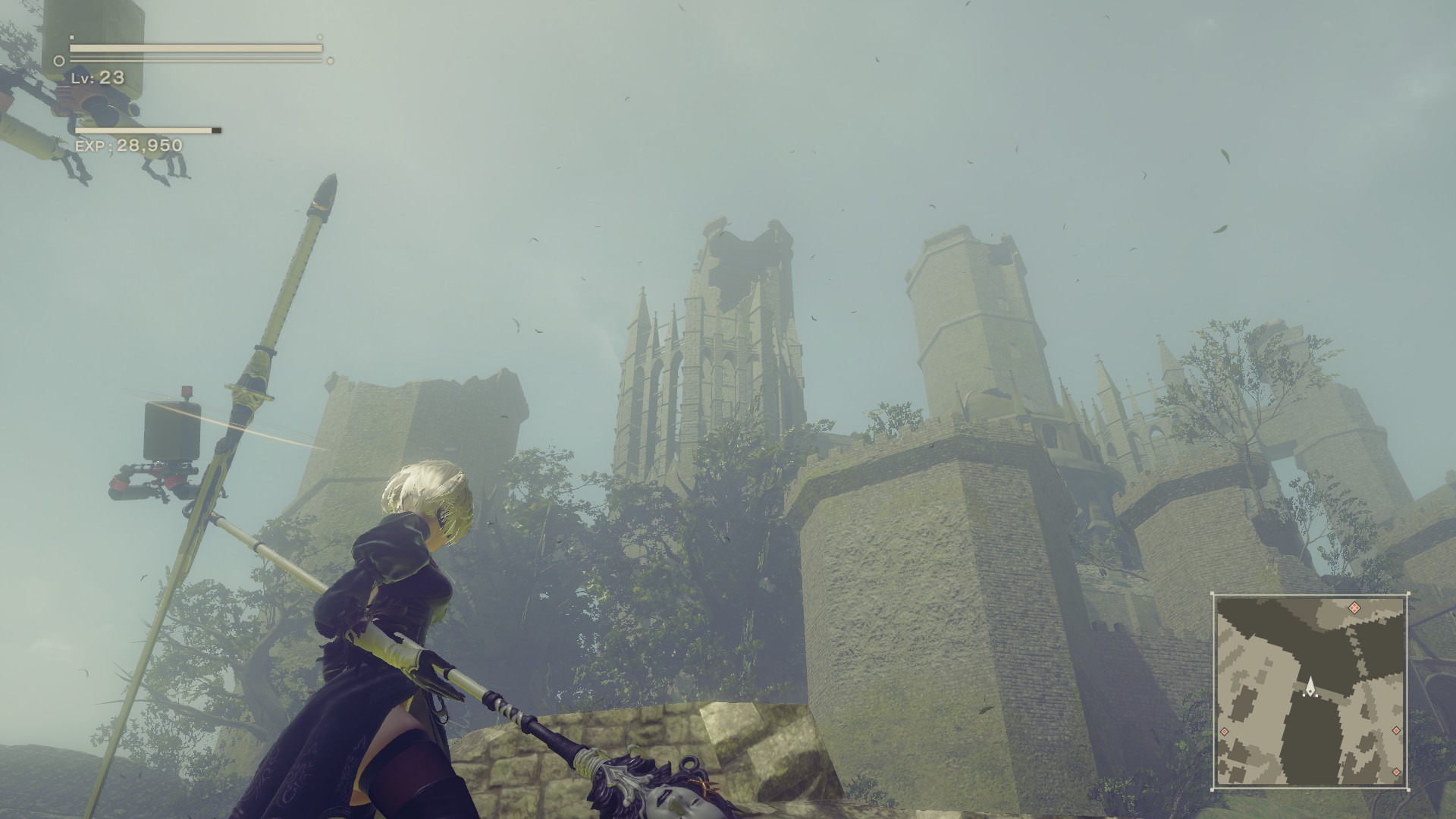 And here's the kicker.
If any of you have watched the first twenty minutes or so of the recently hosted Game Awards show on Twitch, you will have seen that NieR: Automata got the award for the best OST for ANY game out of the year. And rightfully so.
Regarding Voice Actors for the game, Kira Buckland completely nailed the part of 2B, Kyle McCarley fluctuating between a respectable Scanner Unit to a ravaging husk filled with revenge and yelling, screaming even, to get the full inflection of his emotions, and Cherami Leigh nailing A2 in it's most professional form.
This is the first time I will have ever given a game 10/10 for its quality. Everything it does about Quality, it does right.
Except for the people who can't get this game to work. But they should just git gud instead.
Overall: 10/10.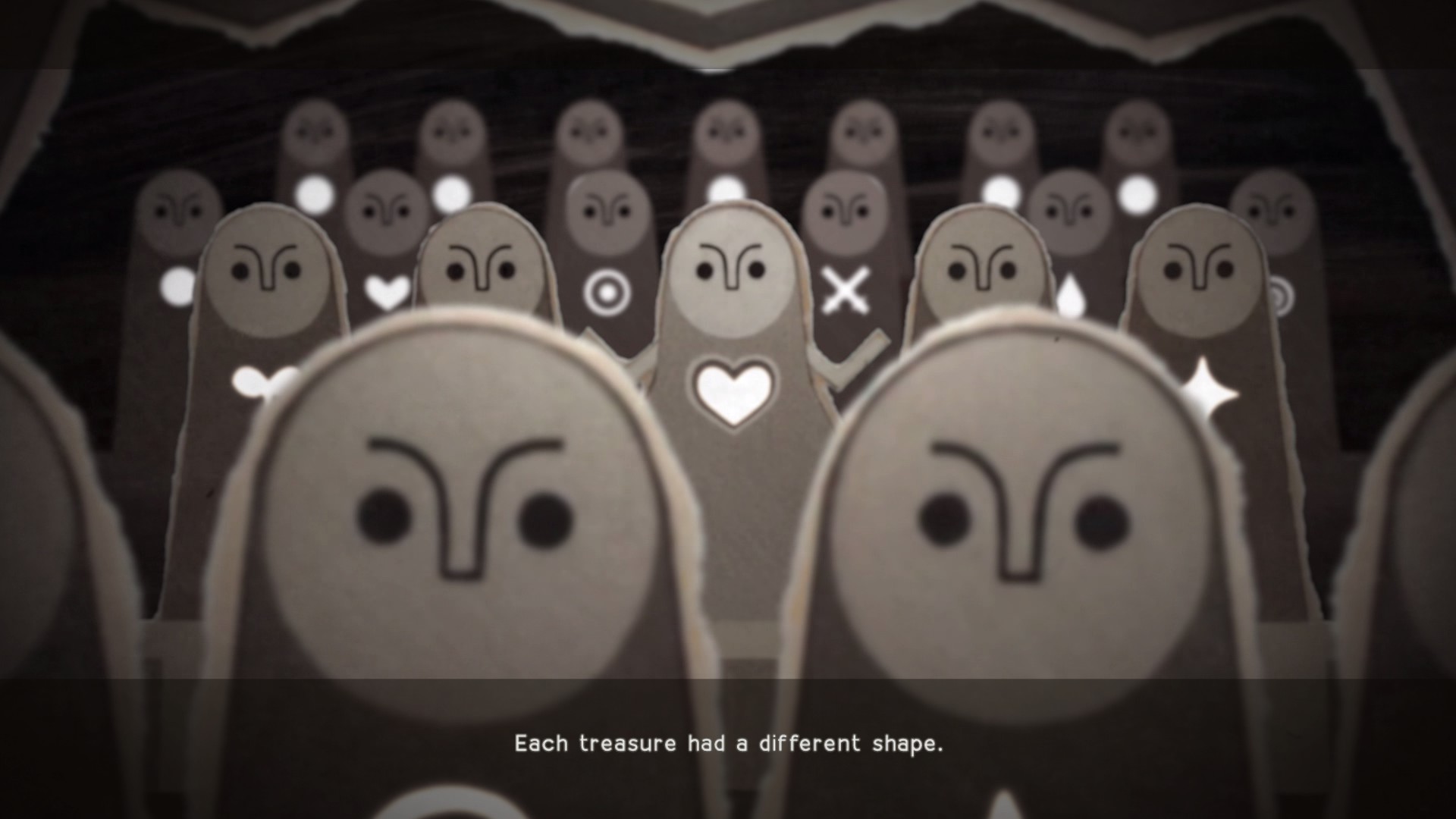 Replayability:
Alright, so, I mentioned before that Replayability was going to be the key of this playthrough. This game forces Replayability on you, and it blends in with the story exceptionally well. So while it's not a replayability versus story thing per se, there is absolutely a reason to go back over and play through the game again. You get a Chapter Select so you can easily go back and clean up any side quests you may have missed. On your first playthrough, you'll probably be playing just for the story, but on your second playthrough, you can go back and get any side quests you may have missed as 2B, plus a few extra on top of that. And on your third playthrough, you finish everything humanely possible.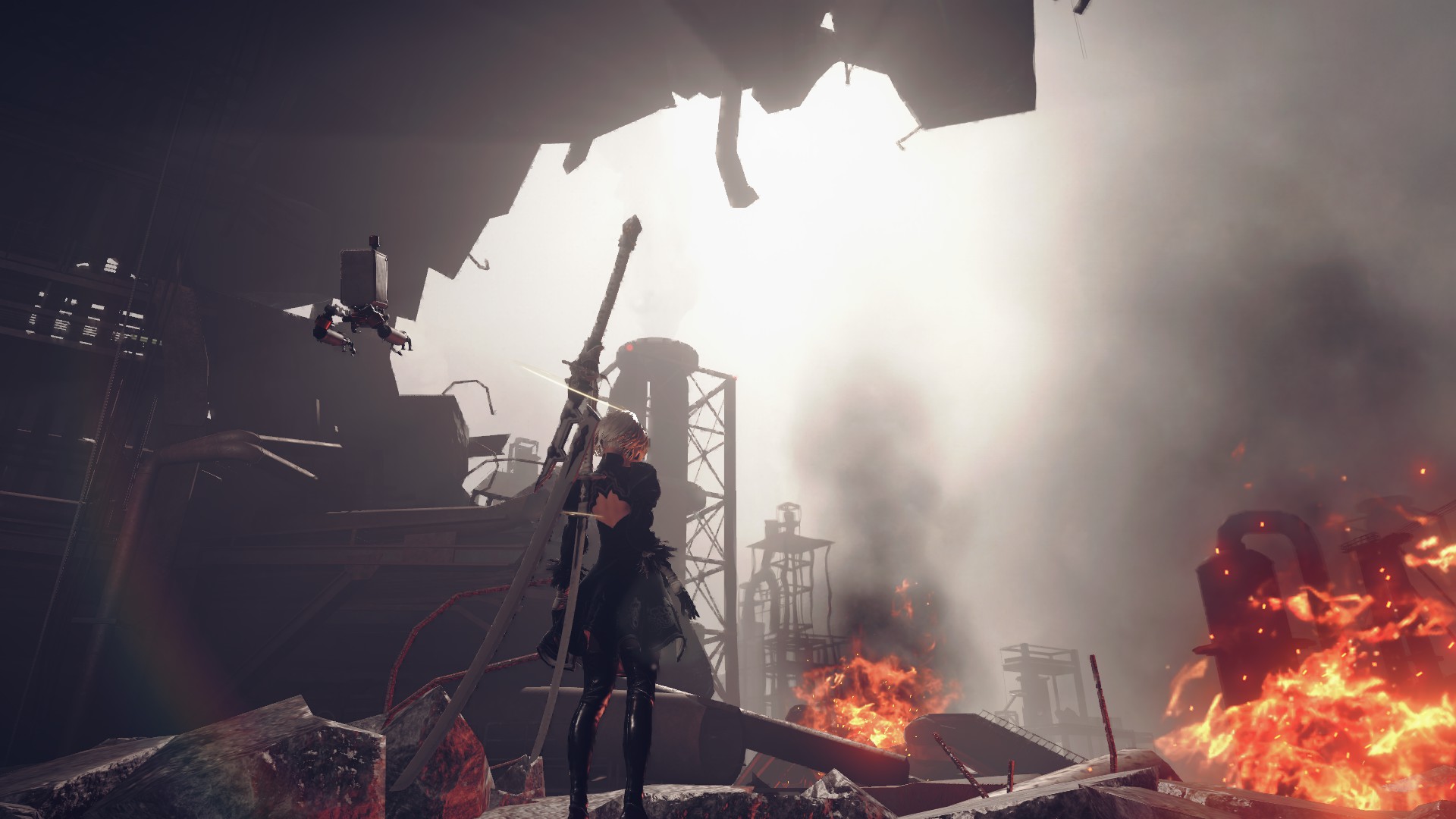 You can pretty much get 90% of what you need done in a single playthrough. The other 10% you need a guide for, since there IS a missable achievement/ending that you can't get one way or the other. And filling out all of the Archives takes patience and time. My finally tally was getting all the endings except for that one missable ending (because I played through without a guide) and getting about 75% of all the achievements? Give or take.
But yeah, in terms of Replayability, there is A LOT to have.
But be warned if you're trying to 100% the game, the game will force you to delete all of your save data, so if you want to 100% everything, you have to do everything else first before you do that. Just a word of caution. You can go to the fextralife wiki and look up NieR: Automata if you ever need to confirm the location of something, or to get that side quest you need, or that one ending you need, before trying to clear your Save Data.
Overall: 8/10.
Now, it's time for the final wrap-up. In this section, I'll detail if this game is truly one for you, and if you should decide to play it or not.
Would I recommend this game?:
Umm. Yes.
Just yes.
Overall: 8.5/10. Amazing.
While definitely not high enough to give a Game of the Year medal or anything like that, this was definitely one of the better games that I was waiting to get my hands on, but wanted it to go for a reasonable price because of all the intense negativity on Steam and not getting the game to work.
Also, yes 2B's ass is good. Become ass gods.