Resource Backlog #1 - Charactersets
Resource Backlog #1 - Charactersets
Welcome to the first of my Backlog Blogs. There will be one for each type of resource that I've 'made' and will host all the current backlogged resources in one place. This way it will be easier to find the resources of the past. Any new resources will be added in their own blog posts, as well as the blog topics.
The first Backlog Blog will be of charactersets. I've not created many, but those I have will be hosted here. Without further ado:
Transparent waterfall events.
To use:
Left-most tiles are the normal waterfall tiles, right-most for the top of the waterfall. Set them to custom move: "Turn Down, wait 20, Right, wait 20, Left, wait 20, Up, wait 20" and above hero, at 5 frequency.
Use the top-foam the same way. For bottom foam - Walking animation set to 4 speed. Corner bottom spray - indented, use the !$Waterfall Spray. Outdented, use the normal spray then add a side spray above it.
Goes with custom water:
For RTP water: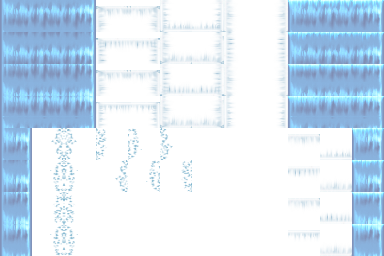 Corner foam:

Arrows for indications. They glow.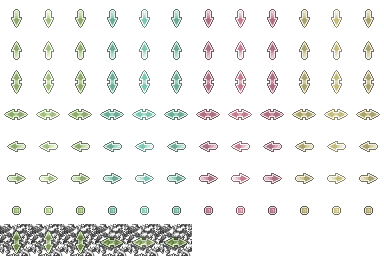 Footsteps/invisible person
Upside down stairs and shadow.
Stairs with carpet edges and wall shadows.
I find that on world maps one tends to use events to transport to towns so it makes no sense to me to take up room in the B tile with world map items that can be used as events instead. Hence this compilation of the TileB world map items into event form. It'll free up space that can be better used on trees and plants elsewhere.
An ice-slope edit and tree edit.
Secret spots - now with shiny stars. Remember to set them to step animations. ^.^
Celianna's tiles for use as charasets
RPGMaker DS Worldmap Rips
Enjoy~